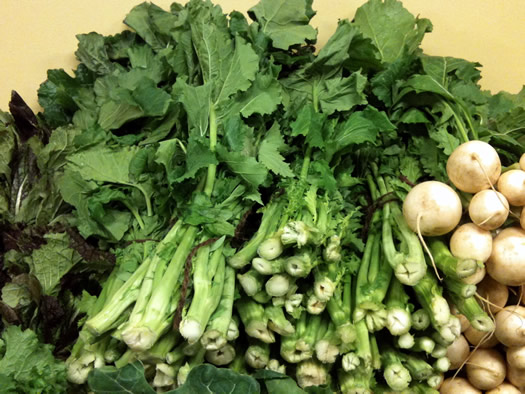 By Daniel B.
By the time November rolls around most community supported agriculture programs are closing up shop for the winter. Farmers' markets move indoors. And those who care about eating locally-produced fruits and vegetables get ready to bear the brunt of the next few months of winter storage crops.
And you know, it's not so bad. In fact, winter storage crops are some of the best things we grow in the region. Cabbage, onions, beets, potatoes, turnips, parsnips, rutabaga, carrots, celery root, sweet potatoes, and winter squash are all incredibly versatile. Which is a good. Because these are my new vegetable staples.
But wait. What's that big pile of greenery Migliorelli Farm has on its table? Oh, well they must come from a greenhouse. No? And they aren't hydroponic either. Well how do they do it then, and why is their broccoli rabe so good?
The story of Migliorelli Farm bears some resemblance to Jack and the Beanstalk. Except in the real life version, Angelo Migliorelli came from the Lazio region of Italy with broccoli rabe seeds, and not beans. The family farm was started in the Bronx in the 1930s with those very seeds and Angelo's son Rocco moved it up to the Hudson Valley in 1959.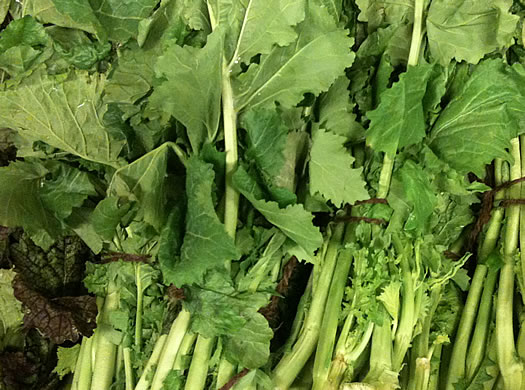 Now the family farm is being run by Rocco's son Ken in Tivoli. He continues his forbearers' practice of letting plants go to seed, so today Migliorelli is still growing the same strain of broccoli rabe brought over by Ken's grandfather almost eighty years ago. And it stands out from other varieties. The Migliorelli's broccoli rabe has a restrained bitterness and lemony tartness.
But that still doesn't explain what it's doing looking so bright and beautiful in mid November. So I spoke with farmstand manager Dominic Guerra, and he gave me the lowdown:
"The hearty greens -- bok choy, broccoli rabe, kales, mustards, things of that nature -- tend to like the cold so they do better after our first frost, after our cold snaps. And if we get a nice blanket of snow, that actually insulates the plans so they stay alive and they stay green. All we do is dig around and take what we need. So we actually, if we get a good blanket of snow, we can have greens all the way through spring when the next succession comes."
If you are thinking that this sounds like a pretty sustainable practice, you would be correct. While officially not certified organic, the farm does engage in organic practices and only sprays the crops when absolutely necessary, and even then with only organic pesticides. Although Dominic was fairly confident that the farm didn't need to do any spraying at all this past year.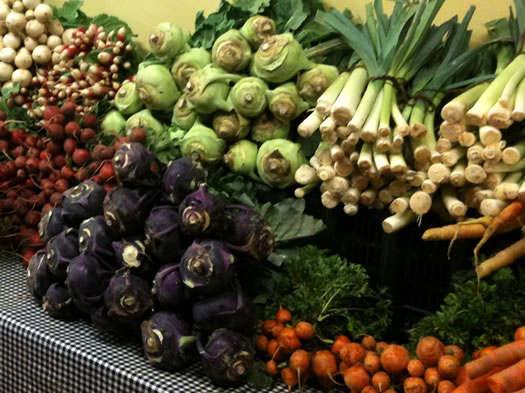 It's called "Quality Low Input Food." Part of this involves rotating crops and leaving some of the land fallow, which helps to keep the soil healthy and also serves as a preventative measure for reducing pests. In an era when organic standards are not what they once were, this sounds like a solid alternative.
Now, it's not just Migliorelli's broccoli rabe that is special, either. All of their produce is grown from heritage seeds or heirloom varieties. Some of these include Tuscan kale, red leaf Russian kale, an Italian variety of arugula, and a wild cultivar of arugula.
But it is the broccoli rabe that started it all.
Cooking it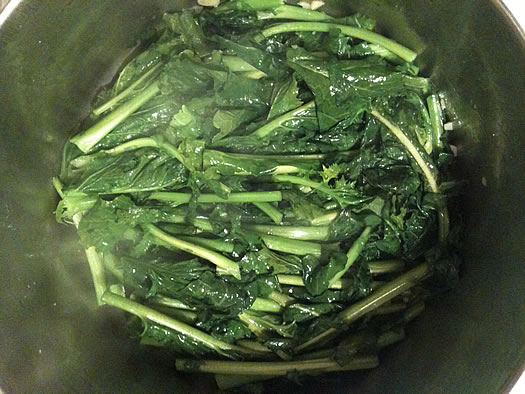 So here's what you do. You get yourself the to Schenectady Greenmarket on a Sunday. Head downstairs to where the produce vendors sell their wares. Migliorelli is on the south side of the plaza up against the far wall, you can't miss them. Nor can you miss the gigantic leafy bundles of broccoli rabe for just $2 each. They are each tied with a little twine bow.
Bring the broccoli rabe home. Cut it into pieces. Rinse. Soak. Drain. Repeat. (This will get the dirt out.)
Pour a couple tablespoons of olive oil in a large pot, and chop up a couple cloves of garlic. Heat the garlic in the oil until it's fragrant. Then add the soaked rabe. Sprinkle on some salt and pepper, and saute until the greens are wilted. Lower the heat and simmer for 20-30 minutes. The Migliorelli's insist broccoli rabe should never be al dente, and should be cooked until it is soft.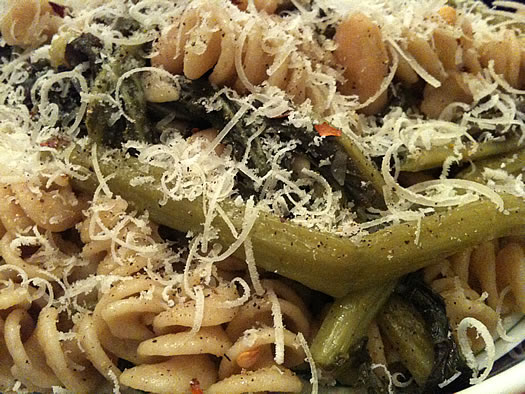 This can now be a side dish on its own. Or for a simple pasta dinner, you can add a couple of drained and rinsed cans of cannellini beans and a pound of cooked pasta. Toss with a little more olive oil, and top with freshly grated cheese and red pepper flakes and you've got a simple supper of a seasonal specialty.
Daniel B. is the proprietor of the FUSSYlittleBLOG.
Say Something!
We'd really like you to take part in the conversation here at All Over Albany. But we do have a few rules here. Don't worry, they're easy. The first: be kind. The second: treat everyone else with the same respect you'd like to see in return. Cool? Great, post away. Comments are moderated so it might take a little while for your comment to show up. Thanks for being patient.