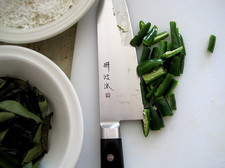 Anonymous emails:
I'd love to do a couples cooking class but don't know who might offer classes, and especially for couples? Let me know if you or your readers have any tips!
There are a lot of cooking classes around the Capital Region -- more than you can shake a whisk at. We haven't noticed any recently that were couples classes, per se -- but maybe some could work that way.
Also: places that offer cooking classes -- hey, maybe this is an idea for you.
So... got a suggestion for Anonymous? Please share!
Earlier on AOA: A sampling of cooking classes, fall 2012
photo: Flickr user bhamsandwich (cc)
Hi there. Comments have been closed for this item. Still have something to say? Contact us.