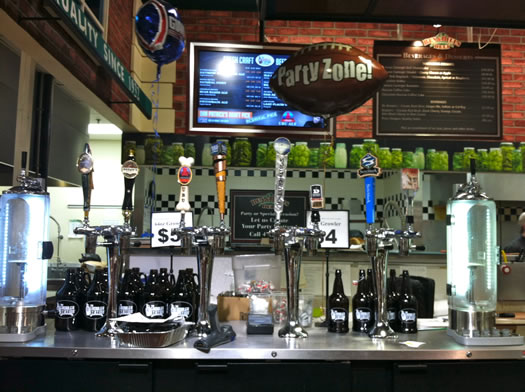 By Casey Normile
With a new ShopRite right across the street, the Slingerlands Price Chopper has upped its game. Among the upgrades at the remodeled store: a Growler Station Express.
It's pretty much what it sounds like -- a counter in the prepared foods section for getting growlers filled with craft beer. And it's the Chopper's first test of the concept.
So how does it work?
First, you have to find it. The station is inconspicuously located between the rotisserie and the deli. It's easy to miss in a busy store.
Once you find it, you choose your growler size, either 32 oz. or 64 oz. You then choose your brew from the eight available. This week the selection ranged from Southern Tier Old Man Winter Ale, to Adirondack Brewery Bear Naked Ale, to Sam Adams Oktoberfest.
Then you get to watch as a Price Chopper employee fills your growler using an impressive-looking glowing contraption. They hook the growler up to a tap at the top of a glass chamber, close a door, and turn some things. The machine then fills the growler from the tap while adding pressure, which -- if everything works as it should -- fills the growler quickly and without foam. This method is said to be able to deliver beer with fresh-from-the-tap flavor at home. It's all fun to watch.
The growlers themselves -- the actual amber-colored glass bottles -- cost $4.99 for the 32 oz and $6.99 for the 64 oz. There's also a "Beast" size that's 2 liters. The price for the beer ranges from $4.50 for 32 oz to $12.00 for the "Beast." So the first time is about $10 for 32 oz. of beer. But the growlers are reusable and you can bring them back to be refilled (you just have to wash it thoroughly). And that's the beauty of a growler, you pay for the jug itself once and then you only have to pay for refills.
The downside for beer lovers is that the people working the station are supermarket employees, not necessarily beer connoisseurs. I wasn't able to get a suggestion out of them, they didn't know the name of one of the breweries they offered, and when I asked him how his amazing glowing filling contraption worked, he said he "wasn't really sure." That might have been the reason I ended up with a growler half-full of foam.
But if you know your brews and don't need much help choosing or pairing it with dinner that night -- and the person who's working the Growler Station has a little more practice -- it could be good quick stop on your way home. But if you're unsure of what you want to try, have questions about what to buy, or want a larger selection to choose from, I would stick to a beverage center or brewery visit for a growler.
Price Chopper's senior category manager of beer and wine recently said on the company's Facebook page that the Growler Station at the Slingerlands store is a test, so if it works out there, maybe it will pop up at more locations around town.
Find It
Growler Station at Price Chopper Slingerlands
1395 New Scotland Ave.
Slingerlands, NY 12159
Hi there. Comments have been closed for this item. Still have something to say? Contact us.