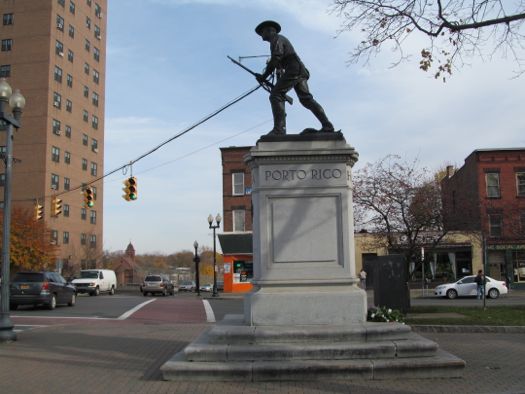 By Casey Normile
After they're up for a while, statues and monuments can just become part of the landscape --that thing you pass by everyday on your way to work or the grocery store. You might give them a fleeting thought as you drive or walk by -- or you might not.
One thing that can make a statue stand out and get your curiosity going, though -- an error. An error like the one on the towering Spanish American War monument in Albany's Townsend Park, where a statue of an armed soldier rests on a stone base, each side listing one of four territories involved in the warL "Cuba, Hawaii, Philippines and Porto Rico." Wait, what? Yep. "Porto Rico."
Before you etch something in stone, you'd think you'd have a proofreader look it over. One proofreader, at least. Yet somehow "Porto Rico" slipped by.
So how does an error like that get etched into stone for all eternity?
Albany city historian Tony Opalka says the answer is actually pretty simple. "It comes from an ignorance of the language," says Opalka. "It was a different time and people didn't really know how to spell Spanish words."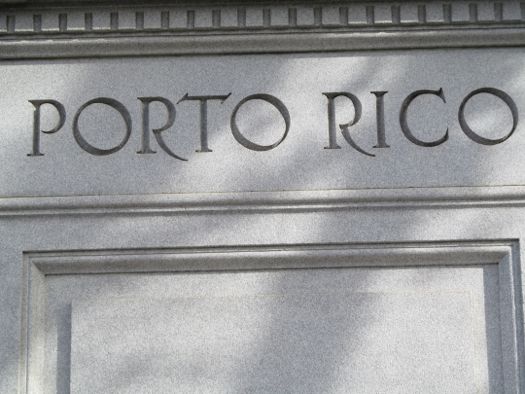 The memorial was erected in 1928. In the Treaty of Paris, signed at the end of the Spanish-American War in 1898, Puerto Rico was spelled "Porto Rico." Thirty years later, when the monument was erected, Americans were still spelling it incorrectly.
Finally, in 1932, Congress changed the spelling back to the correct "Puerto Rico," leaving many official documents and memorials from the time looking a little silly.
But that's not the only confusing thing about the monument. The memorial is dedicated to the efforts of soldiers in the war and depicts a Spanish-American War soldier hunched over, rifle at-the-ready, complete with an ammunition belt, a knife and a canteen.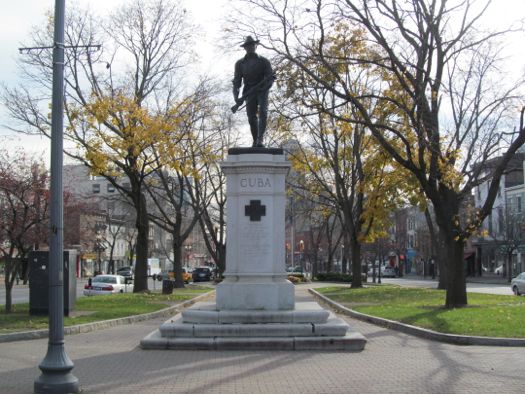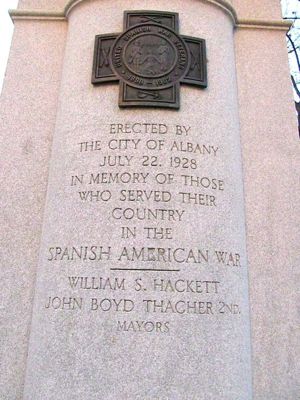 But instead of being called something like "The Soldier" or "Ready for Battle," its title is "The Hiker." Why?
The title is a reference to what soldiers in the Spanish-American and Philippine-American wars called themselves -- hikers -- kind of like the term "doughboy" was used in WWI. A number of Spanish American War monuments were called "The Hiker," including one by sculptor Theo Alice Ruggles Kitson, copies of which are in Troy and Schenectady.
The sculpture atop the Townsend Park monument was designed by another artist - David Cunningham Lithgow, a native of Scotland who settled in Albany when he emigrated to the US in 1888. Lithgow is also responsible for a number of murals in the Capital Region, including one in the Proctor's Theater in Troy and and some in Milne Hall on UAlbany's downtown campus.
And Lithgow leads us to yet another error in the Townsend Park memorial: the artist's name is incorrectly etched into the monument as "D.C. Lithcow."
"The Porto Rico thing was probably in the sculptor's design," says Tony Opalka, "but I don't think he would've wanted his name misspelled. That was just a mistake."
Hi there. Comments have been closed for this item. Still have something to say? Contact us.