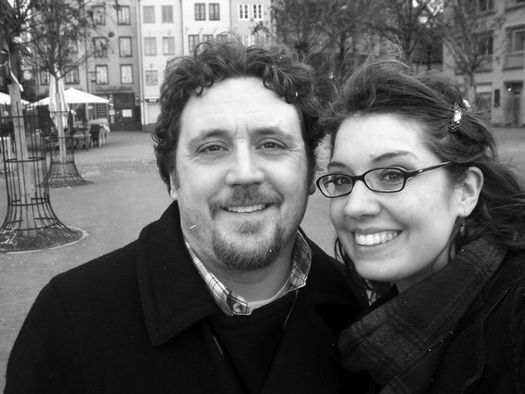 Happy Monday. To ease you into this week, here's a preview of tonight's WEXT My Exit show -- where the listeners get to pick their own playlists.
Tonight's show includes Dylan, a reggae remake of The Cure, and music from Slumdog Millionaire.
Who?
I'm John Styles. I teach high school chemistry and this is my first time hosting on My Exit. I am thrilled I hosted with my wife. When I'm not teaching chemistry I'm usually teaching online philosophy courses. Carrie and I spent two years teaching in Belgium, where we broadened our musical spectrum.
I'm Carrie Styles, yes, John's wife and I, too, am a teacher. I'm a music teacher and so my students may be surprised that I listen to more than Bach or Beethoven! I love discovering new music, and John and I love discovering new music together.
How would you describe your taste in music?
John: Put simply, anything. I believe the music world begins and ends with Bob Dylan.
Carrie: Although I like Bob Dylan, don't agree. You'll to have tune in to My Exit to get a better feel for the music we do agree on.
A few songs from John and Carrie's My Exit:
"Bruxelles-Toulouse" -- Leopold Nord
Because we wanted to share some music we listened to while (and since) living in Belgium. We loved it there and listening to French music brings back good memories.
"Jai-ho" -- A.R. Rahman for the soundtrack Slumdog Millionaire
Our daughter wanted us to play a song for her. She insisted that we play Baby Beluga by Raffi, but we declined. We chose this song because when she was 3 she would hear this song and dance all over the room. It was great to watch her and so we include this song for her.
"Where Did I Go Wrong?" -- Martin Sexton
Carrie and I knew each other before we started dating and I knew she liked good music. She had not heard of Martin so I played her a song. This is the first song I played for her. She was a fan of both the song and Martin and eventually me.
"A Hard Rain's A-Gonna Fall" -- Bob Dylan
Carrie: I think that the lyrics to this song are some of the best written of all time. For example, "Heard the song of a poet who died in the gutter / 
Heard the sound of a clown who cried in the alley / 
And it's a hard, it's a hard, it's a hard, it's a hard
 / And it's a hard rain's a-gonna fall.
"
How could we not include some of Dylan's genius?
"Love Song" -- 311
This is a reggae style remake of the Cure's original tune. We just think it's a great piece to listen to in the car and let's face it, not every remake is done well.
You can hear John and Carrie's My Exit show Monday night at 8 pm on 97.7 or at exit977.org.
Here's how to schedule your own My Exit show on WEXT.
Hi there. Comments have been closed for this item. Still have something to say? Contact us.