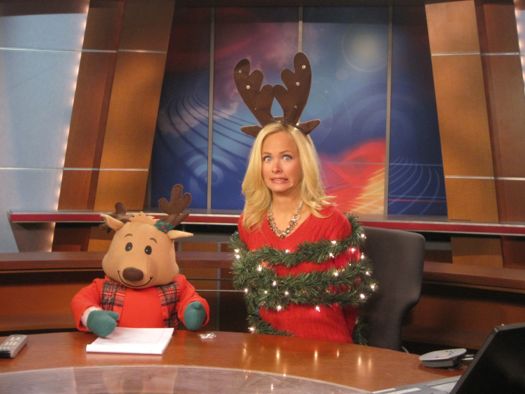 The holiday season is a time for making wish lists and shopping lists. In an effort to help you with both, we're asking a handful of people what's on their local holiday wish list this year.
Today's list comes from YNN anchor Kate Welshofer, with a little help from her favorite anchor cat, Brian Williams.

I had always heard that it was better to give than to receive and I have to admit, I was skeptical. Then one year my boyfriend gave me a Crock Pot for Christmas. It seemed to confirm the theory entirely. I changed my tune, though, after we broke up, he moved away and I still had the Crock Pot. Some things are just built to last. Have you ever woken up to the intoxicating aroma of pulled pork spiked with coffee? It's a delight. You can have the recipe if you want it.
Anyhoo, when it comes to presents, I tend to keep things pretty simple. My wish lists rival those of a magpie or perhaps a raccoon. Typically, everything is sparkly, shiny, edible or potable; and, in some cases, all of those things. So, here goes:
A hat party with Joyce Locks of Hat Sational by D.E.I. in Saratoga Springs
I have to thank Joyce Locks for arranging the marriage between me and the beautiful silk hat I wore for YNN's opening day coverage at the Saratoga Race Course this summer. It was GORGEOUS. Her collection is not limited, however, to summery selections. Joyce also has fall and winter styles for both men and women. As a sucker for a striking cloche, I'd love to add another to my collection. Not to mention, with New Year's Eve on the doorstep, I know she'd have the perfect fascinator for the occasion -- a mere suggestion of sparkle, a feathery wisp of a headband. Pulled together with a to-die-for dress, a dashing gentleman, and a glass of bubbly when the clock strikes twelve and it's "HAPPY NEW YEAR!"
Here's the best part: she will arrange PARTIES, you guys. As she mentioned to me, "A little wine, a little cheese, play dress up with your girlfriends."
Hats off to that!
ANY one of the marvelous little shiny treasures from Elizabeth Scott
Speaking of hats, I have to give a tip of mine to the fine people of All Over Albany for introducing me to Elizabeth Scott's work.
I am a big fan of exploring Etsy anyway and I love, love, love her botanical jewelry -- particularly the juniper earrings and the hemlock pinecone necklace... oh, and this totally cool water droplet statement ring action is just beyond.
It's all just so lovely! I might just have to treat myself before Christmas! SHH! Don't tell Santa!!
*faints*
Gift certificate to The Book House in Stuyvesant Plaza
Not that I need a reason to go poking around one of my favorite little shops, but why not? I love books and I really love The Book House. The End.
A random purchase from TA-DA!
Just across the plaza from The Book House is another one of my favorite haunts. This store is as fun to visit as it is to say or, more accurately, YELL: "TA-DAAAA!" This emporium of the ridiculous speaks to me on the very deepest level. Usually I'm buying for somebody else. I've bought more than one yodeling pickle, a monkey slingshot, a miniature gong, and a talking mustache key chain that says, "Well, hello there." Rather than purchasing a gift certificate for me at this delightful store, though, I'd suggest walking in with a blindfold and a dart. After obtaining permission from the clerk, blindfold yourself, throw the dart, and then buy whatever it hits.
I know I'll love it.
TA-DA!!!!!
Who's hungry?
Gift certificate to Risotto
This place is an old dry cleaners and the only thing they won't do is let your pants out for you after you stuff yourself like a turkey on any number of their delicious offerings. Risotto is one of those restaurants that just makes me feel at home. My gal pals and I are big fans. If you ask me, the fine men running the joint, Joe and Dave, have a good thing going. Plus, I can tell you they're the kind of guys who will procure a bottle of champagne and have it chilling for you if need be. I consider that to be up there with knowing how to grill a good steak, mix a great cocktail, or perform CPR.
Cupcakes from Sweet Temptations
I'm gonna wrap this up with something sweet. The gals at Sweet Temptations had me at raspberry almond and then at red velvet, and then s'mores, cookies and cream, key lime, Oreo.....*sigh*.
Grab one...dozen...and meet me under the Christmas tree. I'll bring the champagne.
And from Anchorcat Brian Williams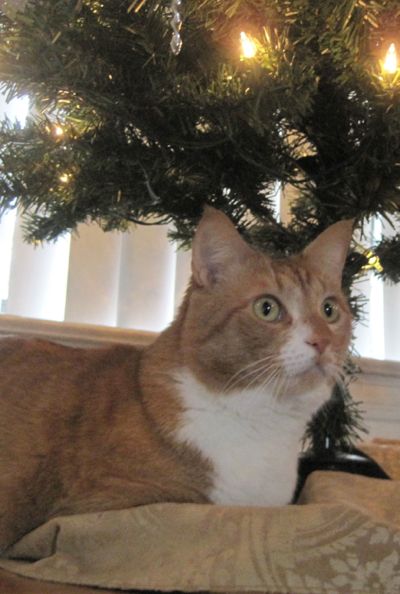 Not to be outdone, the Anchorcat has a couple of items to add. They are not limited to more nap time in the sunshine, unlimited access to treats, a spoken word album, and a driver's license.
Mostly, though, he wants everybody to remember all the animals this holiday season and support the good people who once took great care of him. Consider donating to the Mohawk Hudson Humane Society. Do it meow. If you can open your home to one of these furry creatures? All the better.
Here's to us all being very good this year and to all a good night!
Kate Welshofer is an anchor at YNN, and writes a blog call No Teleprompter, No Mercy. She's also on Twitter: @LadyWelshofer.
Earlier on AOA: Kate Welshofer, off prompter
More holiday wish lists.
Say Something!
We'd really like you to take part in the conversation here at All Over Albany. But we do have a few rules here. Don't worry, they're easy. The first: be kind. The second: treat everyone else with the same respect you'd like to see in return. Cool? Great, post away. Comments are moderated so it might take a little while for your comment to show up. Thanks for being patient.