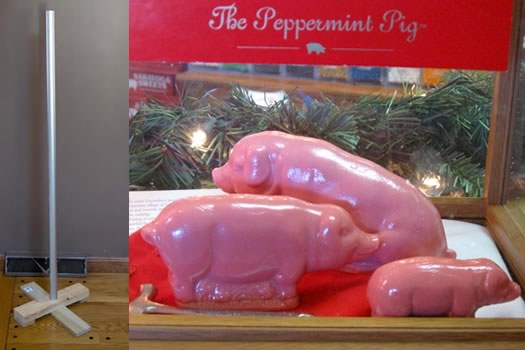 The drawing's now closed. Winner's have been emailed! And the grievances are now closed.
As we have in past years, we're celebrating Festivus early this year -- complain, if you must -- with a traditional Airing of Grievances. (You're on your own for the Feats of Strength.)
So, gather round the unadorned aluminum pole, let it rip, and let it go. You'll feel better.
But here's the deal: grievances can not include personal attacks, nastiness, or creepiness. (You'll know it when you see it.)
To balance the bitter with the sweet, we are again giving Peppermint Pigs to three people who air their grievances in the comments. The winners will be picked randomly.
The Editors have already aired their grievances after the jump. We're looking forward to hearing yours.
Merry Festivus.
Important: To be eligible for the Peppermint Pig drawing, your comment must be submitted by 11:59 pm on December 18, 2012. You must include a working email address (that you check regularly) with your comment. One entry per person, please. Winners will be notified by noon on Wednesday and must respond by 10 am on December 20.
Grievances aired by AOA Mary
Mostly, I have to say, I'm pretty lucky and pretty happy. I don't have a lot to complain about this year. That said, here are a few things that bug me if I think about them.
Intolerance
I can't tolerate it. And yes, I see the irony.
Social media as a vehicle for whining/complaining/being mean.
People sometimes seem to forget that there are other people at the other end of their comments.
Having to turn the commercials down
Really? Do you think I'll buy it just because you tell me about
it louder? Guess what? Not gonna happen.
Christmas trees without candy canes.
Why would you skip the cane? It's candy, on a tree, in your house.

Grievances aired by AOA Greg
I have a lot for which to be thankful, a fact that's been reinforced this year by seeing how life has just turned things upside down for some many people. But...
Sidewalks
I walk a lot -- because I have a dog, because I ride the bus often, because I just like it better than driving. And it kills me (not literally, I hope) how many streets lack sidewalks. This is true even in places like the city of Albany. That neighborhood bordered by Route 85 to the east and Western Ave to the north is a nice neighborhood -- but, amazingly, it has no sidewalks!
Not yielding to pedestrians
(See above about walking.) I acknowledge that some pedestrians do stupid things: dart out from between parked cars, pay seemingly no attention to traffic lights, and so on. But it's rare for a week to go by in which I don't have an encounter with car that's a little too close while crossing a street at a marked cross walk. It's often because someone didn't come to a stop while turning right on red, or just plain ignored the yield to pedestrians signs on New Scotland, or simply wasn't paying attention.
Unwiped tables
I work in a lot of cafes and coffee shops, and more often than not the tables have crumbs, random leftovers, or they're just plain dirty. I realize you're busy. And you end up taking a lot of crap from people you shouldn't have to (seriously, a lot of this problem is the result of inconsiderate customers). But sending someone out to wipe down the tables every 10-15 minutes would be great -- and much appreciated.
Loyalty cards
If it's on sale, just give me the discount. I don't want another card. And I don't want to be asked for the hundredth time whether I have my ExtraAdvantageSuperAwesomeHappyDiscountClub Card. I don't.
Festivus pole photo: Flickr user M. Keefe
Hi there. Comments have been closed for this item. Still have something to say? Contact us.