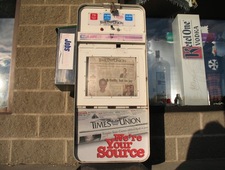 You might have seen the Romenesko post about how the Times Union is apologizing to real estate agents over a piece it published a few weeks ago about ignoring real estate agents' advice. The post has been circulating locally on Twitter ever since it was published late Tuesday. And the Biz Review followed up on Wednesday afternoon.
We've been thinking about this episode since sharing the link on Twitter last night. And for what it's worth, here are those thoughts...
+ This is one of those situations where pretty much no one ends up looking good. (Especially in follow up comments like this.)
+ As a publisher -- which we are, in our small-scale owner/publisher/editor/everything way for AOA -- we probably would not have handled the situation like this. For a few reasons:
1) It opens the door for readers to wonder if advertisers are pulling strings on content. We don't think that's true at the Times Union -- comping someone a bunch of ads isn't the same as letting them dictate content -- but stuff like this plants the seed of doubt in people's minds.
2) It opens the way for other advertisers to start yanking the chain in an attempt to get the publication to jump.
3) It undercuts a staff member. If we were Kristi Barlette -- who put together the piece -- we'd be upset about how this played out. And we'd be irked that we didn't get the chance to publicly defend the piece and engage the issue. The real estate agents think this is wrong? OK, let 'em make their case in a letter to the editor, an op/ed, an accompanying interview, or any other way that's usually open to a party expressing a contrasting view. (We're friendly with Kristi, but have not talked about this episode with her. This is just the way we imagine we'd feel if we were in her place.)
+ We don't think there was necessarily anything wrong with the piece that prompted this episode -- but we probably wouldn't have done it that way. It's OK to ask readers/crowd members for their insight and experience -- we do it often. In this case, though, it would have been better to ask people for both the good and bad advice they've gotten from agents. The reason is that, just like any profession, some real estate agents are smart and effective -- and others are... less so. We've seen this firsthand. Not only is it fair to ask for the good, but also: why leave helpful advice on the table?
+ Following up on the format of the piece, we've seen a few people frown on the "ask the crowd" approach. Again, we don't think there's necessarily anything wrong with that method. And as mentioned, we use it frequently. One reason is that it's a shortcut to finding answers. Another is that we respect the fact that members of our crowd are smart people with valuable experience. Why turn our backs on that? Sure, it's not traditional "journalism." And if the Times Union turned to only doing that, then yeah, that would be bad. But it hasn't.
+ Some of the reactions on Twitter were along the lines of "don't bite the hand that feeds you." And if anything, this episode illustrates how important a revenue source the real estate industry must be to the paper.
+ This is one of those cases where it's easy to take the moral high ground about how George Hearst should have told the real estate agents to simmer down. And back in the golden age of newspapers (whenever that was), it would have been an easy move. You're upset? Too bad. We have 25 percent profit margins (or whatever), we're going to politely not care that your knickers are in a twist over criticism that wasn't even that harsh.
But. This isn't the golden era. The industry is going through a painful transition. Many newspapers are scraping to get by. They've been cutting off pieces of their bodies to stay alive. While in theory it's easy to say what should have been done, it's another to actually tell hundreds of thousands of dollars to walk out the door when you're already thisclose to being in the red. That doesn't make what happened right. But when you're routinely facing existential threats to your business, people are going to make mistakes.
Update: Rob Madeo -- who has a lot of experience in local media -- has posted some thoughts on the situation, with some perspective.
Say Something!
We'd really like you to take part in the conversation here at All Over Albany. But we do have a few rules here. Don't worry, they're easy. The first: be kind. The second: treat everyone else with the same respect you'd like to see in return. Cool? Great, post away. Comments are moderated so it might take a little while for your comment to show up. Thanks for being patient.