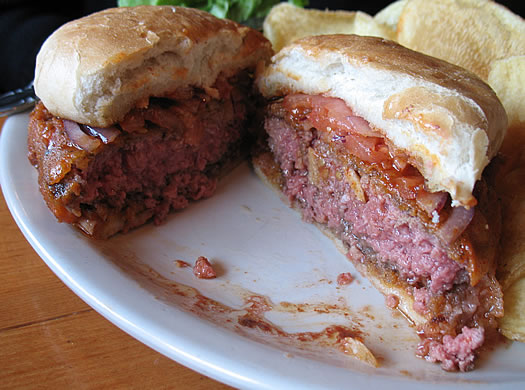 With the end of the year coming up, we thought it'd be fun to ask a bunch of people about some of their favorite/most interesting things from the 2012.
First up: favorite local thing to eat or drink this year.
As we mentioned when asking people for their answers, the dish/drink/foodstuff could be something they many times, or it could be something at a specific moment this past year (example: a
bowl of soup from a cafe on a particularly cold day).
Answers have been lightly copyedited, and links added.
Capitol to Capital
That's a really hard question. I'm just going for it: the cheddar ale burger at The Merry Monk.
It was my favorite thing because a perfectly cooked burger that tastes amazing is hard to find, and so far it's the best I've had in the area. And I've had it more than once! I'm not going to name names but some formidable establishments that I enjoy for other dishes have failed me in this category -- yes, yes, I can send it back if it's overcooked, but isn't the point that it should come out right the first time? A juicy burger with melty cheese is so comforting this time of year, and when you pair it with one of the amazing beers they have on tap, I really can't even type this because I'm too distracted by wanting to leave the computer and go to Merry Monk.
Cap2Cap writes at Capitol to Capitol.
Otis from Burnt My Fingers
The thing I've most enjoyed this year was a pulled pork sandwich at Druthers in Saratoga, accompanied by a Winter Ale brewed on the premises. It's nice to finally have a local place that is grown-up and doesn't treat me like a tourist or a rube.
Honorable mention: Comfort Burger at Comfort Kitchen, also in Saratoga. They might win except they don't brew their own beer!
Otis writes about food at Burnt My Fingers.
Saratoga Idiots
Michelle's Meatlovers Pizza (AKA Julie's Meatlovers) from The Publik House.
It's salty, greasy, meaty, crunchy and doughy in the most perfect way. Great sauce, great pizza dough and great meat toppings. The IBI team will order two and destroy it in a pizza eating frenzy, but if I'm alone, I'll still order a large and take 3/4 of it back home with me for late night noshing.
Team Idiot writes about Saratoga at You Idiot!
Emily from Capital Region Dining Blog
Tomatoes in the summer from The Berry Patch in Stephentown, New York.
Locally grown, delicious tomatoes are such a luxury, and these brought my appreciation of summer to a whole new level this year. We made gazpacho from Thomas Keller's The French Laundry Cookbook (a recipe that doesn't involve turning on the stove at all) everyday for months, and I was constantly in a state of longing for more of these refreshing, tangy, and delicious tomatoes.
Emily writes at Capital Region Dining Blog.
Randal Putnam
My favorite things this year have been the small plates at The Charles F. Lucas Confectionery.
Hummus, olive tapenade, eggplant caponata, artichokes, gigante beans, quinoa, almonds and Sicilian olives. All of them. I can't pick one. Each is a perfect example of the form and each works well with the others. Three small plates with a glass of wine (or two) seem to be about right for two people. Sounds like too little. If it is, add one or two more and then hit the candy jars.
Randal writes at Randal Putnam Loves to Pedal.
Jerry Papandrea
In the past year, my favorite local dish is croque madame from The Hungry Fish Café in Troy. The dish deviates from a traditional croque madame by substituting Dijon cream sauce for béchamel and poached eggs for sunny-side up eggs, but these substitutions give the dish some character and flair. Also, the eggs are some of the most spectacular I've ever had.
Jerry writes at derryX.
Jen from Jen is Green
The first thing I thought of when I heard this question was the pumpkin maple cinnamon bun I had from All Good Bakers at the Harvest Fest in Washington Park.
Not only do I love AGB because they are awesome and locally source their ingredients AND they cook amazing vegetarian food, but the treats are so good. This bun was gooey, pumpkin-y and delicious and the maple frosting was amazing. And it was even better than their usual cinnamon buns. Fall is my favorite time of year and this cinnamon bun encompassed all things fall. It was definitely a tasty treat I will have again if they make them next year!
Jen writes at Jen is Green.
KT Vorwald
Tough question! I would have to say the falafel at Park Falafel in Hudson.
It was my favorite thing to eat this year because they do such a good job melding flavors and textures. The crunchiness of the tomato and cucumber salad pair well with the chewiness of the bread and the perfectly fried falafel. It's great year round -- refreshing in the summer and spicy in the winter (especially so if you're heavy handed with the hot sauce, like I am).
KT writes at ktvorwald.
Kayla from Foodonia
My favorite food "thing" this year was discovering brunch at City Beer Hall. In particular I'm a fan of the Challah French toast, but on the whole- the brunch option in general.
I typically have brunch with a gathering of friends, and yes, typically post an evening of a drink or two... or seven. Getting together for brunch that includes the meal, coffee, and choice of craft beer/mimosa/screwdriver/Bloody Mary/or fresh squeezed juice basically just makes me feel all warm and fuzzy on the inside. Plus, I'm still mourning the loss of Wine 'n Diner and appreciate that I can visit City Beer Hall and get chef Dimitrios Menagias' food.
Kayla writes at Foodonia.
Jessica from American Troyalty
Bacchus' real/invented/slightly made up/ever elusive... honeybadger pizza. Garlic-infused olive oil reduction on top of their infamous homemade crust, arugula or spinach, red onion, sausage, gorgonzola, and fig. Enjoyed in excellent company, and it's is an all season pizza for sure. Pairs best with a dry red, or a crisp white on a summer day. Order a side of sauce to dunk your crusts in for the ultimate happy ending.
This is my favorite for so many reasons. One of them is that my honeybadger-esque friend started this amazing trend, or at least I think she did. Another is that it is amazing. And FIG.....what an element of surprise. Also, it's pure heaven.
Jessica writes at American Troyalty.
The Masticating Monkey
Xiao long bao from Ala Shanghai.
I love the balancing act of holding a soup dumpling on the spoon, a little vinegar surrounding it, and trying to capture that perfect bite without having the soup spill. The interior is rich and the skin delightfully chewy. I've had visitors, originally from Shanghai, praise these for their authenticity.
This primate writes at The Masticating Monkey.
Albany Jane
My birthday dinner at Ala Shanghai.
Lanny created a seafood-centric meal for me and about 16 of my closest friends to enjoy this summer. It was so special to me that I never posted it on my blog, partially because I accidentally formatted my camera before I could upload the pictures, and partially because sometimes it's nice to look back and remember faces, smiles, and happy times.
Albany Jane writes at Albany Eats!
Silvia from DelSo
Folks might be surprised to know that I'm a creature of habit when it comes to eating. It's kind of a joke at the Wine Bar that I always eat the same thing for dinner: the baby spinach-frisée lettuce salad with blue cheese and candied walnuts. Yep, every shift.
A couple of weeks ago, though, we ran a special salad that I just had to try: Berlin's best Russian River red kale, crispy duck confit, candied pistachio, R&G chèvre and pickled shallots.
Talk about amazing! The earthiness of the duck was beautifully balanced by the tender bitterness of the kale and the sweetness of the pistachios. The ever so slight funk of the chèvre and the tartness of the pickled shallots were the perfect finishes for my new favorite salad. Local, seasonal and delicious, this dish opened my eyes to the possibility of expanding my salad repertoire. Maybe I need to pick up another weekly shift at the Wine Bar...
Silvia writes at DelSo.
Rochelle from Under the Copper Tree
The Helsinki burger from Helsinki Hudson in Hudson.
It's the last burger I ate, plus you have to respect a burger that can hypnotize you keep eating and be shocked when it's all gone. Cooked perfectly, topped with applewood smoked bacon, portobella mushrooms, grilled onion, and just enough hand cut fries with a spicy ketchup.
Rochelle writes at Under the Copper Tree.
Daniel B.
I would like to say that it's the All Good Bakers all-local all-ethical egg and cheese sandwich on a toasted bialy, but it's not. Ric Orlando's hand rubbed lardo crostinis were an incredible treat, but they didn't make the final cut. While DeFazio's Buffalo Chicken pizza was the best thing from this year's Tournament of pizza, my pick is a little better. And it even trumps the hand formed pasture-raised burgers at The City Beer Hall.
The king of local fatty deliciousness can be none other than the deep fried Buffalo burger at Swifty's.
As much as I love this sandwich, I try my best to keep the indulgence to once a year, because this thing could kill you. A juicy beef burger that's breaded and deep fried, slathered with Buffalo sauce, and served with blue cheese dressing. Naturally, there are French fries to boot.
But two things never cease to amaze me:
1) This deep fried burger can be ordered to temperature and emerge from the fryer medium-rare inside (NB: when ordered rare).
2) Every time I take a bite into this monstrosity of fat and calories, I can palpably feel the rush of endorphins heading to the pleasure center of my brain.
And really it's the latter of the two which renders this ungodly burger the only possible pick for my favorite local food. I love it and I fear it. I'm glad to have lived through it twice. And I dream of eating it again in 2013.
Daniel B. writes at FUSSYlittleBlog. He also writes the Eat This! feature for AOA.
____
Thank you to everyone for their answers! Good eating in 2013!
Say Something!
We'd really like you to take part in the conversation here at All Over Albany. But we do have a few rules here. Don't worry, they're easy. The first: be kind. The second: treat everyone else with the same respect you'd like to see in return. Cool? Great, post away. Comments are moderated so it might take a little while for your comment to show up. Thanks for being patient.