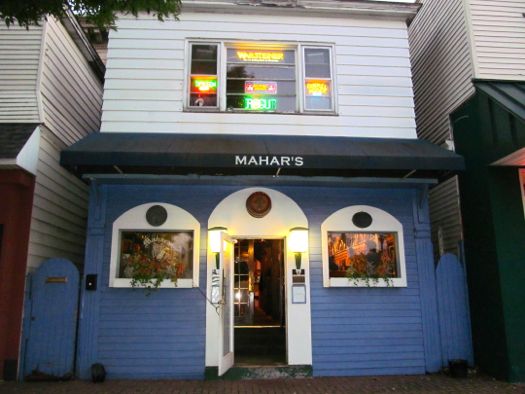 Mahar's -- a longtime favorite of beer enthusiasts in Albany -- is getting bumped from its uptown Albany location. BM&T Managment -- which owns Cafe Madison, The Point, and Junior's all in that same strip -- has bought the building and is planning its own bar there: The Madison Pour House. The sale of the building closed last Friday, as the Times Union reported this week.
Mahar's owner Jim Mahar tells us via email that they were "blindsided" by the sale of the building. That TU article linked above details some of the back-and-forth over the real estate deal.
There appears to have been a significant communication breakdown because Mahar says he and his wife were working under the impression they were headed for a new lease with the building's former owner, along with improvements. But BM&T sent a letter last fall -- dated September 20, 2012 -- to the city of Albany indicating its intent to file for a liquor license for the Mahar's location (letter is post jump). That license is now pending.
"Obviously we are scrambling to see about another location and [see] what the future holds," Mahar tells us.
BM&T's Brian Viglucci told us Tuesday via email that the group was trying to get in touch with Jim Mahar "to see what his intentions are as far as leaving." Once that's settled, he says they'll have a better sense of a timeline for their renovations of the space. The plan for the Madison Pour House is to be a beer-focused bar with food (Mahar's doesn't offer food). BM&T has invested a significant amount of money in the strip at the intersection of Western Ave and Madison Ave over the last decade -- most recently expanding Junior's, a neighborhood pub/restaurant, into an adjacent building.
Many people will be pulling for Mahar's to find a new Albany location (it has another location in Castleton). It pre-dated the beer bar boom in this area and earned fans for its extensive beer list and "world tour" of beer. It's also known for its rather idiosyncratic approach, which doesn't click for everyone. But for many years it was the best place in that immediate neighborhood to have a cozy drink with friends.
___
AOA obtained this document from the Albany city clerk's office via a FOIL request.
Madison Pour House Intent to File for Liquor License
___
Earlier on AOA: Casey highlighted some bars around the Capital Region that offer something a little different -- among them: Mahar's.
Find It
Mahar's for now, Madison Pour House planned
1110 Madison Ave
Albany, NY 12208
Hi there. Comments have been closed for this item. Still have something to say? Contact us.