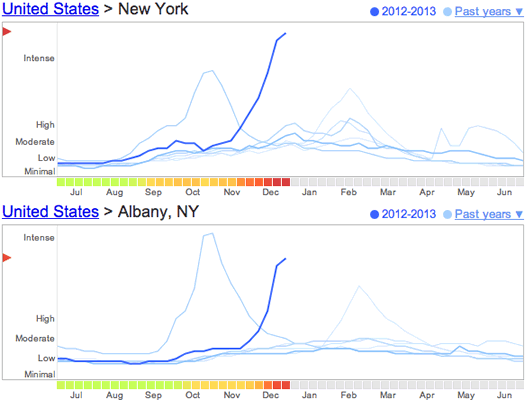 The graphs above from Google Flu Trends (explained). The latest surveillance report from the NYS Department of Health is showing similar activity -- including positive tests in the last week from all but one county in the state.
Yep, the flu season is in full force.
It could still be worth it to get a flu shot. The season lasts into the early spring. And the CDC says this season's vaccine has been a good match for the variants of the flu virus that appear to be in circulation. It takes a week or two post-jab for your body's immune response to get with the program. Unlike in some years past, flu shots are plentiful and easy to get. They're available at many pharmacies now.
We'll say it again: Please cough into your elbow. And wash your hands.
graphs: Google Flu Trends
Hi there. Comments have been closed for this item. Still have something to say? Contact us.