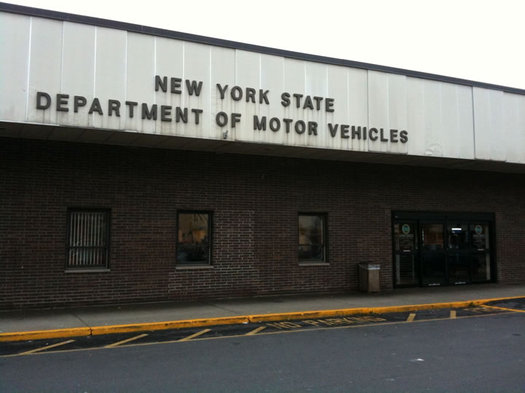 Updated 2014-02-28
There is no "peg" for this post. And it isn't interesting. It's just that we recently had to replace a license plate and the New York DMV website is... well, there are (somewhat hard-to-find) instructions, but we figured they could be a bit clearer. (Less than helpful: the help line, which apparently had too many calling for help.)
So, good drivers of the Empire State -- mostly those in the future via Google -- here is how you do it...
Was your license plate(s) lost, damaged, or stolen? The answer to this question affects some of the steps you'll need to take. So keep that in mind.
Step 1: Download this form: MV-82. Yep, it's the "vehicle registration/title application" form -- and you already have a registered vehicle (because you had the license plates) -- but you still need it. Fill out the form.
Step 2: Is the plate lost or stolen -- or have all of your plates been destroyed? You'll need to get a "Report of Lost, Stolen or Confiscated Motor Vehicles Items" form (MV-78B) from the police (or a letter to the same effect). The upside to this: if the police report says you lost the plates as part of a crime (example: someone stole them), you get replacement plates free.
Step 3: Get together the above mentioned form(s), your driver's license (or other equivalent ID), your auto insurance card, and the remaining license plate.
Do you want to do this by mail? This will take two weeks. Yes? You'll need to photocopy your license and send that copy along with the documents -- and the appropriate fee -- to the state DMV (the plate replacement fee is $28). Here are the instructions -- scroll down to "Can I replace my documents by mail?" and follow the links. Read them a few times to make sure you've done everything.
Do you want to go to the DMV and get this done now? Yes? Read on.
Step 4: Go to the DMV, bring the form(s), driver's license, insurance card, and (if applicable) the remaining plate. Make sure to fill out the form before you get there -- this will make the process faster for you. Pre-completed forms will also make the woman at the information desk smile. She will then give you a ticket. Have a seat and wait.
Step 5: Your number's called. Go up to the window. Tell them up what's up, hand them the forms and the old plate. They'll punch your info in. They'll get you new plates. You pay. Say thank you and go forth.
What not to do
+ Don't try to do this online. As far as we can tell, this is not possible.
+ Don't think, "Oh, hey, I'll just order new custom plates..." because you can do that online. The custom plates won't arrive for 4-6 weeks, and you won't be able to get replacement plates in the interim.
____
* There may be a place on the DMV website where this is all laid out in exquisite and helpful detail. We have not yet come upon that place.
Hi there. Comments have been closed for this item. Still have something to say? Contact us.