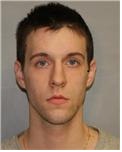 Dennis Drue -- the driver accused of causing the Northway crash in December that killed two teens and seriously injured two others -- was arraigned Monday on 59 counts (52 of those felonies) in Saratoga County court. The long string of charges includes aggravated vehicular homicide, vehicular manslaughter, and driving while ability impaired. [TU] [Saratogian] [NYSP]
Drue pleaded not guilty and posted bail. [Daily Gazette]
In a press conference (YNN's posted the video) after the arraignment, Saratoga County DA Jim Murphy said tests indicated the presence of both alcohol and THC (marijuana) in Drue's system, though he declined to reveal the amounts. He also alleged that a small amount of what appeared to be marijuana was found in Drue's car. The prosecution's case is complicated by the fact that samples were taken from Drue some time after the crash, and those results will have to be used to argue what his levels were at the time of the incident.
Murphy summed up the case:
Ultimately, when you look at this case, to me, it's a very simple case. You have someone who is allegedly driving on the Northway, under the alleged influence of either alcohol or marijuana, or a combination. And the statute only requires impairment to any extent. Under that statute, there's no need for the prosecution to even prove any quantitative amount. And, from my layman's terms, if the THC is present, I think that answers the question. But a jury is to determine that.
Drue's attorney says his client wasn't drunk, had not used drugs, and didn't commit any crimes. [@BFitzgeraldTU]
photo via New York State Police
Hi there. Comments have been closed for this item. Still have something to say? Contact us.