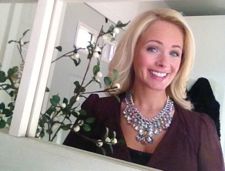 Happy Monday.
Let's start the week off with a little music, shall we?
The first new My Exit show of 2013 is hosted by YNN's Kate Welshofer -- she of No Teleprompter, No Mercy. There's a sample after the jump and the whole show airs tonight at 8 pm on Exit 97.7.
You'll laugh. You'll cry. It will be better than Cats.
Who?
Hi, I'm Kate Welshofer. I work at YNN as the evening anchorlady. I also write for my blog No Teleprompter, No Mercy. This is my first My Exit and actually, it was my first time on the radio. I had a ball!
How would you describe your tastes in music?
I usually hate this question because I have trouble giving a straight answer. I guess that's because my taste is all over the place. It's always been that way. I got my first 45s, the first music I ever really asked for and wanted, for Christmas when I was about six years old: "Another One Bites the Dust" by Queen and "Upside Down" by Diana Ross. I just like what I like and when something catches my ear, it usually becomes the soundtrack of my life at least for the moment.
A few songs from Kate's My Exit playlist:
"Grazing in the Grass" - Friends of Distinction
Admittedly, I had to include this song as a nod to Anchorman. I don't think you can hear the opening notes on those horns and not start smiling. It really is a gas. Can you dig it?
"The Doors Sing Reading Rainbow" - Jimmy Fallon
I love Jimmy Fallon and I love his show. This song is unreal. It is -- exactly what the title says it is. It's a funny, clever idea, executed flawlessly and in the end, the song is actually really awesome.
"Day in--Day Out" - Nat "King" Cole (Mixed by Cut Chemist)
Sometimes I feel like I was born in the wrong era. I love a lot of old movies, old music, vintage fashion. That's why this song really appeals to me. It's a cool mix of yesterday with today.
"Stolen" - Dashboard Confessional
You know it happens when it happens and that's why I love this song. What do you want from me? I'm a hopeless romantic. Which brings us to....

"I Believe (When I Fall in Love it Will Be Forever)" - Stevie Wonder
Coming up with a playlist of favorites reminded me of one of my favorite movies, High Fidelity. This song is featured in that movie. If you've never seen it, and you love you music, you should absolutely check it out. I love this song for always being that optimistic reminder to never give up.
You can hear Kate's My Exit show Monday night at 8 pm on 97.7 or at exit977.org.
Here's how to schedule your own My Exit show on WEXT.