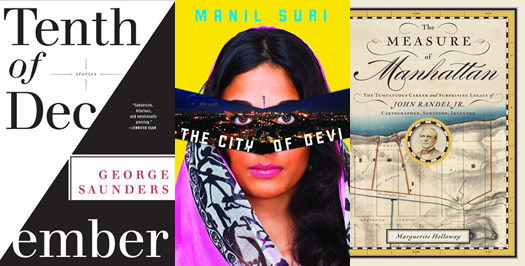 The spring lineup for the NYS Writers Institute visiting writers series is out. As usual, it's full of notable/interesting/award-winning writers.
A handful of the names that caught our eye on first pass: George Saunders, Marilynne Robinson, Gail Collins, Manil Suri, and Eric Drexler.
Here's the full lineup...
All blurbage via the NYS Writers Institute
February 4: Colman Domingo, actor, director, and playwright
Seminar -- 4:15 p.m., Assembly Hall, Campus Center
The Burian Lecture -- 8:00 p.m., Recital Hall, Performing Arts Center
Colman Domingo, rising star of the American stage, "a blazingly charismatic performer [with] a voice of remarkable range and dexterity" (The New York Times), received a 2011 Tony Award nomination for Best Performance in a Broadway Musical for "The Scottsboro Boys." He wrote and starred in the play, "Wild With Happy," a comedy about a man coping with his mother's recent death, which was presented at New York's Public Theater in fall 2012. Domingo also wrote and starred in the autobiographical off-Broadway play about 1970s West Philadelphia, "A Boy and His Soul," winner of the GLAAD and Lucille Lortel awards. His film credits include Spielberg's Lincoln and Spike Lee's Red Hook Summer.
February 6: Jorgen Randers, author and environmental scientist
Reading -- 7:30 p.m., Lecture Center 7, Academic Podium, Uptown campus
Leading futurist, bestselling author and founding figure in the new field of "sustainability studies," Norwegian environmental scientist Jorgen Randers coauthored the enormously influential 1972 book, The Limits to Growth, which predicts that world population growth will ultimately lead to the collapse of the earth's resources, despite advancing technologies. Still widely discussed today in scientific journals and policy circles, the controversial work reappeared in updated editions in 1992 and 2004. Randers' new book is 2052: A Global Forecast for the Next Forty Years (2012), a fresh perspective on humanity's immediate future-- or possible futures-- with particular emphasis on the impact of global warming and the collapse of the fossil fuel economy. UN Special Envoy on Climate Change Gro Harlem Brundtland called it, "thoughtful and thought provoking... inspiring and challenging, for all who really care about our common future." Professor of Climate Strategy at the BI Norwegian Business School, Randers formerly served as Deputy Director-General of the World Wildlife Fund.
February 20: George Saunders, writer of short stories and novellas
Seminar -- 4:15 p.m., Standish Room, Science Library
Reading -- 8:00 p.m., Recital Hall, Performing Arts Center
George Saunders, winner of a 2006 MacArthur Foundation fellowship, and a four-time winner of the National Magazine Award for fiction, is widely regarded as one of the most original writers of short fiction of his generation. Writer Zadie Smith says, "Not since Twain has America produced a satirist this funny." His newest collection, Tenth of December: Stories (2013), presents an assortment of characters faced with particular moral quandaries and painful existential dilemmas. In advance praise, Jennifer Egan called the collection, "his most subversive, hilarious, and emotionally piercing," and said, "Saunders is a true original--restlessly inventive, yet deeply humane." The New York Times Magazine proclaimed in the title of a January 2013 profile, "George Saunders Has Written the Best Book You'll Read This Year." Earlier collections include In Persuasion Nation (2006), Pastoralia (2000), and CivilWarLand in Bad Decline (1996).
[AOA adds: Title from a recent NYT profile of Saunders: "George Saunders Has Written the Best Book You'll Read This Year."]
February 26: Eugene Mirabelli, novelist, and Ann Hood, novelist
Seminar -- 4:15 p.m., Assembly Hall, Campus Center
Reading -- 8:00 p.m., Assembly Hall, Campus Center
Eugene Mirabelli, Professor Emeritus at the University at Albany, is the author of eight highly praised novels. His most recent, Renato, the Painter (2012), is the story of an elderly artist who lives his messy life with gusto, and who applies himself to art with great energy, defying the neglect of the public and the critics. Publishers Weekly said, "In prose as lusty and vigorous as Renato himself, Mirabelli captures the feeling of coming to terms-- ready or not-- with old age." Author Andrei Codrescu said in advance praise, "This generous, sprawling, fleshy novel of a life lived among lovers, friends, olives, wine, bread, and prosciutto, is a fresco of Sicilian-American-New England life.... an American story that shows just how a first generation of immigrants branch from village craftsmen to engineers and artists."
Ann Hood is the author of the bestselling novel, The Knitting Circle (2007), about a woman who takes up knitting in order to cope with the death of her young daughter. The book is currently being adapted as an HBO television movie. Hood was inspired to write The Knitting Circle by her own experience with grief after the death of her five-year-old daughter, Grace, an experience she chronicles in the memoir, Comfort: A Journey Through Grief (2008), a New York Times Editor's Choice. Her newest book is The Obituary Writer (2013), about two women coping with heartbreak and loss during two different periods in American history. Novelist Tom Perrotta said, "In this poignant and incisive novel, Ann Hood brings history back to life in the most intimate way."
March 7: Christa Parravani, photographer and memoirist
Seminar -- 4:15 p.m., Standish Room, Science Library
Reading -- 8:00 p.m., Huxley Theatre, NYS Museum, Cultural Education Center, Albany
Christa Parravani, acclaimed photographer, is the author of the new memoir, Her (2013), about the life and early death of her identical twin, Cara, and her struggle to carry on after the tragedy. Parravani takes note of the fact that when an identical twin dies, regardless of the cause, fifty percent of the time, the surviving twin dies within two years: "Flip a coin," Christa writes of life after Cara, "those were my chances of survival." Novelist Jayne Anne Phillips said, "Christa Parravani's lyrical, no-nonsense Her ranks with the best American memoirs of the decade... an uncompromising love poem to the joys and dangers of shared identity, and an unforgettable treatise on addiction, trauma, survival, and triumph." Parravani's photography has been exhibited throughout the U.S. and Europe.
March 12: Gretel Ehrlich, poet and essayist
Seminar -- 4:15 p.m., Assembly Hall, Campus Center
Reading -- 8:00 p.m., Assembly Hall, Campus Center
Gretel Ehrlich, notable poet, nature writer, and fiction writer, is the author most recently of Facing the Wave (2013), an account of her travels in Japan in the aftermath of the 2011 Tōhoku earthquake and tsunami, and the subsequent meltdowns at the Fukushima Daiichi nuclear power plant. A passionate student of Japanese poetry for much of her life, Gretel Ehrlich felt compelled to return to Japan to bear witness and record the stories of survivors. Winner of the 2010 Thoreau Prize for excellence in nature writing, Ehrlich is the author of numerous works about her explorations of diverse environments, including western China, Wyoming and--in particular--the "high Arctic." Her many books include In the Empire of Ice (2010), This Cold Heaven (2001), and The Solace of Open Spaces (1985).
March 14: Nathan Englander, short story writer and novelist
Seminar -- 4:15 p.m., Recital Hall, Performing Arts Center
Reading -- 8:00 p.m., Lecture Center 7, Academic Podium, Uptown Campus
Nathan Englander, major contemporary short story writer who mines his Jewish heritage and Orthodox boyhood for pathos and humor of universal significance, was named one of "20 Writers for the 21st Century" in the New Yorker. His newest story collection is What We Talk About When We Talk About Anne Frank (2012), which received the Frank O'Connor Award (the world's largest monetary short story prize), and was featured on numerous "best of the year" lists, including in the New York Times. Novelist Michael Chabon praised the new stories as "certifiable masterpieces of contemporary short-story art." His earlier works include the story collection, For the Relief of Unbearable Urges (1999), and the novel, The Ministry of Special Cases (2007). Englander also served as Hebrew-English translator for the bestselling New American Haggadah (2012), edited by Jonathan Safran Foer.
April 4: James Salter, novelist
Seminar -- 4:15 p.m., Campus Center Room 375
Reading -- 8:00 p.m., Campus Center Room 375
James Salter, prize-winning fiction writer and former New York State Author (1998-2000), has been called "one of the best writers in this country" (Bloomsbury Review), and "the author of some of the most esteemed fiction of the past three decades" (Publishers Weekly). A graduate of West Point and former fighter pilot, Salter is acclaimed for fiction about military life, and for stories about human desire in its many manifestations. At the age of 85, he is the author of a major new novel, All That Is (2013), about a naval officer who returns from the battles of World War II to make a life as a book editor in bohemian New York. Salter's early novels include Solo Faces (1979), A Sport and a Pastime (1967), and The Hunters (1957). Winner of the 2012 PEN/Malamud Award for Excellence in the Short Story, Salter also received the PEN/Faulkner Award for his 1988 collection, Dusk. His other works include the story collection Last Night (2005), and the memoir, Burning the Days (1997).
[AOA adds: All That Is is the Millions "Most Anticipated Books of 2013" list. Interview.]
April 11: Marguerite Holloway, science writer, biographer and journalist
Seminar -- 4:15 p.m., Standish Room, Science Library
Reading -- 8:00 p.m., Huxley Theatre, NYS Museum, Cultural Education Center, Albany
Marguerite Holloway, science journalist, is the author of a new biography of the forgotten 19th century genius who developed Manhattan's street-grid, The Measure of Manhattan: The Tumultuous Career and Surprising Legacy of John Randel, Jr., Cartographer, Surveyor, Inventor (2013). Born and raised in Albany, the eccentric and bombastic engineer also created surveying devices, designed an early elevated subway, and laid out a controversial alternative route for the Erie Canal-- winning both admirers and enemies. Bestselling author Simon Winchester called the book, "intelligent and entirely riveting.... a quite marvelous tale, and [Holloway] has told it just magnificently." Director of the Science and Environmental Journalism Program at Columbia University, Holloway is a long-time contributor to Scientific American, covering environmental issues, public health, neuroscience and women in science.
April 17: Marilynne Robinson, Pulitzer Prize-winning novelist
8:00 p.m. Reading and McKinney Award Ceremony | Biotech Auditorium, Biotechnology and Interdisciplinary Studies Building, Rensselaer (RPI), Troy
Marilynne Robinson, celebrated writer of novels set in small-town America, is the author most recently of the essay collection, When I Was a Child I Read Books (2012), reflections on disquieting political, social and cultural trends. Booklist said, in a starred review, "Intellectually sophisticated, beautifully reasoned with gravitas and grace, Robinson's call to reclaim humaneness beams like the sun breaking through smothering clouds." Robinson's first novel, Housekeeping (1980) received the PEN/Hemingway Award, and was named one of the 100 best novels of all time by The Guardian, and the 100 best novels (1923-2005) by Time magazine. She received the Pulitzer Prize for the novel, Gilead (2004), and the Orange Prize for Fiction (UK) for her most recent novel, Home (2008).

April 19: Manil Suri, fiction writer and mathematician
Seminar -- 4:15 p.m., Standish Room, Science Library
Reading -- 8:00 p.m., Assembly Hall, Campus Center
Manil Suri, Indian-American mathematician and major contemporary novelist, is the author most recently of The City of Devi (2013), an epic novel set in the author's native city of Mumbai after it has been abandoned under threat of nuclear attack. Writer Kiran Desai said the novel "combines, in a magician's feat, the thrill of Bollywood with the pull of a thriller." Suri's debut novel, The Death of Vishnu (2001), about life and death in a Mumbai apartment building, received the Barnes & Noble Discover Great New Writers Award and became an international bestseller. Suri's second novel was The Age of Shiva (2008), about a woman's struggles in post-independence India. His work has been translated into 22 languages. A mathematics professor at the University of Maryland, Baltimore County, Suri specializes in partial differential equations.
[AOA adds: The City of Devi is the Millions "Most Anticipated Books of 2013" list.]
April 25: Chris Bohjalian, bestselling novelist
Seminar -- 4:15 p.m., Standish Room, Science Library
Reading -- 8:00 p.m., Ballroom, Campus Center
Chris Bohjalian, bestselling writer of fifteen novels, is the author most recently of the New York Times bestseller, The Sandcastle Girls (2012), an epic tale of the Armenian Genocide that mines Bohjalian's own Armenian heritage (his grandparents survived the tragedy). The Oprah.com reviewer called it, "A searing, tautly woven tale of war and the legacy it leaves behind. . . . A nuanced, sophisticated portrayal of what it means not only to endure, but to insist on hope." Bohjalian achieved wide renown for his 1997 novel about the struggles of a modern-day midwife in rural Vermont, Midwives, an Oprah Book Club book that was adapted as a 2001 Lifetime Television movie starring Sissy Spacek. The Washington Post called Midwives, "Astonishing," and said, "it will keep readers up late at night until the last page is turned." His most recent novels include The Night Strangers (2011), Secrets of Eden (2010), and The Double Bind (2007).
April 30: Gail Collins, journalist and New York Times columnist
Reading -- 8:00 p.m., Page Hall, 135 Western Avenue, Downtown Campus
One of the most recognizable names in American journalism, Gail Collins served as the first female editor of the New York Times Editorial Page (2001-2007), and has contributed an influential biweekly column to the Times Op-Ed page for most of the past decade. Her column is distinguished by its fondness for humor and storytelling, its attention to political absurdity, and its championing of women's rights. Her newest book is As Texas Goes... How the Lone Star State Hijacked the American Agenda (2012). MSNBC host Rachel Maddow said, "Gail Collins is the funniest serious political commentator in America. Reading As Texas Goes... is pure pleasure from page one." Publishers Weekly said, "Collins revels in the state's 10-gallon self-regard, Alamo-inspired cult of suicidal last stands, and eccentric right-wing pols... she slathers plenty of wry humor onto a critique that stings like a red-hot brand." Her previous books include When Everything Changed: The Amazing Journey of American Women from 1960 to the Present (2009), and Scorpion Tongues: Gossip, Celebrity, and American Politics (1998).
May 3: Russell Shorto, historian and journalist
Fossieck Lecture -- 3:15 p.m., Assembly Hall, Campus Center
Russell Shorto is renowned for his bestselling history of life in Dutch colonial New York, The Island at the Center of the World (2005), which the New York Times called, "Astonishing . . . A book that will permanently alter the way we regard our collective past." Shorto's work-in-progress, for which he is conducting research at the NYS Archives, is a new history of the American Revolution. His most recent book is Descartes' Bones: A Skeletal History of the Conflict Between Faith and Reason (2008), which traces the strange adventures of the skeletal remains of the Enlightenment philosopher--bought, sold, stolen, fought over, studied, revered and reviled-- following his death in 1650. The Nature reviewer called it, "Beautifully written... entertaining, enlightening and, perhaps, disturbing." A contributing writer for the New York Times Magazine, Shorto lives in Amsterdam, The Netherlands, where he directs the John Adams Institute for Dutch-American cultural exchange.
May 6: K. Eric Drexler, author and nanoscientist
Reading -- 8:00 p.m., Assembly Hall, Campus Center
K. Eric Drexler is often hailed as nanotechnology's "founding father." He received the first Ph.D. (MIT), taught the first course, and chaired the first two conferences on the subject. His 1981 paper, "Molecular engineering," published in the Proceedings of the National Academy of Sciences, established fundamental principles of molecular design, protein engineering, and productive nanosystems. In 1986, Drexler published the extremely influential book, written for a popular audience, Engines of Creation: The Coming Era of Nanotechnology, with a foreword by artificial intelligence pioneer Marvin Minsky. Drexler's second book, Nanosystems: Molecular Machinery, Manufacturing, and Computation (1992), a physics-based analysis, received the AAP award for Most Outstanding Computer Science Book. His new book, the first in twenty years, is Radical Abundance (2013). Written for a general audience, it explores the ways in which nanotechnology is likely to transform material civilization-- in "radical" fashion-- in the near future. Drexler is currently a visiting researcher at Oxford University in the UK.
____
Also on the slate:
May 1: American Place Theatre performance of The Giver
Performance -- 7:30 p.m., Recital Hall, Performing Arts Center, Uptown Campus
Pre-Performance discussion at 7 p.m.
$15 general public / $12 seniors & faculty-staff / $10 students Box Office: (518) 442-3997
Winner of the 1994 Newbery Medal, Lois Lowry's richly provocative novel The Giver (1993) was published nearly 20 years ago and is still widely read today. In a dystopian world of "Sameness," where all negative emotions and feelings of pain have been successfully eliminated, twelve-year-old Jonas is selected to receive the memories of humankind's experiences from the time before. Breathing life into literature, this stunning one-person stage adaptation deftly portrays the first of a quartet of books that also includes Gathering Blue (2000), Messenger (2004) and Son (2012).
And the spring film series slate is also out.
Hi there. Comments have been closed for this item. Still have something to say? Contact us.