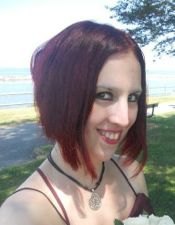 It's Monday -- that means WEXT My Exit show -- where the listeners get to pick their own playlists.
Tonight, a Capital Region DJ takes us dancing.
Who?
My name is Shannon Molloy and I'm a nightclub DJ in and around the Capital Region. I run a monthly dark dance night called Original Sin at Valentine's. I also make occasional guest appearances at other local establishments and art events like 1st Friday and Troy Night Out. I was a broadcasting major at SUNY Oswego and have worked just about every odd job in the industry from sales and promotions to traffic and the occasional voice-over. I'm also a total bookworm, avid traveler, and a huge animal lover.
Describe your taste in music:
I listen to a wide variety of genres depending on my mood. Artists like Lacuna Coil, Gogol Bordello, Lady Saw, Jeff Buckley, Genesis, and Jay-Z have been known to pop up randomly on my home playlists. At the end of the day however, I always come back to electronic dance music. I've been listening to EDM for about 20 years. I love anything with a good beat that makes me wanna dance! I always like to have a cohesive theme to bring a mix together so with the tunes I chose for my very first My Exit, I wanted to show a more edgy, dreamy, ethereal, and sophisticated side of EDM.
"Original" by Leftfield feat. Toni Halliday
It's my favorite track off the 1997 breakthrough album Leftism, which is one of those records I can listen to from start to finish without ever tiring of it. Truly timeless.
"The Trick is To Keep Breathing" by Garbage
Garbage has been my favorite band since the release of their self-titled debut album in 1995. Shirley Manson always brings an unapologetic honesty to her lyrics backed with some of the most accomplished musicians in the industry (here's lookin' at you, Butch Vig!) This is a somber song of strength, and it's always calming tune for me after a rough day.
"Out of My Mind" by Duran Duran
This is off the soundtrack to one of my favorite movies, the 1997 film The Saint starring Val Kilmer and Elisabeth Shue. It's based on the hit television series starring Roger Moore as an international thief with a heart of gold who models each of his identities after Catholic saints.
"Diamond Jigsaw" by Underworld
This duo is one of my favorite electronic bands hailing from the UK. Their claim to fame was the 1996 hit "Born Sippy" which was featured on the Trainspotting soundtrack. This undeniably melodic and catchy number just proves that they still have what it takes to pack the dance floor.
"Come on Up" by Red Light District
Red Light District is a band hailing from LA who describe their music as "neo-vaudeville" with "one foot in the future, and the other in a dark, smokey jazz-age cabaret." They are paving the way in America for an exciting up-and-coming genre called electro swing and perform in front of a live audience as a sextet. I'm also proud to say that they're close friends of mine and a super talented, hard working act. This is my happy music!
____
You can hear Shannon's My Exit show Monday night at 8 pm on 97.7 or at exit977.org.
Here's how to schedule your own My Exit show on WEXT.