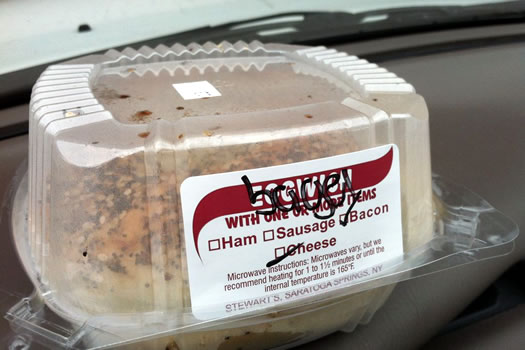 By Casey Normile
Stewart's is a local favorite, of course. Whenever you see their famous maroon and white signs, you know there's a place to get a cup of coffee, a buttered hard roll, snacks, or ice cream.
But a part of the Stewart's lineup I had never tried was their spinning shelves of hot food -- things like the eggwich, hamburger, and... pizza.
So I decided to try it.
This was what was available in the case during two recent trips to Stewart's. The full lineup of hot food is more extensive.
The Eggwich - $3.99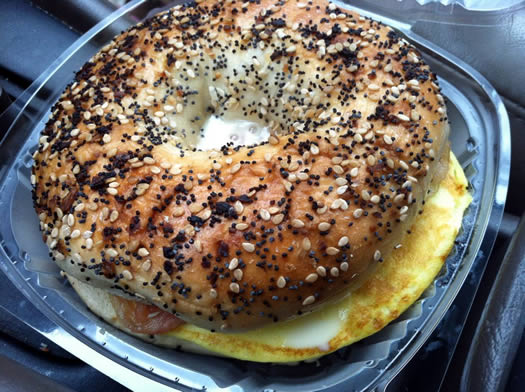 Pros: It'll fill you up if you have a long drive ahead of you. But the idea of this one made me a little nervous. Sometimes egg sandwiches can just taste like, well, floppy-patty cheese sandwiches. But the one I found was on an everything bagel, which easily adds flavor, and the egg actually tasted like egg, which was encouraging.
Cons: The bagel isn't toasted. And the only options are bacon egg and cheese, sausage egg and cheese, or ham egg and cheese. For those who don't want a meaty breakfast, you'll have to take it off or choose something else. It does fill you up, but you also get that heavy feeling in your stomach about 20 minutes later when your stomach realizes what just happened.
The Egg Wrap - $.99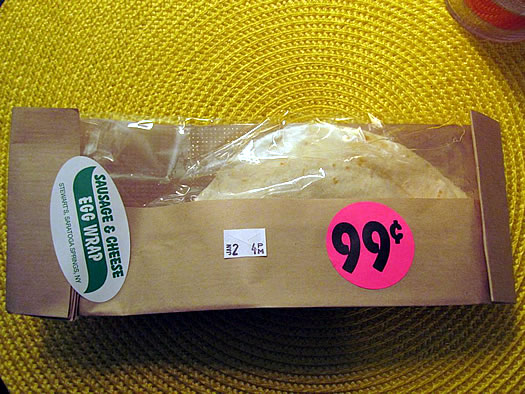 Pros: This particular wrap was sausage, egg, and cheese. A little snack of protein for only 99 cents! Plus, if you eat and drive, having your meal in wrap form makes it easy. One hand on the wheel, one hand holding your tiny breakfast.
Cons: There's something unsettling about eating sausage that has been spinning in a case. Even the girl behind the counter seemed surprised I had chosen to buy this particular item.
Make Your Own Deli Dog - $1.60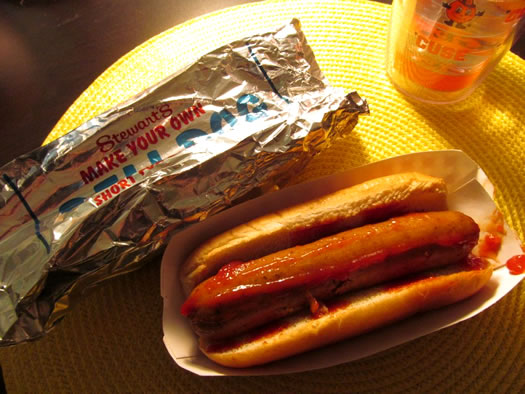 Pros: It's a piping-hot hot dog that you can fix yourself, exactly the way you like it. They offer everything you should need for your dog; not just ketchup and mustard, but also relish, onions, hot sauce, and meat sauce. There aren't a lot of places that offer that many condiment options. And it's the same price no matter what you put on the dog.
Speaking of options: in addition to the regular hot dog, Stewart's also offers a "Cajun" dog and kielbasa.
Cons: The bun we sampled was a little stale. But the major problem was the packaging. You spend all this time crafting your dog the way you want it just to shove it into the little bag, smearing your intricate ketchup work.
The Hamburger - $1.99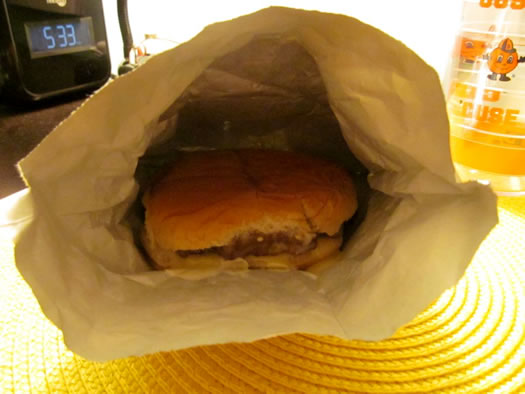 Pros: It's $1.99 and it's a basic burger -- the kind you'd eat at a large family reunion. It has the essentials: fresh bun, fully-cooked patty, and melty cheese. And, just to mix things up, they offer cheese, bacon, or a double burger.
You might say, "Well, I can get a burger on the road anywhere." But I would argue that you can get it here with chili and some ice cream while your friend or family member pumps gas outside. That's convenience.
Cons: It's exactly what you'd expect from a $1.99 burger. As is always the risk with fast food burgers, it's not like the pictures. The bun was flat, the burger was small, and the edges were a little strange -- jagged, like a cartoon explosion shape.
The Meatball Sub - $3.49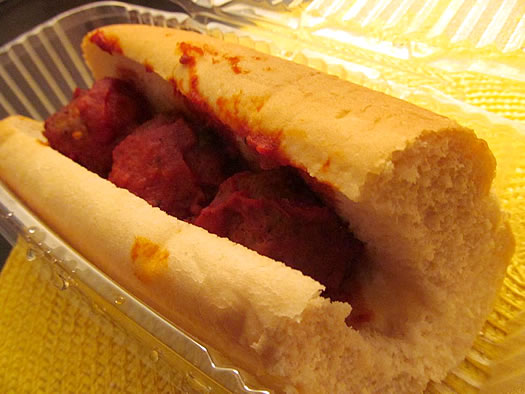 Pros: This is a meatball sub... that you can get on the road... for only $3.49. That alone seems like a pretty good deal. As I watched the shelves spin in the case, I was surprised to find this sub among the usual suspects. The bun was fresh and the sandwich was warm (not hot). Overall, a good roadside find.
Cons: The sub wasn't covered in melted cheese and smothered in sauce like a more hearty meatball sub would be, but rather with a light layer of sauce. So after you finish the sandwich you didn't get that exciting "it was so delicious I feel guilty" feeling, but more of an "I just ate three meatballs in a bun" feeling.
The Chicken Sandwich - $3.99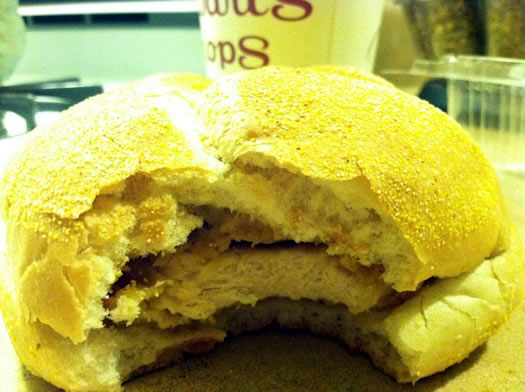 Pros: Now, the hot sandwich we bought was a honey mustard chicken sandwich. But it doesn't stop there. You can also get barbecue rib subs and sausage and peppers. Again, roadside options are important. It comes on a nice, fresh Kaiser roll and it wasn't just a round, flat chicken patty. There was a nice, plump chicken tender in there.
Cons: The honey mustard part of this sandwich was just that, a squirt of honey mustard inside. The dressing is good and the chicken is good, but after you take it out of the container you get this distinct "So I guess this is what I'm eating" feeling.
The Pizza - $1.69 a slice or $8.99 for the whole pie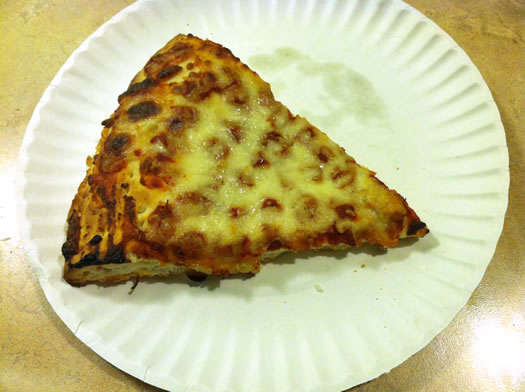 Pros: It's their newest offering and they seem excited about it. You can buy it by the slice or get the whole pizza. They'll throw a slice in the oven for you so it warms while they ring you out. It's doughy, but with just the right amount of cheese and sauce and the crust was surprisingly crunchy. I was expecting it to taste like frozen pizza they simply heated up, but it didn't.
They only offer cheese and pepperoni, but that seems reasonable. If you want a Buffalo chicken pizza, you can wait until you get home to order it.
Cons: It comes on a paper plate. If you're eating it in the shop, that's one thing, but walking out the shop into the cold with a paper plate, putting it in your passenger seat like a fragile gift, and then driving home to eat it seems kind of sad -- like getting a piece of cake at a birthday party and immediately taking it home to eat it alone.
Pick one...
If I had to pick one thing to grab on the road, it would be the meatball sub. The bun was fresh, it was cheap, and it doesn't leave a heavy feeling in your stomach.
____
The best part of this experience was piling an entire case of prepared food onto the counter and seeing the cashier's face. She seemed surprised, but quickly covered it up and rang me out.
So I suppose not a lot of people come to Stewart's to grab dinner for their entire family that often. But overall, their hot food selection is kind of like finding a baseball field concession stand on the road. There's probably something you crave. It's convenient. And the price is decent.
Elsewhere
Mr. Dave -- a Stewart's aficionado if ever there was one -- recently tried the Stewart's pizza.
Hi there. Comments have been closed for this item. Still have something to say? Contact us.