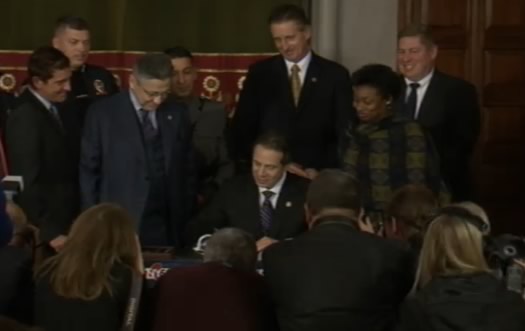 The state Assembly passed -- and Andrew Cuomo signed (video) -- the NY Secure Ammunition and Firearms Enforcement (SAFE) Act Tuesday afternoon. The state Senate passed the gun legislation late Monday night. The law takes effect immediately, though many provisions in it don't start right away.
The law is notable for a few reasons. New York now has the strictest assault rifle ban in the nation. And, from a symbolic and political perspective, New York becomes the first state to pass new gun control legislation after the Newtown shootings.
A quick overview of what's included in the law is after the jump, as well as a rundown of how Capital Region legislators voted.
Among the provisions
+ Bans any semi-automatic gun with a detachable magazine that also has at least one of the following characteristics: a folding or telescoping stock, a pistol grip that "protrudes conspicuously beneath the action of the weapon," a thumbhole stock, a second handgrip, a bayonet mount, a flash suppressor (or ability to attach one), or grenade launcher. (The previous law banned guns with two of those characteristics.)
The Cuomo admin says the type of gun used in the Newtown shooting is illegal now under this law.
+ Within a year any such guns grandfathered under this bill will have to be registered -- and they can only be sold to a firearms dealer or out-of-state buyer.
+ Bans gun magazines that hold more than 7 rounds (the previous law banned magazines that hold more than 10 rounds). Prohibits the possession of magazines that hold more than 10 rounds, regardless of when they were made.
+ Require sellers of ammunition to run buyers through a "a State-created review of disqualifiers to ensure that the buyer is not prohibited by law from possessing ammunition." Also: any ammunition sold commercially must be sold through a seller who can run a background check, and sellers must keep records of what's sold and to whom.
+ Requires background checks for all gun sales, even private sales, except between immediate family.
+ Establishes a new statewide gun license and record database.
+ Licenses for handguns or registered assault weapons must be re-certified every five years.
+ Allows people applying for a gun license to request that their application info not become publicly available. (This is a response to the Journal News gun license map situation)
+ Require gun owners keep their guns locked in a safe (or other secure storage) if the gun owner lives with someone who by law is not allowed to possess a gun.
+ Require gun owners who lose a gun or ammunition -- or has them stolen -- to report the loss or theft to police within 24 hours.
+ Require mental professionals to report an individual if, "in the exercise of reasonable professional judgement," they believe the person is likely to act in a way that will cause serious harm to himself/herself or others. The law allows the gun licenses for these people to be revoked or suspended. Also: the law revokes the gun license of -- and requires the surrender of any guns belonging to -- anyone a court finds not responsible (or a plea is accepted) because of mental illness.
+ Allow judges to require a licensee to surrender his or her gun when an order of protection has been issued against him or her.
+ Automatically reclassifies the intentional killing of first responders such as firefighters, EMTs, ambulance drivers, paramedics, physicians, or registered nurses so that a conviction means life without parole. (This provision is a response to the December shootings in Webster, New York.)
+ Elevates a handful of crimes -- including possession of a gun on school grounds, and purchasing a gun from someone the buyer knows isn't allowed to have a gun -- to the felony level.
A breakdown of provisions from the Cuomo administration.
Update: The Cuomo administration has posted a long FAQ about the law.
How they voted

Jim Tedisco pulled out his pocked-sized copy of the US Constitution while speaking against the bill.
Senate
The bill passed the state Senate 43-18.
Neil Breslin (D) - yes
Hugh Farley (R) - no
Kathy Marchione (R) - no (statement)
Assembly
The bill passed the Assembly 104-43. Gannett's Albany Watch has posted the member-by-member rundown.
Pat Fahy (D) - yes
Tony Jordan (R) - no
John McDonald (D) - yes
Steve McLaughlin (R) - no (comments)
Angelo Santabarbara (D) - yes
Phil Steck (D) - yes
Jim Tedisco (R) - no

screengrab: Cuomo admin / Livestream
Hi there. Comments have been closed for this item. Still have something to say? Contact us.