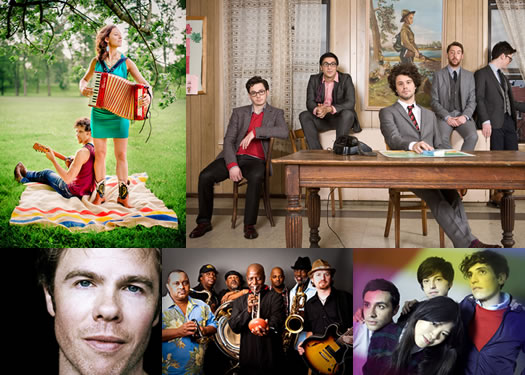 There are people who like to go to concerts. You may be one of these people.
There are also people who just like to know that there are concerts. You might be one of those people if you're not the other kind of person.
Either way, you will be interested to know that these concerts will be happening in the Capital Region. And during the next few months.
Runs through March. This isn't a comprehensive list. If there's something not on here that you think should be mentioned -- please mention away. Some of these shows have already been mentioned. We didn't think you'd mind.
January 19: A Far Cry at Troy Music Hall
A "self-conducted" orchestra. 8 pm - $15 and up
January 24: Spiritual Rez at Red Square
"Reggae funk dance experience." 8 pm
January 24: John Brown's Body at Putnam Den
"Future roots music." 9 pm - $15
January 25: Loudon Wainwright III at The Egg
Folk singer, actor. Father of Rufus, Martha, and Lucy (at the Egg February 15). With: The Nields. 8 pm - $29.50
January 25: Nigel Hall Band at Red Square
Soul. 8 pm - $8 ahead / $12 day of
January 26: Trey Anastasio at The Palace
Did you know he wrote the music for an adaptation of the documentary Hands on a Hardbody -- and it's going to play on Broadway? 7:30 pm - $42.50
January 26: Manhattan Transfer at The Egg
"The world's most popular jazz vocal group." 8 pm - $39.50
January 26: Turkuaz at Red Square
A 10-person "funk army." With: The Chronicles. 8 pm - $7 ahead / $10 day of
January 26: Hot Day at the Zoo at Bayou Albany
"Genre-bending American roots string band." With: Blind Owl Band. 8 pm - $10 ahead / $12 day of
January 27: Home Bass at Helsinki Hudson
Habitat for Humanity benefit featuring: Melissa Auf der Mauer, Melora Creager, Meshell Ndegeocello, Tommy Stinson. 7 pm - $20 and up
January 27: Alfie Boe at The Egg
Tenor. PBS fave. 3 pm - $34
January 30: Heart at Proctors
Ann and Nancy Wilson. 8 pm - $20 and up
February 1: Tift Merritt, David Wax Museum at The Linda
Alt country, roots/indie rock/"Mexo-Americana." 8 pm - $18
February 1: Company of Thieves at Bayou Albany
Playing acoustically. With: von Grey. $20 ahead / $25 day of
February 4: Matt Pond at Helsinki Hudson
Indie singer songwriter. 8 pm - $15
February 7: Ben Frost at EMPAC
Experimental composer, lives in Iceland. 7:30 pm - $18
February 8: Eytan and the Embassy at Bayou Albany
Indie pop. With: Engloria, Vontus 8 pm - $10
February 8: Robert DeLong at Putnam Den
"8-bit warrior," EQX fave. 9 pm - $13 ahead / $15 day of
February 9: Milo Greene at The Linda
Folk pop. A band, not a person. With: MaryLeigh Roohan. 8 pm - $15
February 9: Yefim Bronfman with the ASO at Troy Music Hall
World-famous pianist. Also performing the next day. 7:30 pm - $19 and up
February 9: Dirty Dozen Brass Band at the Massry Center
New Orleans brass. 7:30 pm - $30
February 11: Passion Pit, Matt & Kim at RPI Field House
Houston Field House, back in concert circulation. 8 pm - $35 ahead / $38 day of
February 13: Josh Ritter at The Egg
Singer/songwriter, performing with backing band. With: The Dunwells. 7:30 pm - $34.50
February 16: The Wiyos at The Egg
Vaudeville-esque. With: Mike & Ruthy. 7:30 pm - $24
February 20: Tiësto at Times Union Center
Dutch electronic DJ. Rescheduled from last fall at the Washington Ave Armory. 7 pm - $28 and up
February 22: The Wood Brothers at The Egg
Folk. Chris Wood is the Wood in Medeski Martin & Wood. 8 pm - $24
February 23: Sean Rowe at Caffe Lena
Between touring in Europe and a US tour. 8 pm - $16
February 23: Ken Stringfellow at Valentine's
Worked with R.E.M., The Posies, Big Star, and many others. With: Mod Fiction. 8 pm - $10
February 24: Whitehorse at Valentine's
Roots rock duo (that sometimes makes use of odd instruments). 7 pm - $10
February 26: The Dirty Heads, Shiny Toy Guns at Upstate Concert Hall
California reggae/ska, synth pop. With: Midi Matilda, Oh No Fiasco! 7:30 pm - $20 ahead / $22 day of
March 1: WCDB 35th Anniversary Show at Valentine's
Featuring: The Pains of Being Pure of Heart, Oberhofer, Blotto, Dirty Face, and Barons in the Attic. 7 pm - $18 ahead / $23 day of
March 2: Enter the Haggis at The Egg
Eclectic world roots rock. 8 pm - $24
March 2: Cowboy Junkies at The Egg
Both Enter the Haggis and Cowboy Junkies are from Canada. On the same night at the Egg. Obviously some sort maple leaf conspiracy. 7:30 pm - $24
March 2: Miranda Lambert at the TU Center
Country star. With: Dierks Bentley. 7:30 pm - $28 and up
March 10: The Wonder Years at Upstate Concert Hall
Pop punk. And, yep, apparently named after the TV show. 7:30 pm - $12.50 ahead / $15 day of
March 12: Excision at Washington Ave Armory
"Dubstep demon hailing from Canada." 8 pm -
March 18: Rain at The Palace
Popular Beatles tribute show. 7:30 pm - $30 and up
March 20: Lindsey Stirling at Upstate Concert Hall
Dubstep violinist, plays covers of video game music. 8 pm - $17 ahead / $20 day of
March 21: Kenny Chesney at the TU Center
Country star. With: Eli Young Band. 7 pm - $40.50 and up
March 21: Gabriela Montero at the Zankel Center
Improvisational pianist. 8 pm - $8
March 22: The Fellowship Band at the Zankel Center
"Considered by many critics to be the most important contemporary jazz band in the modern world..." 8 pm - $8
March 22: That 1 Guy at Red Square
One-man act -- plays the "Magic Pipe, a monstrosity of metal, strings, and electronics, facilitates the dynamic live creation of music and magic." 8 pm - $12 ahead / $15 day of
March 23: Lisa Loeb at Troy Music Hall
Back with her band, Nine Stories. (She never parted ways with her glasses.) 8 pm - $27
March 24: Kurt Elling at The Egg
Jazz vocalist. 7:30 pm - $29.50
Farther out
April 5: Arturo Sandoval at Proctors
April 6: Amanda Palmer and Neil Gaiman at Bard College
April 7: Alejandro Escovedo at Helsinki Hudson
April 27: Jake Shimabukuro at Troy Music Hall
June 12: Son Volt at The Egg
May 2: The Films of Laurie Anderson at EMPAC -- Anderson and Pauline Oliveros playing together with a silent film
____
Sold out
February 6: Grace Potter and the Nocturnals at The Egg
February 16: Jeff Mangum at MASS MoCA
The Troy Music Hall advertises on AOA, as does Live Nation.
David Wax Museum via David Wax Museum | Passion Pit: Justin Borucki | Josh Ritter: Marcelo Biglia | Dirty Dozen Brass Band vid DDBB | Pains of Being Pure of Heart: Pavla Kopecna
Hi there. Comments have been closed for this item. Still have something to say? Contact us.