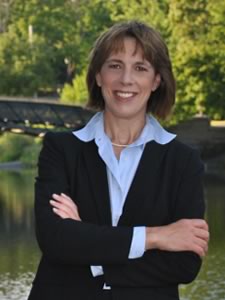 Democrat Cecelia Tkaczyk has won the election for state Senate 46th over Republican George Amedore (unofficially). More than two months after election day. After absentee ballot counts. After court challenges. After a counting of challenged ballots. By 19 votes (or so). [TU CapCon]
Tkacyzk had trailed Amedore by 35 votes, but she gained the advantage after 90 additional ballots were opened and counted in Ulster County Friday morning. [YNN] [Daily Freeman]
Said Tkaczyk in a statement: "It is an incredible privilege to have been selected by the people of the 46th District to serve as their State Senator. No one believed our campaign had a chance in a district hand-carved by Republicans, and yet the power of good ideas and a strong campaign proved itself."
Said Amedore to the Business Review after the count: "I just know one thing: This has got to stop. ... The election happened in November. It's mid-January. Let's get this behind us and just move on." [Biz Review]
The state Senate 46th covers a large chunk of western Albany County, and much of Schenectady County, Montgomery County, Greene County, and Ulster County (pdf map).
This result is notable for a few reasons:
+ It's taken so long to count the ballots and work through the challenges that the state Senate has already passed legislation in its new session (without a vote from the 46th).
+ The state Senate 46th is a new district, created by Senate Republicans to help them hold onto the chamber. The conventional wisdom is that it was drawn to help Amedore, who had been in the state Assembly, win the district.
+ Tkacyk's campaign benefitted from hundreds of thousands of dollars in super PAC money, which closed a large funding gap between the two campaigns. [NYT October 2012] [TU October 2012]
+ Tkaczyk's win gives Democrats 27 members for their state Senate conference (and 33 overall). They'd control the chamber except that five Independent Democrats joined a coalition with Republicans (and one other Democrat is conferencing with the Republicans). [State of Politics]
Tkaczyk is from Duanesburg. Her career has focused on housing issues, and she worked with state Senate Democrats when they had the majority in 2009.
By the way: it's pronounced (Ka-chick), according to her website.
Hi there. Comments have been closed for this item. Still have something to say? Contact us.