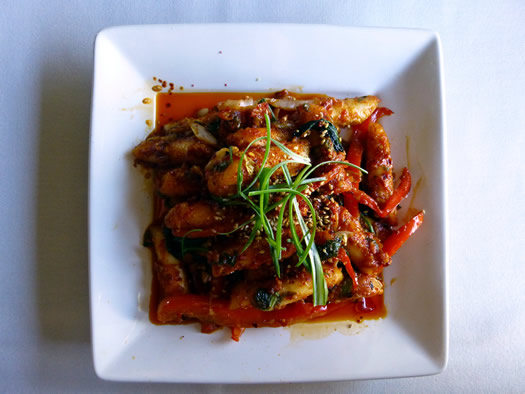 By Daniel B.
There's a steady drumbeat for Korean cuisine in the Capital Region, but precious few places to get it.
For the past year I had avoided Mingle because it appeared to be a place that served overpriced versions of Korean comfort food in an upscale setting. And I had my reservations about paying fine dining prices for street food.
January is a time for new beginnings. It's also a good month for deeply comforting, spicy foods that smolder in your mouth and belly. And after a meal of Mingle's dukbokki, I'm happy to report that I was wrong. Really, really wrong. But before you go, you have to know the secret.
Lunch.
Why more people don't make the pilgrimage down Delaware Avenue for their midday meal is beyond me. Mingle has a parking lot, and a perfectly relaxed lunch took the sum total of 40 minutes. Plus, at lunchtime, their Dukbokki is only $10, a steal compared to the $21 charged at dinner. It's also cheaper than a similar dish at Kinnaree down the road that goes for $12.
But the value in this food isn't how much it costs, or how much is on the plate (which is more than ample, for lunch or dinner). The value is in the sensory experiences of what they put before you on the table.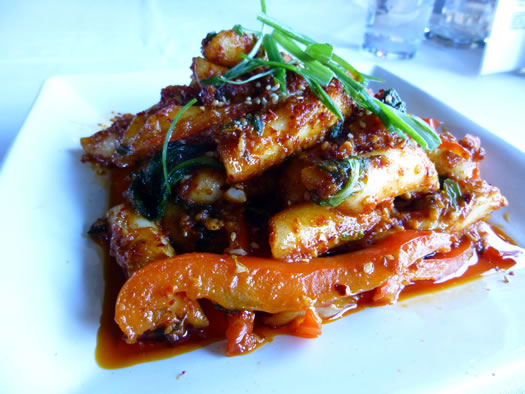 When this gorgeous dish of garaetteok -- rice cakes made from steamed rice flour and shaped into a long white cylinders, like a solid round noodle -- encrusted with crimson red pepper paste, and tossed with sauteed vegetables and sesame oil arrives, the deep and complex aromas of the dish perfume the air.
Without a doubt, the star of this dish is the traditional Korean red pepper paste, gochujang.
The chewy and toothsome rice cake offers up a comforting texture and neutral flavor that serves simply as a vehicle for the lustrous red pepper paste. The finely julienned vegetables offer a more efficient way to mop the gochujang into your mouth. The sauteed red peppers serve as a sweet and juicy contrast to the deep and concentrated red pepper that permeate every bite.
Chef Un-Hui Filomeno was born and raised in Korea, and she makes her own gochujang. I spoke with her son Jose, who is one of the three owners of Mingle, asking for the secret to what makes it so good. He explained, "She learned it as a girl as Korea and kept it with her for the past 55 years."
This is special stuff.
Still, without a doubt, dukbokki is street food. I asked Jose about this too, serving these very delicious if humble foods in such a fancy setting. He said, "The fine linen napkins and tablecloths? This food deserves to be eaten off that." And given its quality, I'm inclined to agree.
At the nudging of their neighbor, All Good Bakers' Britin Foster, Jose led the the charge at Mingle to start bringing in produce from the Honest Weight Co-op. They are also using Buckley's grass-fed beef in their Korean tacos, bulgokee and chap chae. Occasionally Jose explains he will run a DelSo burger special that uses beef from Tilldale Farm, which sells their products alongside The Cheese Traveler next door to Mingle as well.
He said the switch was a "very scary thing to pay more for the product, not sure if the public wants it. But it's a leap of faith." Still, it was something that Jose personally believed in, and from a business perspective it seems to have paid off.
With quality ingredients, time-intensive preparations, nice table settings, and well made classic dishes, Mingle is delivering on a lot of levels. The only shortcomings at lunch were the cheap wooden chopsticks and the lack of banchan (traditional side dishes served in Korean cuisine).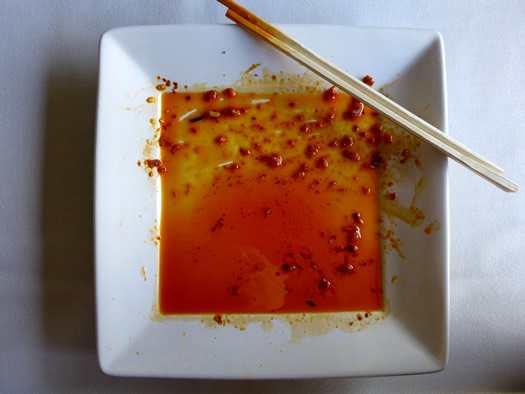 But Jose is on top of this, and has plans to introduce a bunch of cold Korean side dishes on the summer menu and replace all the nice chopsticks that perpetually seem to disappear.
Although with the strength of their gochujang I wonder if chopsticks are really the best utensil. I was seriously tempted to eat this dukbokki with a spoon.
Daniel B. is the proprietor of the FUSSYlittleBLOG.
Find It
Mingle
544 Delaware Ave
Albany, NY 12208
Hi there. Comments have been closed for this item. Still have something to say? Contact us.