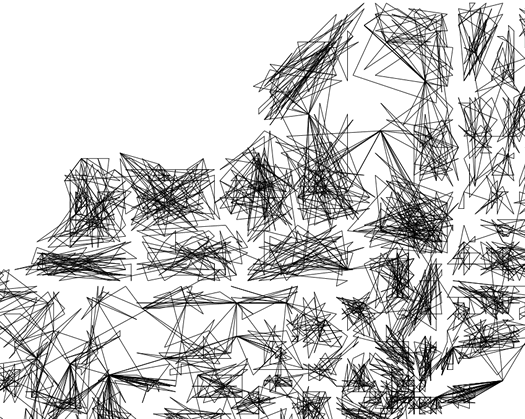 Map/nerding moment of the day: a "scribble" map of New York's ZIP codes. It's a clip from a larger national map by Robert Kosara. As he wrote:
What would happen if you were to connect all the ZIP codes in the US in ascending order? Is there a system behind the assignment of ZIP codes? Are they organized in a grid? The result is surprising and much more interesting than expected.
And on that page he has multiple versions of the map, color coded to highlight the various states. Also: here's an interactive, zoomable verion.
ZIP codes start with 01 in Massachusetts (Agawam, specifically) ascend from there, generally westward. There's a section on Wikipedia that explains how they're assigned.
We're not sure how useful this sort of visualization is -- but we liked looking at it. So, there.
[via a long string of people]
Different, but... This map also made us think of caPOW's excellent New York county illustration.
Hi there. Comments have been closed for this item. Still have something to say? Contact us.