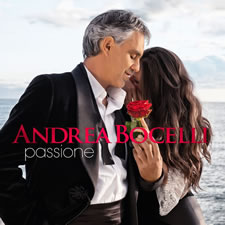 Tenor Andrea Bocelli will be at the TU Center June 13. Tickets start at $78 -- they go on sale this coming Monday, January 28 (there's currently a pre-sale).
Bocelli has sold something just short of a zillion albums (OK, the number is 80 million). And he's a huge PBS fave. As it would happen, he has both a new album and PBS special coming out soon:
The June 2013 Tour will come in support of Andrea Bocelli's upcoming release Passione which will be released on January 29, 2013 along with a brand new PBS television special of the samename in March 2013. Passione is a lush collection of Mediterranean love songs featuring duets with global pop stars Jennifer Lopez, Nelly Furtado, and the late Edith Piaf.
Is it too much to hope for an Edith Piaf hologram?
The show at the TU Center will probably sell out. And the upper end of the ticket price range is $353. Over at Nippertown, Greg notes some context for that price.
Speaking of shows the PBS crowd is totally stoked about: "The Tenors" will be at the Palace May 4. Tickets start at $39.50 -- they go on sale to the public February 9. The quartet currently has the #1 album on the Billboard classical chart. Also: obligatory PBS special.
Speaking of the Billboard classical chart: The current #2 album on the list is from Lindsey Stirling, who's playing at Upstate Concert Hall March 20. Of course, Stirling isn't really "classical" in the classical sense, other than the fact that she plays a violin -- she's famous for incorporating dubstep and playing covers of video game music.
Hi there. Comments have been closed for this item. Still have something to say? Contact us.