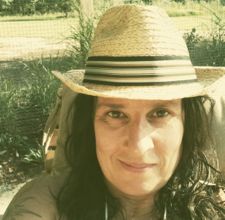 Monday -- that means WEXT My Exit show -- where the listeners get to pick their own playlists.
Tonight's show has "the power and the force that you've never seen before..."
Who?
I'm Jackie Marchand and I'm the First Night coordinator for Saratoga Arts. Before that I was a writer/producer for the kids' show Power Rangers, which was as weird and fun as it sounds.
How would you describe your taste in music?
I began to get into more alternative music when I moved to California in 1982 and started working at a record store. In the '90s I worked at the best music venue in the world, McCabe's Guitar Shop in Los Angeles. They would book everyone from Joni Mitchell to The Minutemen and that blew the doors of my musical tastes wide open.
A few songs from Jackie's show:
I really do love all genres of music. It was much tougher to put together a playlist for My Exit than I thought! My original list was over 3 hours long and just all over the place. Eventually I had to go Sophie's Choice and eliminate some of my favorite songs. What I ended up with is pretty folky and wintery. I put it together on the train from Washington, DC last week and I think the grey weather influenced the final list.
"Caught a Long Wind" by Feist
I was super obsessed with Feist's new album Metals when it came out and played it non-stop. It's just so musical and lovely. I went to see her four times on this tour. She may have a restraining order at this point.
"Because the Night" by Patti Smith
Because Patti Smith.
"Mule Skinner Blues" by Dolly Parton
This song is just a hoot and puts me in a good mood. You can tell that Dolly is having a ball singing it.

"Am I the Only One" by Maria McKee
Lone Justice was one of my favorite bands in the cow-punk era of LA music. Maria McKee used to tear the house down with that voice of hers. Truly one of the greatest singers who never got their due.
"Black Star" by Radiohead
Radiohead is in a league of their own. I pretty much love everything they do and am in awe of their courage in blazing new musical landscapes, but damn if I still don't like The Bends best.
You can hear Jackie's My Exit show Monday night at 8 pm on 97.7 or at exit977.org.
Here's how to schedule your own My Exit show on WEXT.
Hi there. Comments have been closed for this item. Still have something to say? Contact us.