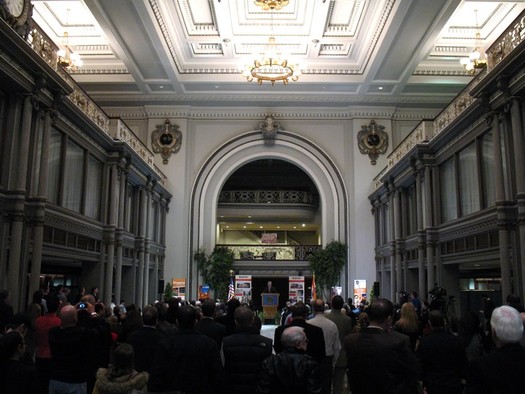 As you might have seen, Jerry Jennings delivered his state of the city address Tuesday evening at Kiernan Plaza in downtown Albany. These sorts of speeches -- in Albany, or wherever -- don't tend to necessarily include a lot of notable moments. (Here's the prepared text, if you'd like decide for yourself. The did he?/didn't he? part about the next election is on the next-to-last page.)
But the building -- it is notable.
Kiernan Plaza is Albany's former train station. Albany Union Station -- as it was originally called -- was built at the beginning of the 1900s, and served as a station until 1968. It became a bank headquarters in the 1980s, eventually picking up the name Peter D. Kiernan Plaza in honor of a bank president. And in 2010, Bank of America moved out. The building is now slated to be a "hub for groundbreaking research, education, and workforce training for emerging smart cities technologies" associated with UAlbany CNSE.
All of this is the long way of saying that Kiernan Plaza is regarded as one of Albany's more beautiful buildings, but it's largely been off limits to most of the public for the last few decades. So the state of the city address was an opportunity for anyone to walk in and have a gawk at it.
So we did. And here are a handful of photos.

Photos are in large format above -- scroll all the way up.
Hi there. Comments have been closed for this item. Still have something to say? Contact us.