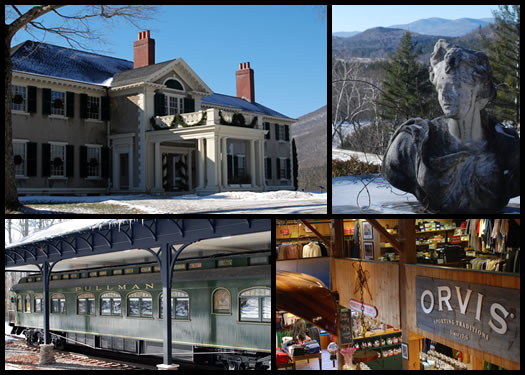 By Nicole Lemperle Correia
My husband and I have an unfortunate habit of taking trips to places where the weather is worse than it is in Albany: Michigan in February, Washington DC during a three-digit heat wave, and this recent trip: Vermont during a very very cold snap of single digit and negative temperatures.
Luckily, Manchester offers more than just cold weather. A beautiful New England village nestled in the mountains, it's a ski town (Stratton and Bromley are just up the road) that has grown to offer a little bit of everything. Due to the extreme cold and very little snow, we opted for indoor activities and dedicated our time to wandering, shopping, browsing, and taking in some history. For us, Manchester also offered a getaway from our daily life as parents of a toddler -- she went off to the resort paradise of a weekend with her grandparents while we headed east for 36 hours in Vermont.
We were in Manchester from Friday night through early in the day on Sunday, but at just under an hour and a half away it also makes for an easy day trip.
Distance
Manchester is 60 miles from Albany, about an hour and 20 minutes. The drive is lovely -- over Route 7, up and down the mountain road, through small towns and past funny signs.
Friday
Dinner along the way - Madison Brewing Co., Bennington, VT
We made a pit stop in Bennington on the way out. We had eaten at the Madison Brewing Co. years ago, and we were both craving a burger and a beer so this was a perfect fit.
The restaurant has a unique menu -- typical pub food but also a venison burger, a bison burger, elaborate salads, and smoked gouda mac and cheese. They have a half dozen local/craft beers on tap, including a few of their own of course. (The Old 76 Strong Ale was very tasty). The open tavern space was full of locals, families, and Bennington College students.
Stay: The Wilburton Inn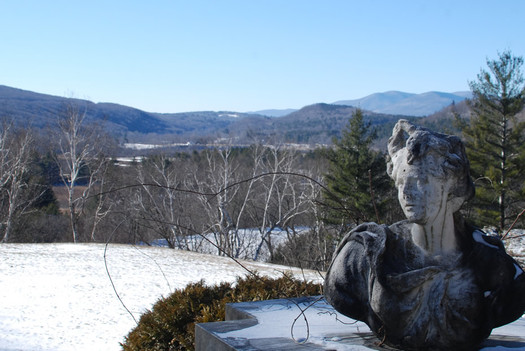 Thanks to a sweet Groupon deal, we stayed at the Wilburton Inn. This historic estate is beautiful and quirky. You might feel like you're in a movie as you drive up the mountain to the brick mansion looming on the side of the mountain. I'm not sure if the vibe is crime thriller movie, romance, or historical drama, but it's certainly dramatic. The inn is surrounded by modern sculptures, and the grounds are impressive -- I'm sure even more so when they are in bloom rather than covered in a dusting of snow.
The view from our room was incredible -- huge windows looked out on a panoramic view of the snowy mountains. If you stay at the inn you'll learn plenty about the mansion's history as well as the family history of current and past owners. The halls and bookshelves are full of family photos, and it feels a bit like you're staying at your wealthy uncle's old mountain home... if you had a wealthy uncle and he had a mountain home.
Saturday
Breakfast at the inn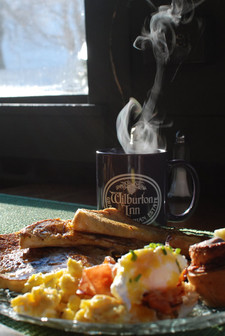 We got many recommendations for breakfast in town (Up for Breakfast was recommended again and again), but our stay at the Wilburton included a full breakfast in their sunny dining room. We couldn't pass up the chance to avoid the cold and a likely long wait, so we gave the inn's breakfast a try. It turned out to be very tasty, and another opportunity to enjoy the property's mountain views. The breakfast buffet included blueberry pancakes, french toast, scrambled eggs, bacon, hashbrowns, eggs benedict, fresh baked bread, and fruit. The server was gracious and friendly, and the grandchildren of the inn's owners bounded in and out of the dining room. It was a sweet way to start the day.
Shopping in Manchester
There haven't been many opportunities to shop at a leisurely pace since our daughter was born, so we seized the chance to hit the Manchester outlets and scout out deals on clothes for ourselves and the little one.
The outlets in Manchester are laid out totally differently than a Lee (or any Prime Outlets) setup -- they're along the main road, no more than four or so to a building, designed to be like (non-chain) shops on New England Main Street. Each cluster of outlet stores has its own parking lot, but when temperatures are above a few degrees it's certainly all walkable.
Manchester Designer Outlets is a conglomerate of many of the outlets in town, but there are also several nearby that aren't mentioned online: Gap, Banana Republic, Carters, Coldwater Creek, Famous Footwear, and Orvis, to name a few. January turns out to be a great time of year for outlet shopping -- most were unloading their winter styles, and we scored some bargains.
There are also plenty of small local businesses scattered among the chains. It was about 5 degrees on Saturday so we didn't do much strolling around, but in the warmer weather there is a ton of walkable shopping, both chains and independent stores.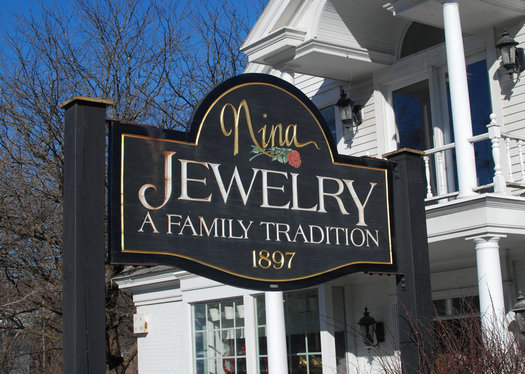 The shopping district also features Manchester's most famous store: Nina, the Jeweler of Manchester, Vermont. (Fair warning: Every 30-something Capital Region resident will recite the commercial, in their deepest voice, when you tell them you are going to Manchester.)
Lunch at Seasons
Good to know: a lot of restaurants in Manchester are open only for breakfast or only for dinner. We had wanted to try the awesomely-named The Other Woman Tavern (connected to The Perfect Wife restaurant), but arrived at lunchtime to find that they didn't open until 4 pm. Oops.
Seasons, near the outlets, is open for lunch and serves local food and beer. The cozy space was full of (brave and very bundled) skiers, shoppers, and families. The menu was small but featured seasonal (of course) panini, pizzas, salads, soups, and sandwiches. (I highly recommend the "Grilled Veggie on Whole Wheat Flat Bread" pizza, which featured local goat cheese.)
Browsing at Northshire Bookstore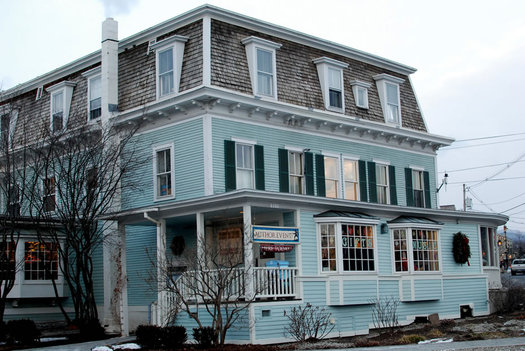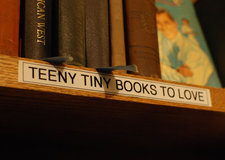 If you do only one thing in Manchester, visit the famous Northshire Bookstore. The rambling, many-leveled store is bursting with books and little treasures of all kinds. There's really nothing like browsing the shelves of an independent bookstore, and Northshire's corners lure you further and further into its world. Handwritten staff recommendations are sprinkled throughout every shelf, and the space is full of cozy nooks and enthusiastic readers. The huge children's level is playful, the fiction section invites browsing, the food section overflows with beautiful cookbooks to flip through. The attached Spiral Press Cafe is a good place to spend an afternoon sipping coffee and reading a new book. And the store also features a very cool print-on-demand machine, which we got to see in action as it printed a book.
Northshire is a magical place, and I'm sure one could easily spend a full day wandering among its books. (We're very lucky to be getting a Capital Region Northshire in Saratoga this summer.)
Dinner at the Inn
Our Groupon also included a dining credit at the Wilburton Inn. Dinner was in the inn's former billiard room, which featured a wood burning fireplace (and roaring fire). We joked throughout our stay in Manchester that many of the service folks we met had a no-nonsense "Vermont attitude"- the service wasn't exactly top notch and the entire dining room heard, several times, that things would be slow because "the 7:00 reservations were all late and the 7:30 reservations were all early." But the service was honest, no-frills, and perfectly Vermont. The cocktails were strong and the food itself was very good, especially the creme brulee we shared for dessert.
Sunday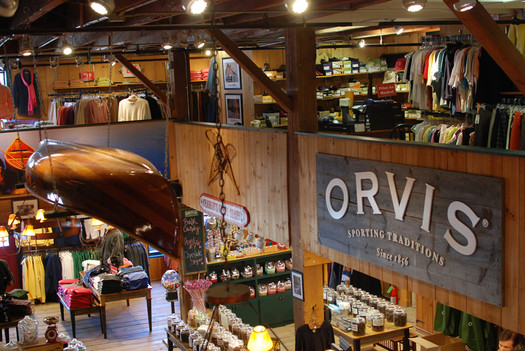 The Orvis Outlet
Our breakfast server told us that the Orvis Barn was a "real outlet" -- actual markdowns from the Orvis flagship store next door. We skipped the flagship store this time around, but will go back next time we have our daughter with us -- apparently the indoor fish pond is a big attraction.
If you're looking for outdoor clothing or L.L. Bean-type attire, the Orvis Barn had some good deals. Or, if you're looking to shop with your dog, this is a dog-friendly spot. In addition to clothing and quilts, the store had a good selection of local food and old-fashioned candy (and free treats for dogs).
Visit to Hildene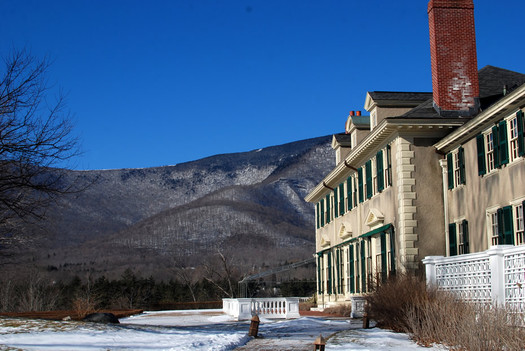 Hildene is the ancestral home of Robert Todd Lincoln, Abraham and Mary Todd Lincoln's only child to survive to adulthood. Robert was chairman of the Pullman Company and a successful politician.
The home, built in 1905, is exquisite, and the story of how it was restored by the community is an inspiring story of a town coming together to preserve one of its historical treasures. The self-guided tour (admission is $16 for adults) allows visitors to wander the house freely, and get up close to many historical artifacts that belonged to Robert Todd Lincoln, his father, and his family.
It's worth nothing that from the visitor's center (where you park and view an orientation video), it's a short uphill walk to the house. The visitor's center has a nice gift shop with two working telegraph machines and a model Pullman train that clicks and clacks along a track above the shop.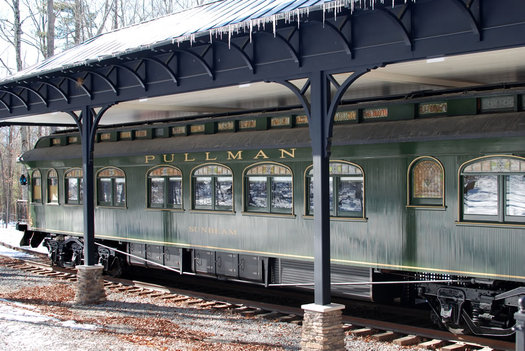 The estate has a fully-restored Pullman Car on the property. It's another short walk from the visitors center down a wooded path to the train car. The luxurious train was the "Learjet of its time,"" according to the guide. The beautiful woodwork and compact extravagance is impressive, if a bit claustrophobic.
There is a lot more to Hildene than the house -- the Friends of Hildene Foundation has turned it into a vibrant community, cultural, and outdoor center. The grounds include snowshoe and cross country skiing trails as well as rentals and lessons.
Hildene is on my list of places to visit again in the warmer weather. I would love to walk through the peony gardens, check out the outbuildings and antique car, hike on the trails, visit the working farm, and take in a concert on the grounds.
Lunch at Chauncey's in Arlington, VT
On our way back to Albany we stopped for a bite at Chauncey's in Arlington. We got lucky that one of the only restaurants on our route that was open on Sunday afternoon served basic but very good food. We were also treated to more of that Vermont-style, no-nonsense service: our waitress seemed to truly disapprove when we opted out of trying one of the homemade desserts. The real star of Chauncey's is its signage and notices. A sheet of paper beneath the glass on our table described, in detail, the restaurant's policies for large parties and room rentals in various scenarios, concluding with the statement, "If this is all suitable, we can discuss specific arrangements."
Manchester is the kind of place where you can do as much or as little as you'd like. You can sit by a fire reading a book and sipping wine or spend the day on the slopes. There's enough shopping to fill a few days, lots of good eating, and plenty of places to snowshoe and cross country ski when conditions allow. It's an easy trip from Albany, but it has the distinct vibe of a ski resort town. Our weekend in Manchester gave us a chance to recharge and return refreshed, but it really can be whatever you make of it.
Nicole Correia writes at It's Loverly and is on Twitter as @nicorreia.
photos: Patrick Correia
Hi there. Comments have been closed for this item. Still have something to say? Contact us.