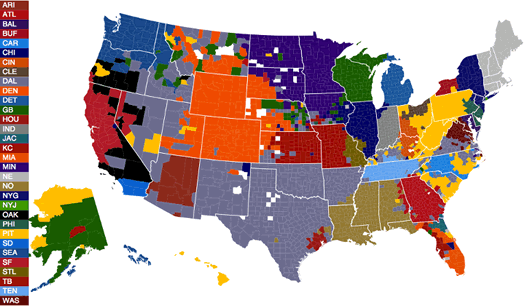 A few bits from a Facebook analysis of "like" data for NFL teams:
+ Unsurprisingly, eastern and downstate New York is Giants country, with a majority of people in the those counties liking the football Giants over other NFL teams. There's a dividing line running north-south around Syracuse where the majority shifts to the Bills. (And a few counties in the Southern Tier that are majority Steelers fans.)
+ The only New York county with majority Jets fans: Nassau County, on Long Island.
+ The 49ers appear to have more support in New York than the Ravens (at least, by county majorities).
+ Giants fans are most likely to be "friends" with people who are fans of these teams (in descending order): the Jets (haha), the Cowboys, the Steelers, the Patriots, and the the Eagles. As it happens, the Cowboys and Steelers show up often on the "most fan friends" lists due to strong nationwide followings.
Deadspin has more, including bigger versions of the maps.
map: Facebook
Hi there. Comments have been closed for this item. Still have something to say? Contact us.