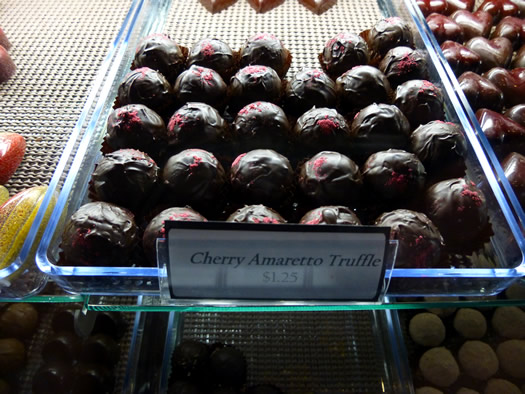 By Daniel B.
Update October 2013: This place is now closed, replaced by a juice bar.
____
Valentine's Day is for suckers. Going out to a restaurant on February 14 is like going to a nightclub on December 31. It's crowded to the gills and everyone is filled with impossible expectations. Plus, attempting to celebrate the special relationship you share with your lover, by having the exact same meal as the couple at the table next to you, seems misguided at best.
And maybe you find yourself alone in the dreariest part of the winter doldrums.
So, forget Cupid and his stupid little wings for just a moment. Regardless of your feelings about the upcoming holiday, and regardless of your relationship status, do not miss out on the opportunity to indulge in a box of chocolates.
Some of the best chocolate in the region just got a whole lot closer. And after trying a bunch of them, here's a little insight that will help you fill your box.
The Chocolate Mill has been open in Glens Falls for three years. It was started by certified master pastry chef -- and former CIA instructor -- Frank Vollkommer. That is about equidistant to the other great chocolate shop in our corner of the world, Chocolate Springs in Lenox, Massachusetts.
But an hour is awfully far to drive for chocolates, even great ones. And I have some strong prejudices about bonbons and truffles. My favorite style comes from places like La Maison du Chocolat and L.A. Burdick, which use a very thin coating around mostly dark-chocolate ganache fillings with subtle hints of complementary flavors.
I had seen the colorful coated molded chocolates that chef Vollkommer was producing, and thought they weren't for me. And if you suggested last week that I might enjoy a white chocolate passion fruit ganache, I would certainly have crinkled up my nose and dismissed the notion on its face.
It looks like I was wrong. Twice.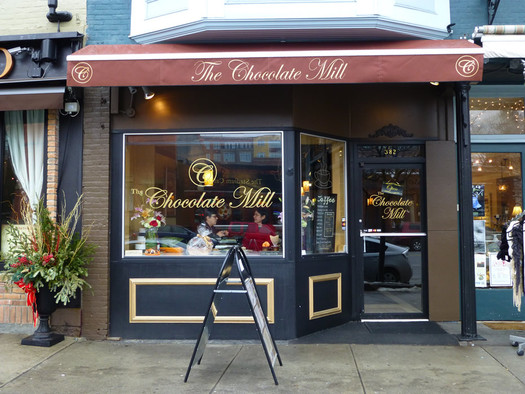 A few weeks ago The Chocolate Mill opened up an outpost right on Broadway in Saratoga Springs. It's just a place for pastries, cakes, confections, and coffee. Mostly it's designed for take away. But there is a small counter overlooking the sidewalk and a large booth in the back if you want to sit down and enjoy your treats on the spot.
The chocolate croissant and freshly ground pour over coffee are good. The pastries look gorgeous. But lets focus on the chocolate bonbons and truffles.
There is no better time to have chocolate than in the clutches of winter. Yes, the days are starting to get longer. Sure, we had a couple of days that were unseasonably warm. But it's still cold and dreary out there. People will get more and more frayed as February marches on, regardless of Punxsutawney Phil's prediction of an early spring.
Thankfully, chocolate makes you happy. Forget about sunlamps or calling up your doctor to increase your dosage of antidepressants. I'm advocating for boxes of chocolate. Stimulate those pleasure sensors in the brain from ground up beans that grow in the sunny tropics. Get them for yourself, or get them for someone close to you. Just get them and be happy.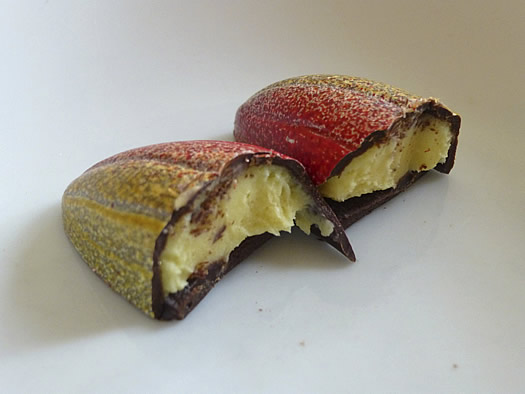 Passion fruit bon bon
At The Chocolate Mill, the bonbons have a delightfully thin chocolate shell on the top, and are sealed with a thicker chocolate base. The best of the bunch were the passion fruit and the espresso. Despite not being a fan of white chocolate, the passionfruit filling was so bright, tart, and filled with true fruit flavor it was a personal favorite. However, there are those who may want something a little more traditional. For them there is the espresso bonbon that combines the classic combination of coffee and chocolate into a dimpled golden cube. It is fantastic.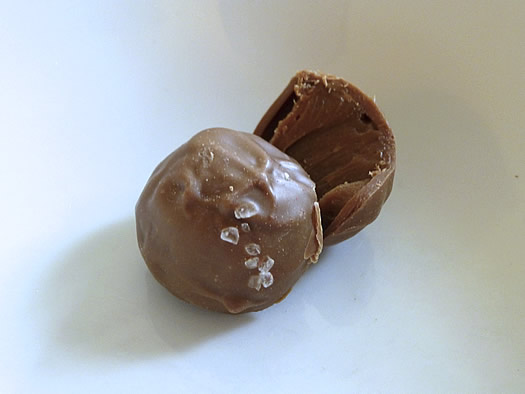 Milk chocolate caramel with sea salt truffle
The truffles are more rustic orbs of chocolate that come in little paper cups to keep them from rolling around the box. The two favorites were milk chocolate caramel with sea salt and the traditional 64 percent chocolate truffle with cocoa nibs. It's hard to resist the sweet and salty combination of a rich, buttery caramel interior with a few crunchy grains of sea salt perched on top -- even if it comes enrobed in milk chocolate. My heart belongs to dark chocolate, and I was glad to see an expression of that crowned with a few flecks of roasted cocoa beans.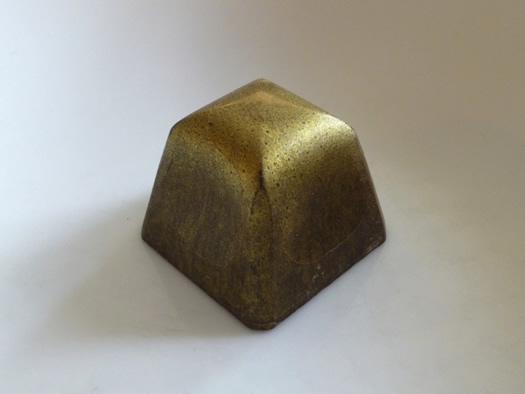 Espresso bonbon
Creamy raspberry mousse and chocolate ganache laced with cherry and amaretto will surely have their fans. As will the glamorous crescent shaped dark chocolate bonbon filled with caramel, but without the salt. The only truffle I would recommend avoiding in your box is the traditional cocoa dusted one as that can make a mess of your other chocolates.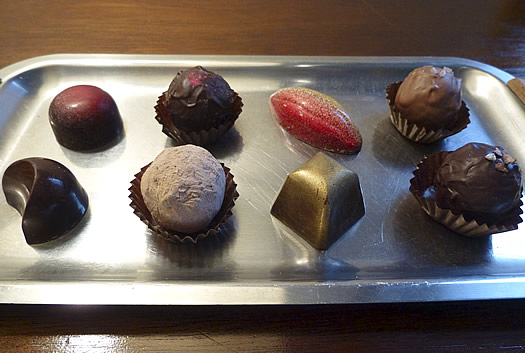 The available flavors change by the day. And while the chocolates are not made on site in Saratoga, they are brought down every day from Glens Falls.
If you have someone special in your life, or if you are your very own special person, the time for chocolates is now. The Chocolate Mill truffles are $1.25 each and the bonbons are $1.50 per piece. They aren't large, by any stretch of the imagination, but they'll get you to where you want to go. And by selecting only the pieces that sound appealing, you will always know what you are going to get.
Daniel B. is the proprietor of the FUSSYlittleBLOG.

Find It
The Chocolate Mill
382 Broadway
Saratoga Springs, NY 12866
Say Something!
We'd really like you to take part in the conversation here at All Over Albany. But we do have a few rules here. Don't worry, they're easy. The first: be kind. The second: treat everyone else with the same respect you'd like to see in return. Cool? Great, post away. Comments are moderated so it might take a little while for your comment to show up. Thanks for being patient.