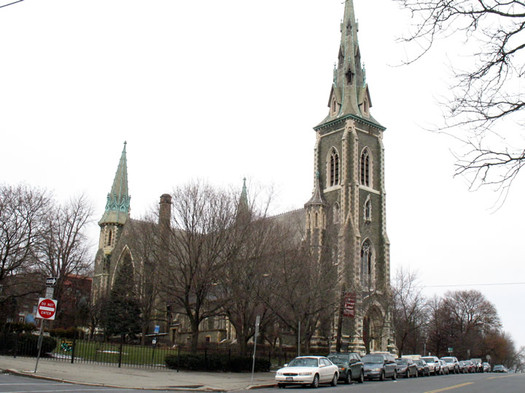 So what's next for St. Joseph's Church now that Ravens Head Brewing is moving ahead with the Cohoes Armory instead?
That's a tough question, says Bill Brandow, president of the board at the Historic Albany Foundation, which took ownership of the building from the city back in 2003 and has been looking for a buyer ever since. Brandow has been involved with the building in one way or another for about 14 years, and says dozens of prospective buyers for the property have come and gone -- but Ravens Head was the most promising to come along so far.
Does he think it was the building's last chance? Not necessarily. Is he optimistic about finding the right use for the building? No -- at least, not under the current circumstances.

"For years St Joseph's was the largest Catholic church in Albany," says Brandow. "It's 17,500 square feet. It held hundreds of people who contributed a lot of money to keep it going. It was built for intensive use and there is going to have to be a pretty intensive use to save it."
Brandow says Ravens Head's plan for the building might have worked. "The brewery wasn't our first choice but it was the first reasonable option where someone had funding and followed through. We told them we were going to put in the deed it couldn't be open past 11 pm. We were trying to mitigate the noise. It's a building that's been looking for a use for 32 years."
It's not a good fit for a church right now, Brandow says, because even with its size, the church is all sanctuary space. It doesn't have room for a Sunday school, or a meeting space, or a basement -- or heat. "It's a tough sell for a church," Brandow says, "because it doesn't meet the needs of what churches are looking for today."
Neighborhood perspective
Mimi O'Neill, president of the Ten Broeck Triangle Preservation League, says the neighbors she's heard from are relieved that the Ravens Head situation is settled. "It's like a burden off of us. We wish them well and we feel that it is a much better option for them. It didn't ever seem like a good fit for us in the middle of this quiet neighborhood." But one upside: O'Neill says the process brought the neighbors together and showed others how much Ten Broeck Triangle residents care about their neighborhood.
O'Neill says the neighborhood is willing and excited to work with Historic Albany, the city of Albany, or whoever ends up owning St. Joseph's to keep the church maintained and find an appropriate use. She says they are working on forming a small independent group to help work on that. Among the ideas being floated: a mausoleum where people can lay to rest the ashes of their loved ones, and a craftsmanship program modeled on one at St. John the Divine in New York City. O'Neill says the neighborhood is not opposed to a commercial use for the church, "as long as it is quiet and doesn't take all the parking."
Can an appropriate use be found for the building? Brandow says he still has hope, but that it will depend on the neighborhood supporting a variance and a resolution of the parking issue. He doesn't think that will happen anytime soon, and the longer the building sits, he says, the more expensive repairs will become, and the less likely it will be that it gets used.
"We've heard all kinds of ideas, but so many are just not reasonable unless Bill Gates steps up and give someone $6 million," Brandow says. "People mentioned a coop - Pioneer Coop was in a 1960s building in Troy and couldn't make it. This building has no heat or electric right now."
Mimi O'Neill says the newly formed Ten Broeck neighborhood group has already found grants they plan to apply for to help keep the building maintained. "There is a lot of money out there that has not been tapped into for this church yet."
While Brandow applauds the intentions of the neighbors, he says their effort is about two decades too late and that they may be reinventing the wheel. "We've been looking at ideas for that building for more than 20 years. Ideas are great but we need investors with money and a plan. "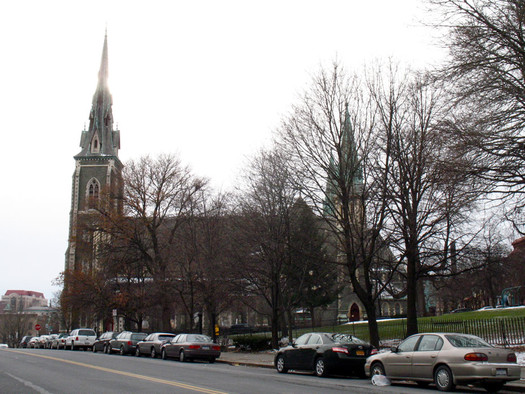 Will HAF turn St. Joe's back over to the city?
Brandow says Historic Albany never expected to hold the church this long. And in its 10 years of ownership, HAF says it's spent more than $700,000 stabilizing the building (the city had put in $250,000 in 2002). It now costs HAF $6,000 a year to own the building (that doesn't include maintenance or upgrades).
Historic Albany's purchase agreement for the building includes a clause allowing it to hand the building back to the city if it can't find an "an economically viable end-use" for the building after "good faith efforts." Brandow says he's not sure whether they'll use it. "We have said before that we don't want to do that unless we can set up a 'friends' organization to maintain it. We have to talk about it before we decide what to do."
What's so great about St. Joe's?
If you've never been inside St. Joseph's you may be wondering why its preservation is important to HAF and others. "Patrick Keely considered it his masterpiece. He was the most prolific church architect of his time," Brandow says. "It's got one of the largest collections of mid 19th century stained glass -- all the windows are mid 19th century. The architecture is magnificent.
"This is the most significant unused building in the city. Regardless of what the board decides to do, we'll continue to be involved with it. We were involved for 20 years before we owned it, and we'll continue to be involved."
___
Corrections: The original version of this post had two things incorrect -- how long Bill Brandow has been involved with the building, and the name of the original architect (Keely/Healey). We just misheard over the phone. Sorry about that. They've both been fixed.
Find It
St. Joseph's Church
Ten Broeck St and 2nd St
Albany, NY 12210
Say Something!
We'd really like you to take part in the conversation here at All Over Albany. But we do have a few rules here. Don't worry, they're easy. The first: be kind. The second: treat everyone else with the same respect you'd like to see in return. Cool? Great, post away. Comments are moderated so it might take a little while for your comment to show up. Thanks for being patient.