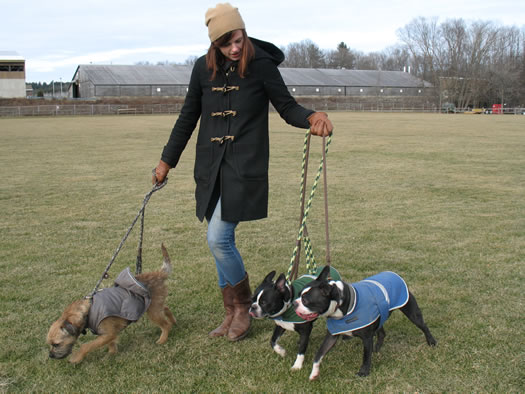 By Casey Normile
We're having an actual yes-it's-cold-and-snowing winter this year. And during a few recent stretches of especially cold weather, we've wondered how people who work outside keep warm.
So we asked them.
"Our guys work 8 hours shifts, but if they're in the backcountry or on a mission, it could last 16 hours. We have uniforms made specifically for us and we go through quite a process for choosing what we want. For example, we use Gore-Tex layers for a wind and rain barrier."
But with warm gear comes sweat. "You'll see rangers hiking and they may be down to their shirt or vest. But as soon as they stop moving, they'll put their jacket back on. You need to let your perspiration evaporate or it'll just make you colder."
Along with good gear, Jacob suggests "stay hydrated and keep your energy up."
Jen Pursley Guidice, Hounds on the Hudson, a dog walking service
"It's definitely something we deal with every day in the winter! The key to staying warm is both physical and psychological. On a physical level, the right gear is essential." Jen loves her wool layers, Sorel boots, and Smartwool socks.
"Another physical component is to keep active. On my dog park days, where I'm just standing around or throwing a ball, it can be quite brutal -- especially when the wind picks up. Then I remember, 'Oh right, move!' and I'll just starting making laps around the dog park with the dogs. It's amazing how moving around keeps you warm. Do a few jumping jacks. Jog in place. Walk at a brisk pace. Just don't stand still.
"Finally, the psychological part of how to stay warm is perhaps the most important. You know, a lot of people complain about the cold because they fail to recognize some of the great things about it. The cold is cleansing. It's invigorating and strengthening. It wakes us up and keeps us moving.
"Carrying a hot beverage also does wonders."
Patrick Stella, National Grid
Utility lineman often have to work outside during, or just after, harsh winter weather -- in a bucket, up in the air. All while knowing people are waiting for the power to come back on.
"It's a tough job for the linemen because the weather is so extreme," said Stella, " So they have... an appreciation for the cold."
"Layering is the most important thing. Our crews wear a lot of safety gear to begin with and it needs to be fire retardant. The good part about that is that it's already tightly knit so it's very wind resistant," said Stella.
"But If it's below zero, our crews don't go out unless its an absolute emergency. And they rarely go out there by themselves so we train them to look out for one another. If someone gets too cold, they go back to the truck to warm up for a while."
Steve Smith, Albany Police Officer
"It's really important to keep your hands, feet, and ears covered, those are usually first to go. And just be aware of yourself. If you're shivering, that's already not a good sign."
"A lot of people think, well, we're not as busy this season so maybe we're not outside a lot, but what they don't think about are car accidents or our beat officers. We have 30 beat officers out there everyday for 8 hours," says Smith. "You know, if there's a car accident on Central Ave, you could be there for hours and the wind is blowing and our uniforms are just basic cotton."
"So we improvise. We wear Under Armour, long johns, and thermal socks underneath our gear. And if we're going to be outside for a while, we rotate officers through. But this is what we signed on for. We're out there on the other end of the spectrum too, when it's 95 degrees out and we have bullet proof vests and 25 pounds of gear on."
"But I'll tell you one thing, I wouldn't want to be a construction worker. Those guys must be freezing."
My boots were covered in snow and I must have stepped wrong because all of the sudden I ended up in the middle of the street and their mail was everywhere. Some guy opened the door and said 'I think the mailman is dead!'
Jay Jackson, USPS mail carrier for 27 years
Hand warmers: "In 1992 and '93 I used to deliver down to the Port of Albany and it was just brutal. It's definitely the coldest route, because you're right on the river. I'd just bring hand warmers in my pockets and stick my hands in whenever I needed it. But I actually got frost nip, even through a pair of ski gloves. Now, when it gets cold, my left thumb just goes numb."
Jackson says their gear has gotten better over the years; now they have fur hats and Neos overshoes, which you pull over your boots to keep them dry and insulated.
He does warn to be careful on painted steps: "I was delivering mail to the AIDS Council one morning and those painted steps are slippery during the winter. My boots were covered in snow and I must have stepped wrong because all of the sudden I ended up in the middle of the street and their mail was everywhere. Some guy opened the door and said 'I think the mailman is dead!'"
And don't complain about the cold to a mail carrier: "We honestly prefer snow to rain; rain is just the worst to work in. But if people complain about the cold, I laugh a little bit. With the remote car starters and everything? Come on. 'Yeah, you had a hard day in the cold?'
"But if people know you work in the cold, they'll try not to bring it up. And our customers will try and offer us coffee or something to warm us up."
Say Something!
We'd really like you to take part in the conversation here at All Over Albany. But we do have a few rules here. Don't worry, they're easy. The first: be kind. The second: treat everyone else with the same respect you'd like to see in return. Cool? Great, post away. Comments are moderated so it might take a little while for your comment to show up. Thanks for being patient.