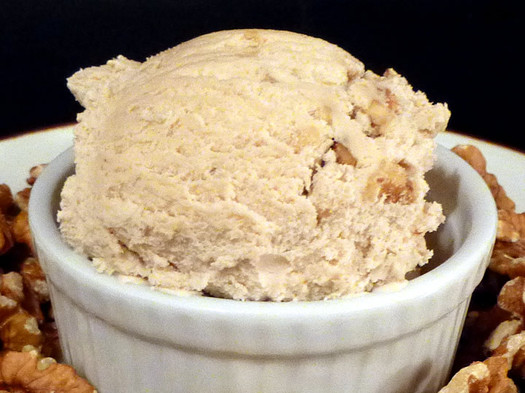 By Daniel B.
Slurpees are the defining product of 7-Elevens around the country. Every now and again I'll miss having easy access to this remarkable frosty beverage that so skillfully rides the line between two phases of matter.
When I first moved to the Capital Region I would have traded all of the Stewart's for even just one 7-Eleven if given the chance. But now, in no small part to Mr. Dave's romanticizing of the shop, I can finally see Stewart's as a cultural anchor of upstate New York. And despite my predilection for organic milk, eggs from free-roaming chickens, and ice cream made without additional gums, thickeners or emulsifying agents, I find myself regularly at my local Stewart's buying milk, eggs, and ice cream.
Amazingly, the reason isn't because Stewart's is convenient. It's because these staples are just really good.
Their maple walnut ice cream would have never even made it onto my radar had it not been for an event from last summer. Hands down, it's my favorite flavor in their case. And now is the perfect time to eat it.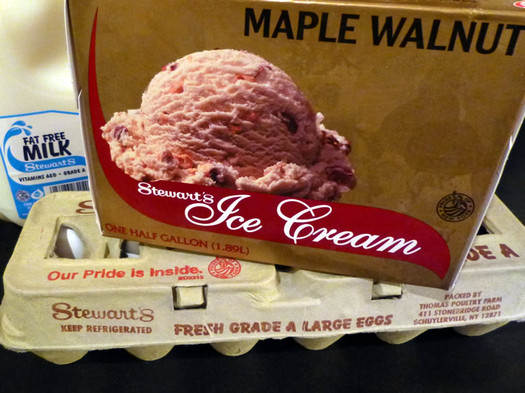 Last spring I led an intrepid group of eaters around five ice cream stands that make their own hard ice cream on site. To garner a fair comparison I had called ahead to see which flavors would be a common denominator across the board. Vanilla, chocolate, strawberry and coffee weren't surprising. Butter pecan kind of came out of left field. But I never expected maple walnut to make the list.
Chocolate chip wasn't available at five local ice cream shops but maple walnut was?
With over two dozen participants, not a single one of them chose to spend the afternoon eating five different scoops of maple walnut ice cream. So I was left wondering about this improbably popular flavor.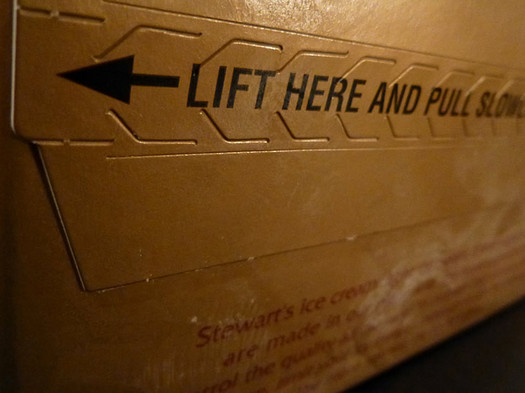 That is until that fateful day that maple walnut was the ice cream flavor of the week at Stewart's. For those who know, that means instead of a half gallon costing $4.29 it was just $3.19. That little bit of a price break was just the nudge I needed to try something new.
Whoa. This is good stuff.
Stewart's uses a natural maple syrup flavor. So it's unfair to compare it to the stuff that comes from the trees. Still, the ice cream captures the caramelized sweetness of actual maple syrup. And it's subdued enough to let the sweet cream of the dairy shine through. Frozen walnuts add not only a buttery crunch, but also a brilliant balancing bitterness that keeps the other flavors in check.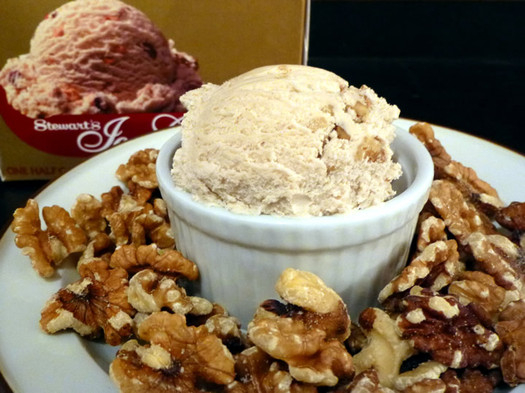 It's an adult flavor. Which isn't to say my kids don't like it. They do. They just aren't crazy about the walnuts. But hey, that just means more walnuts for me. As it is, there are plenty of large chunks of these tree nuts scattered through the ice cream, but I can never get enough.
Did you hear about how walnuts can also reduce your cholesterol? True story.
Winter may not seem like a great time to eat ice cream. But maple tapping has already begun as the daytime temperatures creep above freezing and plunge back down below at night. And when the next batch of real maple begins to flow, I suspect I'll find some way to enjoy it with walnuts. Because this combination of flavors is fantastic.
Daniel B. is the proprietor of the FUSSYlittleBLOG.
Say Something!
We'd really like you to take part in the conversation here at All Over Albany. But we do have a few rules here. Don't worry, they're easy. The first: be kind. The second: treat everyone else with the same respect you'd like to see in return. Cool? Great, post away. Comments are moderated so it might take a little while for your comment to show up. Thanks for being patient.