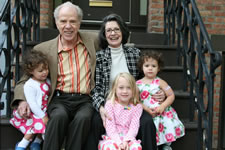 In the latest episode of Duncan Crary's A Small American City podcast, William Kennedy talks about growing up in North Albany, how the city changed, how his family ended up in the suburbs -- and about his grandkids living in... a city.
I never wanted to do that, you know. I always resisted the idea of moving any part of my life to the suburbs, and especially because of how strongly I loved the city, the center of the city. Albany was a vital, vital city. I mean, it was just full of people all the time, everyday, lunch hour you couldn't walk on the sidewalks. And Thursday nights everybody's shopping, and the weekends everybody's at the movies. There were seven movies downtown: it was the Palace, the Strand, and the Grand, and the Ritz, and the Leland, and the Royal ... the Paramount ...
And all that vital life, there was departments stores, and bowling alleys, and social clubs. And everything started in the late 40s/early 50s to close down. The federal tax on nightclubs, and they went bust. And then television came in, and everybody stayed home, they didn't go to the movies. And the movies went crazy trying to figure out how to ... get people to come back to the movies. But the movies were everything for us -- 3,000 people at 11 o'clock at night outside the Palace, coming out of these various theaters ... And they'd go all over the place ... The place was full of night clubs, great restaurants -- all night restaurants -- and pool rooms. (laughs) I was especially fond of the pool rooms because my uncle and my father, he was a good pool player...
Anyway, but that whole urban environment was in decline in the years when I was just coming into manhood and starting to work at the Times Union at my first reporting job on the city side of the news ... and then suddenly the city just sort of imploded, you know. And the '60s came...
I went away in the middle '50s... I went to Puerto Rico to work on a newspaper. I was bored with the town. It was boring. There wasn't enough action.
While in Puerto Rico, Kennedy met his wife and got married, moved to Miami, moved back to San Juan. And they came back to Albany in 1963.
It was like desolation row on North Pearl Street. This vital, vital street. All the stores were closed. It was dark, the windows were dirty. Midnight there would be one car parked on Pearl Street. No people on the street. All the theaters are closed, nobody's coming downtown. Even the great, great restaurant Keeler's closed -- it changed hands in '63 and they went out of business in '68.
That was the final death knell of downtown. And it was a very sad thing to watch. And I wondered what would ever happen. How would this come back? Well, Rockefeller brought it back, when he built the mall, and that was one of the things... a lot of things happened.
Everybody went to the suburbs. Everybody wanted lawns and backyards and, you know, 2-car, 3-car garages. You couldn't get that downtown.
Kennedy and his family ended up in Averill Park. When Kennedy's son Brendan -- and his wife, Tracy, and their kids -- returned to the Capital Region, they looked at building a house on some of the family's land in Averill Park. But they ultimately chose to live in... downtown Troy. And William Kennedy talks in the podcast about how happy he is to see his son's family enjoying their life there.
Speaking of that life: Brendan and Tracy (and their daughters) talk about their family's life in Troy in the Small American City episode right before the William Kennedy ep. It includes a bunch of interesting bits about raising kids in the city -- and the things that could make it more attractive to families: stuff like better sidewalks, and a playground.
Coverage: Here's a recent Hudson Valley Mag article about A Small American City.
photo: Brendan Kennedy
Say Something!
We'd really like you to take part in the conversation here at All Over Albany. But we do have a few rules here. Don't worry, they're easy. The first: be kind. The second: treat everyone else with the same respect you'd like to see in return. Cool? Great, post away. Comments are moderated so it might take a little while for your comment to show up. Thanks for being patient.