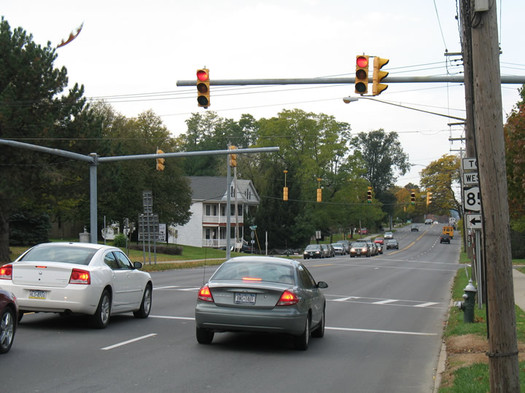 By AOA Greg
This has been a bad week for pedestrians. One person was killed on Central Ave in Albany, another hit just up the street during a vigil for the first person. And in North Greenbush, a pedestrian was hit by truck with a snowplow attached. [TU] [Troy Record]
Unfortunately, a week like this isn't surprising. I walk a lot -- because I have a dog, because I prefer it to driving when possible, just because I like it. Rare is the week that I don't have a an encounter with a vehicle that's a little too close. A lot of times it's a result of something a driver did (or didn't do) -- roll through a right on red, not respect a crosswalk, or just not pay attention to what's going on. But I'm also sure there are times I could have been a better pedestrian.
So, pedestrians and drivers need to come to some sort of understanding. And toward that end, here's a pledge for pedestrians and drivers (and municipalities) to do better...
As a pedestrian, I pledge to...
+ Cross at a crosswalk when one is nearby.
+ Pay attention to nearby traffic lights, especially when they're about to turn.
+ Look both ways before crossing.
+ Cross the street with purpose. That's not to say I'm going to run, but I'm not going to amble -- or stop halfway to text.
+ Not dart out from between parked cars -- because that gives a driver very little chance to see me.
+ Walk on the sidewalk when possible.
+ If it's not possible to walk on the sidewalk -- because it doesn't exist, or it isn't clear -- I will walk on the left side of the road so I can see the traffic coming toward me. And when traffic is coming, I'll do my best to get out of the way.
+ If I'm out walking or running at night, I'll make an effort to wear something that makes me more visible.
+ Be civil and give people the benefit of the doubt. (I admit I've yelled at a few people who have rolled through rights on red while I've been crossing. I probably shouldn't do that.)
+ Just generally pay attention to what's going on.
As a driver, I pledge to...
+ Keep an eye out for pedestrians.
+ Respect the crosswalks -- even where there aren't traffic lights. If a person's in the crosswalk, I'll slow down or stop to let them cross.
+ Not stop in -- and block -- the crosswalk.
+ Come to a stop when turning right on red. Because a red light is like a stop sign -- even when turning.
+ And when making that turn, I'll keep an eye out for people crossing the intersecting street.
+ Not run red lights.
+ Slow down on residential streets. There's a big difference between hitting someone at 20 mph versus 40 mph.
+ Not double park -- it makes it hard for pedestrians and other drivers to see what's going on up the street. (Also: it's tacky.)
+ Not use my mobile, re-arrange my playlists, or some other sort of distracting activity while driving.
+ Be civil and give people the benefit of the doubt.
+ Just generally pay attention to what's going on.
As a municipality, I pledge to...
While we're at it, let's not leave municipalities and planners out of the discussion. Because they could do things to make the situation better.
+ Make it a priority to install, maintain, and/or extend sidewalks when possible.
+ Maintain and conspicuously mark crosswalks. Add crosswalk signals where appropriate.
+ Critically assess intersections for how friendly they are to pedestrians. Is it readily apparently how pedestrians should use the intersection? Is there a natural place to cross? Will they have enough time to get across the street?
+ Crack down on speeders, red light runners, right-on-red rollers, and crosswalk blockers.
+ Keep pedestrians (and cyclists) in mind when designing new intersections or developments.
Say Something!
We'd really like you to take part in the conversation here at All Over Albany. But we do have a few rules here. Don't worry, they're easy. The first: be kind. The second: treat everyone else with the same respect you'd like to see in return. Cool? Great, post away. Comments are moderated so it might take a little while for your comment to show up. Thanks for being patient.