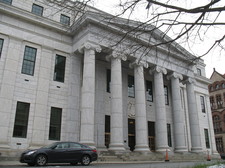 Judges from the New York State Court of Appeals -- the state's highest court -- will be at Albany Law March 21 for an event titled "The New York Court of Appeals: The Untold Secrets of Eagle Street."* The judges will "discuss the court's procedure and inner workings."
All of the court's current judges are schedule to participate: Chief Judge Jonathan Lippman, Judge Victoria Graffeo, Judge Susan Phillips Read, Judge Robert Smith, Judge Eugene Pigott, Jr., Judge Jenny Rivera. (Rivera was confirmed just this past month.)
The event is from 5-7 pm in Albany Law School's Dean Alexander Moot Courtroom. It's free and open to the public. It's part of the Albany Law Review's annual Chief Judge Lawrence H. Cooke State Constitutional Commentary Symposium.
*Because, you know, the court is on Eagle Street in Albany. It's across Pine Street from Albany City Hall.
Albany Law advertises on AOA.