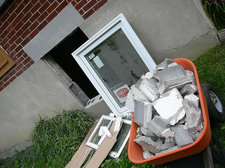 Zach emails:
We are looking to make the most of our house and would like to fully use the finished basement. In order to do so, we need to add an egress. Has anyone had this done recently, and if so, any recommendations on who to use?
Basically, an egress is a way to get out the basement in case of a fire. It's often a code requirement, especially if there's a bedroom.
So, have you done something like this? Is this a general contractor job, or does Zach need to find someone who specializes in doors/windows/basements? Please share.
Hi there. Comments have been closed for this item. Still have something to say? Contact us.