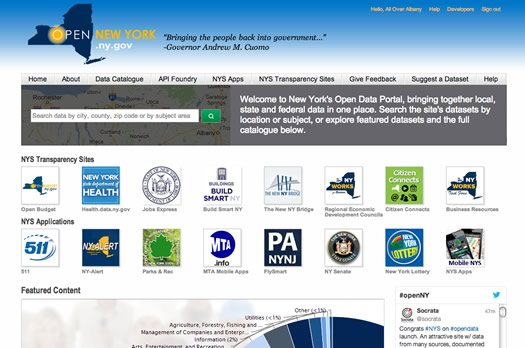 The Cuomo admin today announced the launch of open.ny.gov -- a sort of one-stop, online shop for public data in the state. Blurbage:
"Open data" refers to data that is free from restrictions and can be released in a format that can be retrieved, downloaded, indexed, and searched by commonly used web search applications. Open.ny.gov provides unprecedented "open data" access and transparency to the wealth of information collected and maintained by our state and local governments. It allows researchers, citizens, business, and the tech community direct, centralized access to high-value government data to search, explore, download, and share.
Among the first of a small group of local municipalities to participate (at least in a limited way): the city of Albany.
We have to admit that when we saw the press release, we didn't have high hopes. You know, it sounded good -- but stuff like this often falls flat.
But after checking it out this afternoon, there might be something to this...
Open.ny.gov (this needs a better name -- maybe NYDATA?) already has what looks like a not small number of datasets. A few examples:
+ state jobs data since 1990
+ index crimes by county and agency
+ a breakdown of revenue for the city of Albany over the last few years
+ a list of farmers markets around the state.
That's good. But here's what's better: it appears much of this data is structured.
So? Well, let's use the city of Albany's vacant building list as an example. A few months back Tim Varney created a map of the city's vacant (and no-longer-vacant) buildings from the list compiled by the city. And he should have gotten some sort of award for doing so, because the city published that list in rather data-unfriendly pdf. But on open.ny.gov the list is available with each bit of information broken out by its type: street number, street name, permits, inspection dates, and on and on. And it's exportable -- in a bunch of different formats, such CSV, XML, XLS, even JSON. (Also, for the very nerdy: there's an API.)
This is sort of like taking the all ingredients of a stew and orderly lining them up on the kitchen countertop so you can pick and choose what you want and how you'd like to mix them. For example: we exported the Albany metro area jobs data and created this chart in Google docs in just a few minutes: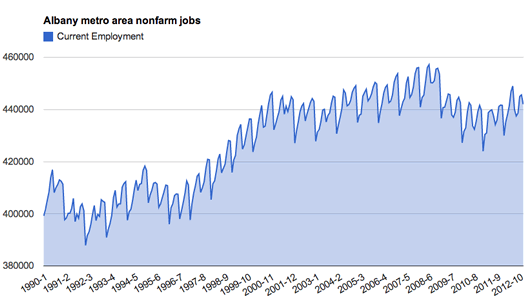 The system powering the state website also allows users to directly create graphs and visualizations. Here's a quick map we put together of retail food stores in Albany County:
And the site just generally makes it easier to look up stuff. For example: how much revenue did the city of Albany pull in on parking violation fines in 2011? Answer: $2,989,577.
Of course, a lot this stuff needs to be consumed mindfully. It doesn't necessarily come with context. And it's easy to go overboard.
But as we've said before, having meaningful access to data generated by your government is becoming a 21st century civil right. And this looks like a good start.
Earlier on AOA: Car crashes, snow, crime, and public data
Hi there. Comments have been closed for this item. Still have something to say? Contact us.