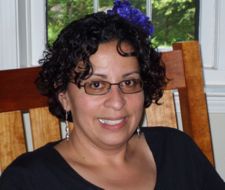 Each week with My Exit, our friends at WEXT give us a chance to check out what's on the playlists of people in the Capital Region. It's been a great way to discover new music and rediscover some old favorites.
This week's DJ, Jen Acuna has come up with a mix that runs from from Latin to Cole Porter to Etta James...

Who?
My name is Jen and I have been employed by the federal government for 22 years. I am originally from CT. I am a mother to the most amazing 20 year old-Matt, who graces my existence every day. I am currently working on a cookbook and hope to have a stand at a local farmers market this spring.
How would you describe your taste in music?
My tastes in music are varied. Being Puerto Rican, I love all Spanish music, of course. Merengue, salsa, cumbia, cha cha, rumba, samba and the list goes on. Many people do not know that I love progressive metal. It's true. I love Opeth, Pain of Salvation, Riverside and many others. I also enjoy rock, jazz, soul, dream pop, blues and ambient music. There is very little that I would not listen to.
Five songs from Jen's show:
"Se Me Van Los Pies" - Susana Baca
Susana Baca is a Spanish singer from Peru. Her style of music is called Musica Negra which is heavily influenced by African rhythms. Check out "Bailes Peruanos" on YouTube. The lyrics in the song are mostly about her feet, waist, hips and arms losing control in dance -- very rhythmic and sensual in nature. You cannot help but feel the music course through your body and submit to the involuntary movements that follow.
"Please Bring Me Someone to Love" - Sade
I had the pleasure of meeting Sade when she came to SPAC in 1993. I concocted this elaborate story back stage before the show and I truly believe my tenacity and charm got my foot in the door. I was led to her dressing room where she offered me a piece of fruit and then took two Polaroid shots -- one for me and one for her. This song speaks to me because she asks for an end to the strife in the world and only after that does she dare ask for someone to love. Powerful and humbling at the same time.
"Chokin Kind" - Joss Stone
I actually have two Joss Stone tracks on my playlist. The other song is "There is no Other Me," featuring Jeff Beck on guitar. Joss Stone is my girl. She's a bad ass and I love that about her. At times she is woefully vulnerable and at other times she is unapologetic for thoughts about men. Chokin kind talks about the acceptance of a woman's love without the need to possess her mind and soul. The best part about the song is the near a capella sound proving that her voice is the instrument.
"So In Love" - K.D. Lang
What can I say except that love is a powerful drug. The mind and heart become drugged by the elixir that is new love. I think we have all experience this at some point in our lives. The challenge becomes maintaining a long lasting, healthy love. K.D. sings this song in a most provocative voice-full of emotion and wanton desire. Muy sexy!
"Fool That I Am" - Etta James
Yes, Etta James did sing something other than "At Last." She was a powerhouse of a singer both in ballads and gospel inspired blues. In this song she admits falling victim to a deceptive love but at the end still promises to care about the love of her life. I am a hopeless romantic and the music in this song reminds me of an era where both big band orchestras and vocals worked hand in hand to create memorable music.
You can hear Jen's My Exit show Monday night at 11 pm on 97.7, Saturday at 8 am, or at exit977.org.
Here's how to schedule your own My Exit show on WEXT.