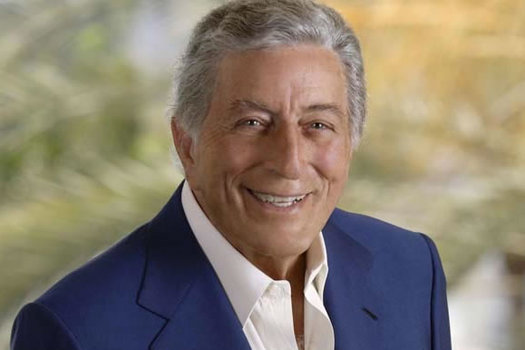 The lineup for this summer's Saratoga Jazz Festival at SPAC is out -- and the headliners include: Tony Bennett, Buddy Guy, David Sanborn and Bob James, the McCoy Tyner Quartet with John Scofield, Preservation Hall Jazz Band, Ladysmith Black Mambazo, Kevin Eubanks, Gregory Porter, and Rudresh Mahanthappa's Gamak. The lineup and schedule is post jump.
The Saratoga Jazz Fest is June 29-30. Tickets go on sale March 18. They start at $55.
All descriptions via SPAC.
Saturday, June 29
Amphitheatre
David Sanborn & Bob James
Returning for their eleventh and fourth festival appearances respectively (James' last appearance was with the group Fourplay in 2002), the saxophonist and pianist will perform material from their upcoming OKeh release, Quartette Humaine - their first collaboration since their 1986 album, Double Vision. This is the first time they have toured together as co-leaders and their band includes the legendary drummer Steve Gadd.
McCoy Tyner Quartet featuring special guest John Scofield
Best known for his work with the John Coltrane Quartet, as well as his prosperous solo career, pianist and NEA Jazz Master McCoy Tyner returns, for his first appearance since 2005 and sixth overall, with his quartet. Considered to be one of the most influential pianists of the 20th century, Tyner will feature special guest guitarist John Scofield, who will be returning for his fourth time.
Gregory Porter
Vocalist Gregory Porter will be making his festival debut, which follows his recent GRAMMY® nomination in the Best Traditional R&B Performance category for his dynamite Motéma Music album Be Good. Porter exhibits such an incredible degree of vocal mastery that no less a jazz luminary than Wynton Marsalis has gone on record to call him "a fantastic young singer."
Big Sam's Funky Nation
This New Orleans funk band is led by trombone powerhouse, Big Sam Williams, formerly the trombonist for the Dirty Dozen Brass Band, who the San Francisco Chronicle calls "the top man on the slide trombone in the birthplace of jazz." Attendees and fans of last year's Trombone Shorty festival performance will surely be blown away by this band's energetic and noteworthy live show.
The Cookers
Following their 2012 album, Believe (Motéma Music) these legendary jazzmen, who have all proven themselves integral components in great bands of the past, will be making their festival debut. The super-group features trumpeters Eddie Henderson and David Weiss, saxophonists Billy Harper, and Craig Handy, bassist Dwayne Burno, and drummer Billy Hart. The Cookers' lineup serves as a lifeline to one of the music's golden eras, a rare conglomeration of true living legends still making vital, modern music.
Rudresh Mahanthappa's Gamak
With his highly original fusion of east and west jazz mixed with the sounds of his Indian heritage, Mahanthappa will perform with his new quartet Gamak (guitarist David "Fuze" Fiuczynski, bassist François Moutin and drummer Dan Weiss), in support of their new self-titled album. This will be Mahanthappa's fourth festival appearance and second as a leader (performing previously as a sideman for Vijay Iyer in 2002 and Jack DeJohnette in 2011).
Gazebo
Gary Smulyan Quartet
Having performed numerous times at the festival with the Dizzy Gillespie All Star Big Band, Mingus Big Band and others, this will be Gary Smulyan's first appearance as a leader. The baritone saxophonist will perform with his all-star band from his new critically acclaimed album, Smul's Paradise, featuring B3 organist Mike LeDonne, guitarist Peter Bernstein and drummer Kenny Washington.
Carmen Souza
Born and raised in Lisbon and now living in London, vocalist Carmen Souza's unique style combines traditional rhythms and song forms with jazz and Brazilian influences. The appearance will mark yet another watershed moment in the festival's modern history of presenting the top-tier "world music" artists, including Cesaria Evora (2000), Angelique Kidjo (2002, 2011), Femi Kuti (2001, 2004), Youssou N'Dour (2004), Edmar Castaneda (2006, 2012), Afro Cuban All Stars (2010) and many others.
Ben Williams & Sound Effect
Ben Williams' warm, woody tone, flowing groove, melodic phrasing, and storytelling approach has found favor among musicians. He performed his first-ever concert as a leader in 2010 at SPAC's Little Theater as part of its extended season, a year after winning the 2009 Thelonious Monk Institute International Jazz Competition. His band includes Marcus Strickland on saxophones, who led his own group at the 2011 festival.
Gilad Hekselman Trio
Gifted Israeli musician Gilad Hekselman has established a reputation as one of the most promising guitarists in New York since his arrival in 2004. The New York Times said, "Mr. Hekselman has set himself roughly up in the line of Pat Metheny and Kurt Rosenwinkel, with a warm and clean guitar tone, clear articulation, crazily extended improvisational ideas, speed when he needs it, an advanced understanding of harmony, and the flexibility to go wherever his bands want..." With his festival debut, Hekselman's appearance continues the festival's ongoing discovery of international jazz musicians: Michel Camilo (1990 and three subsequent appearances), Keiko Matsui (1999), Gonzalo Rubalcaba (1999), Luciana Souza (2001), Hiromi (2003, 2012), EST (2003), Anat Cohen (2007), Pedrito Martinez (2011, 2012) and countless others.
Sunday, June 30
Amphitheatre

Tony Bennett
Entering his seventh decade as a recording artist with 17 Grammy Awards to his credit, Tony Bennett has earned his legendary status many times over. A Kennedy Center Honoree and NEA Jazz Master, Bennett's unprecedented career was best described by the New York Times in 1993 when they noted that "Tony Bennett has not just bridged the generation gap, he has demolished it..." The singer, who has sold more than 50 million records worldwide, made history again in 2011 when his CD Duets II, debuted at the top of the Billboard Album charts, making Bennett the oldest vocal artist ever to achieve the number one spot. It was followed by 2012's Viva Duets, featuring top selling Latin artists including Marc Anthony, Gloria Estefan and Miguel Bose. Currently collaborating on an album with Lady Gaga, Tony Bennett is living proof that fairy tales can indeed come true when you're young at heart.
Buddy Guy
In a career that spans nearly 50 years with over 50 albums released, living legend of the blues, Buddy Guy, will make his long-awaited return to the festival after becoming a Kennedy Center Honoree in 2012. Anyone looking to learn more about the iconic singer/guitarist can do so in Guy's new autobiography, When I Left Home: My Story. Fans will also have the opportunity to check him out in April at Eric Clapton's Crossroads Festival at Madison Square Garden. Guy last performed at the festival in 1999.
Preservation Hall Jazz Band
The legendary New Orleans jazz group, Preservation Hall Jazz Band, will return to the festival this year (their debut was in 2006). The band, which Rolling Stone said, "shines like a beacon of New Orleans jazz," has traveled worldwide for decades, performing for everyone from British Royalty to the King of Thailand. The group recently received a NAACP Image Award and also performed alongside Dr. John and The Black Keys at the 55th Annual GRAMMY® Awards.
Ladysmith Black Mambazo
The male choral group from South Africa rose to worldwide prominence as a result of singing with Paul Simon on his album, Graceland, and have won multiple awards including three GRAMMY® Awards. Formed in 1960, the group is now recognized as one of the most successful world music acts and will make their festival debut this year.
Kevin Eubanks
Kevin Eubanks will return to the festival in his first appearance since his debut in 1996, with Bill Pierce, Rene Camacho and Marvin "Smitty" Smith. Perhaps best known as the leader of The Tonight Show with Jay Leno band, the guitarist has also established himself as a prolific composer and jazz guitarist. He will be celebrating The Messenger, his new album on Mack Avenue Records.
Donny McCaslin Group
The acclaimed saxophonist has long been one of jazz music's most striking voices, leading to long-running collaborations with innovators like Dave Douglas and Maria Schneider. His own solo work has been marked by a restless exploration that is only accelerated with his latest release, Casting for Gravity (Greenleaf Music), which The New York Times called an, "ambitious electro-acoustic venture - part gritty, part gleaming..." Pianist Jason Lindner, bassist Tim Lefebvre and drummer Mark Guiliana will perform with McCaslin at this year's festival.
Gazebo
Chris Bergson Band
This phenomenal blues guitarist/singer/songwriter (a la Eric Clapton, The Band, Dr. John, etc.) will make his festival debut this year. If you loved Brian Mitchell's performance the past two years, you will surely adore Bergson, who will complement headlining performances by guitar heavyweights Buddy Guy and Kevin Eubanks on the same day. Bergson will perform with saxophonist Jay Collins, B3 organist Bruce Katz, bassist Matt Clohesy and drummer Tony Leone.
Ingrid Jensen Band
Canadian trumpeter Ingrid Jensen, who makes her festival debut as a leader, can be heard with the GRAMMY® Award-winning Maria Schneider Orchestra, the IJQ with Geoffrey Keezer, Project O, Nordic Connect and a number of New York-based bands. In 2003 she was nominated, for the second time, alongside trumpeter Dave Douglas for a Jazz Journalist Association Award in New York and is seen yearly in the top five of the DownBeat Critic Polls in the "Talent Deserving Wider Recognition" category.
Introducing Brianna Thomas
This incredible young vocalist is quickly making a name for herself in the New York scene. Will Friedwald of the Wall Street Journal said, "she may well be the best young straight-ahead jazz singer of her generation." Most recently, Thomas performed with Wynton Marsalis as part of his "Meet Me at the Crossroads" lecture series at Harvard University.
photo: Dion Beebe
Hi there. Comments have been closed for this item. Still have something to say? Contact us.