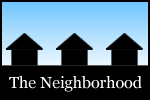 Among the topics in this most recent spin around the Capital Region's online neighborhood: customer service and expectations, the "What about the parking!??! Waaahhhh" guy, a governor flying downhill, calorie counts from 1919, the building full of mannequin heads, the Shamrock Run, the Huyck in winter, grand theft cookie, (not) the world's best Irish soda bread, the dark side of ice cream, a keeper of secrets, a monstrous piece of fish, muffuleta, orange slime mold, not leaving fortune to chance.
Mr. Dave addressed a bit of the culture of his "majestic homeland" and our expectations about customer service.
Kristi detailed a few of her campaigns for better customer service.
Regarding the proposed music venue in North Albany, Matt has concluded he's becoming the "What about the parking!??! Waaahhhh" guy.
An intended short trip into the history of Albany's Ridgefield Park ended up leading Akum on week long dive into "baseball legends, clay tennis courts, and a New York governor flying downhill in an orange and black cap." (The history of the place is really interesting -- and fun.)
Carl dug up a bit about the cafeteria at GE's Schenectady campus in 1919 -- it appeared to be ahead of its time in posting calorie counts.
At American Troyalty, Ike reflected on the "That building full of mannequin heads on Congress Street."
Jen took on the Shamrock Run in Kingston.
Albaniana and her husband took a winter walk at the Huyck Preserve.
With knowledge of the details for the local Girl Scout cookie shipment, Albany Jon momentarily considered grand theft cookie.
Rob found out his Irish soda bread is not the world's best at the Irish American Heritage Museum.
Jerry says his bachelor party ended up being "a fairly comprehensive roundup of many of my favorite local things" -- including dinner at Yono's.
Daniel highlighted the "dark side" of ice cream -- even local ice cream.
Rochelle on the weather warming for the Snowman season's opening: "The snow came down and caused havoc Thursday night and part of Friday but Mother Nature wanted a Boston Shake."
Randal found out the barkeeper at the Orchard is also a keeper of secrets.
Ashley enjoyed "a pretty monstrous piece of fish" at Mouzon House.
Albany Jane was disappointed by her lunch at Pancho's.
One of Steve's readers asked about where to find muffuleta.
Silvia wrote a short love letter to Bellayre Mountain.
Jackie found what appears to be orange slime mold in the Skidmore Woods.
Paula came across what looked like a repurposed church window on South Lake in Albany.
And Chuck didn't leave his fortune to chance.
Hi there. Comments have been closed for this item. Still have something to say? Contact us.