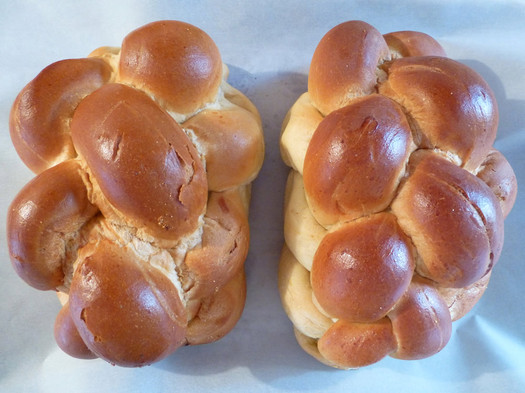 By Daniel B.
There's nothing new about the New Mt. Pleasant Bakery. This old school bakery in Schenectady's Mont Pleasant neighborhood may not show many signs of life from the street. Their hours are posted on a printed-out piece of paper taped to the door, scratched out and amended with a faded sharpie.
Inside, there's not much to look at these days, either. Yes, there are a few trays of colorful cookies, some donuts, a handful of black and whites, and perhaps a few random pastries. Yet many of the racks are empty, and past adventures in trying their sweets have taught me to avoid them.
But wonder of wonders, miracle of miracles, this very same bakery just so happens to make the best challah in the Capital Region. And it's worth making a special trip during the day on Friday to get it.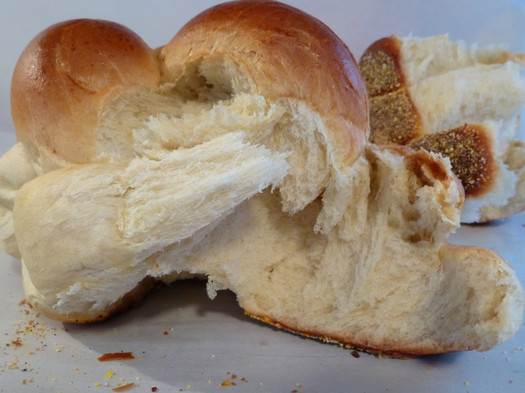 What makes a great challah?
In some ways it's subjective. There will be those who want a consistent product, week after week. This is not what they make at New Mt Pleasant. In fact, almost every challah that they make is a little bit different. Some are a little taller, while others lay more flat. Some are deeply burnished, while others are a bit doughier around the edges. And I'm okay with that.
Challah is a bread that has a purpose -- a purpose that goes beyond making identical pieces of really delicious French toast. The idea is that Jewish people who celebrate the sabbath are supposed to have two festive loaves of bread on Friday night. They are supposed to be special, and they are supposed to be fancy, in order to commemorate the occasion.
Back in the day, workaday bread was hard, sour, and crusty stuff. So on the sabbath people splurged and had something soft, braided, and a little bit sweet. There was oil in it, and eggs too. It was more expensive, yes.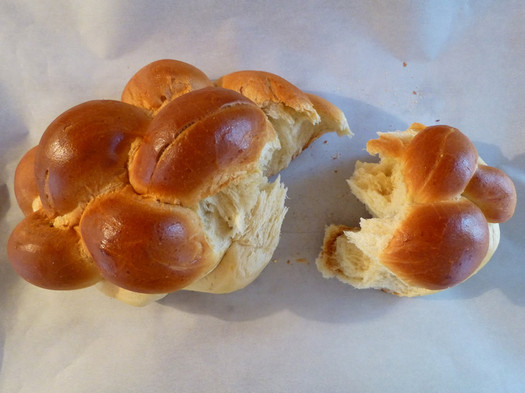 This is what I look for in great challah. It shouldn't taste like bread. It should be richer, with a subdued underlying sweetness. My personal preference is for lighter loaves where the braided strands retain a ropey elasticity and can still be distinguished from each other in a torn apart loaf.
And this is what New Mt. Pleasant Bakery delivers.
If you've had the challah at Gershon's, you've already tasted this bread. The same goes for Nosh. So if you want to see how this challah performs as a foundation for a sandwich, you can head to one of these two Jewish delis. The fact that they both have chosen New Mt Pleasant as their purveyor for challah speaks volumes.
On Fridays the Niskayuna Co-op gets a delivery of challot from New Mt Pleasant. But I was told by the deli clerk it sells out really fast. Temple Israel in Albany also gets a regular delivery, but while the nursery school there has a challah fundraiser, they don't serve as a retail location. More's the pity. For what it's worth, the woman who is the challah chair at Temple Israel insists that the challah at New Mt Pleasant is better than any she's had in New York City.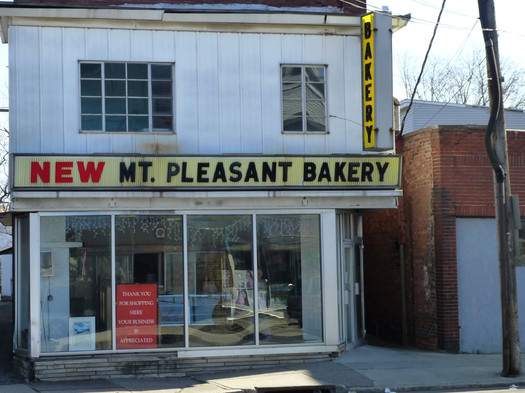 So unless you can convince Gershon's or Nosh to part with a loaf or two, or you are interested in joining a conservative shul, you will need to make your way into the Mont Pleasant neighborhood of Schenectady. Like anywhere in the Capital Region, when driving a distance for a specific product, remember to call ahead just to make sure it's in stock and the place is open.
The challot are baked at the bakery on Thursday night for Friday morning. Friday is the day to pick them up at the bakery when they are at their best -- the bakery closes at 4 pm that day.
A one pound loaf will set you back $3.90. They have a larger size, but this one is plenty. Actually, get two. One for simply tearing into with your bare hands and slathering the chunks with good butter and crunchy granules of sea salt. The other can be reserved for French toast.
You should also probably know that the bakery is open on Saturdays from 7 am to 2 pm and Sundays from 7 am to noon. They put aside a few of their challot from Friday to sell through the weekend. It may not be in its best form, but it's more than fine for French toast.
As it turns out, French toast works better with older loaves anyway. When the bread dries out a bit, it can absorb more of the egg batter. Just don't forget to slice the challah thick and make sure the eggs have penetrated the slice fully before lowering it into a sizzling pan of hot, melted butter.
You'll need to have some Grade B maple syrup on hand, too. The current harvest is already being sold at the farmers' markets, and they've got plenty of the good stuff. So you have no excuses.
And for everyone who will be celebrating Passover next week, this weekend will be your last chance for a while to enjoy some good bread before switching over to matzoh brei. But that's another story.
Daniel B. is the proprietor of the FUSSYlittleBLOG.

Find It
New Mt. Pleasant Bakery
941 Crane Street
Schenectady, NY 12303
Hi there. Comments have been closed for this item. Still have something to say? Contact us.