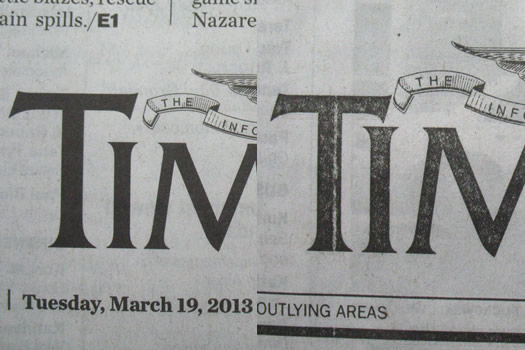 Tuesday's print version of the Times Union was the first edition from the newspaper's new printing press. The off-set press provides the TU with "dramatically improved print quality" and expanded capability for printing color.
The difference is easy to see (above). And much needed. The print quality from the paper's 44-year-old letterpress machine was... not good. Type wasn't sharp and the photo quality was bad.
That said, this is quite a move for Hearst, the Times Union's parent company. The new press reportedly cost $15 million. That's a lot of money to drop, whatever the time. But it's an even more significant expenditure considering the way the media business has been heading -- away from products printed on paper. The new machine allows the paper to be a commercial printer for other products -- even those of other companies -- so maybe this can be a way for the company to further diversify its revenue sources. [AP/WSJ]
The Times Union is by far the biggest player in this area, which makes it easy to throw rocks at it. Heck, we read it every day and certainly have some criticisms. That goes with being at the top. But no one else in a position to fill some of the roles it plays. And lately there's been some reason to wonder about whether it will be able to keep that up as it downsizes -- both its staff and the size of the actual paper. (This new version is physically smaller than the old, example post jump).
This isn't a unique condition -- it's happening to newspapers everywhere. But he Capital Region is better off with a vibrant media ecosystem, and for the near-to-medium term that probably means a well-staffed, capable Times Union.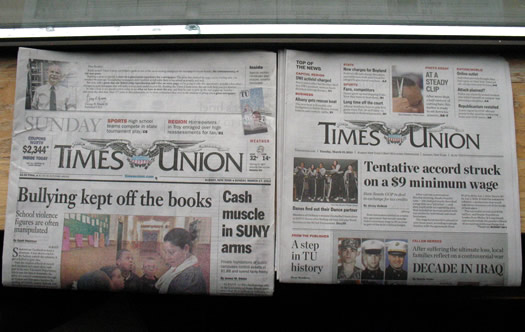 Hi there. Comments have been closed for this item. Still have something to say? Contact us.