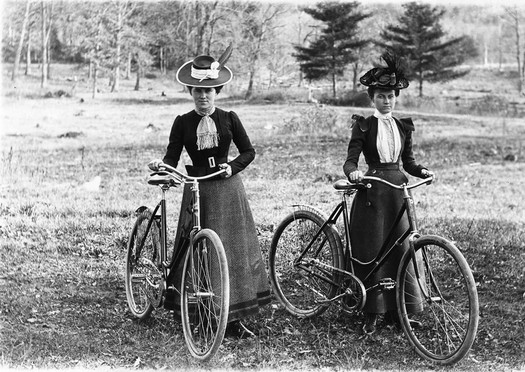 Over at the blog for the Schenectady County Historical Society's Grems-Doolittle Library blog there's a very interesting post about cycling in Schenectady around the beginning of the 20th century.
Bicycle garages at GE! A bike toll road along Route 5 between Albany and Schenectady! Early 1900s hipsters! It's kind of amazing how robust the cycling culture was then.
The post includes the above photo, from the Larry Hart Collection. From its description:
Two women stop during a bicycle ride around the Schenectady area, ca. 1900. Women's participation in the bicycle craze during the 1890s led to the decline of corsets, inspired "common-sense" dress, and allowed greater mobility for women. Women also joined men as members of cycling clubs formed during this period. Many suffragists and women's rights advocates saw the bicycle as a mechanism for women's freedom; in 1896, Susan B. Anthony told New York World reporter Nellie Bly, "I think [the bicycle] has done more to emancipate woman than any one thing in the world. I rejoice every time I see a woman ride by on a wheel. It gives her a feeling of self reliance and independence the moment she takes her seat; and away she goes, the picture of untrammelled womanhood."
As we've said before, the library's blog is totally worth a look. Lots of good stuff there.
[via Carl]
Hi there. Comments have been closed for this item. Still have something to say? Contact us.