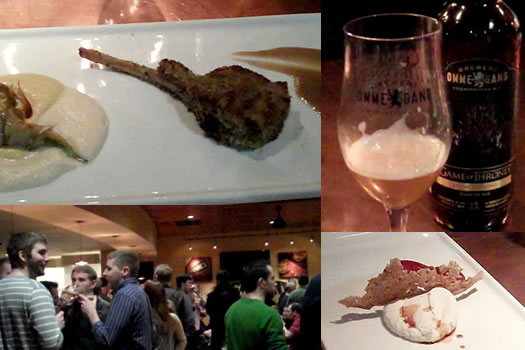 By Danielle Sanzone
Beer geekdom went to a whole new level with the recent release of Brewery Ommegang's Iron Throne Blonde Ale, which is inspired by the HBO show Game of Thrones.
And how does a brewery celebrate the release of such a beer? With a dinner this past Friday at its Cooperstown cafe pairing wild game dishes with beer, fur-clad diners, and toasts to the King of the North.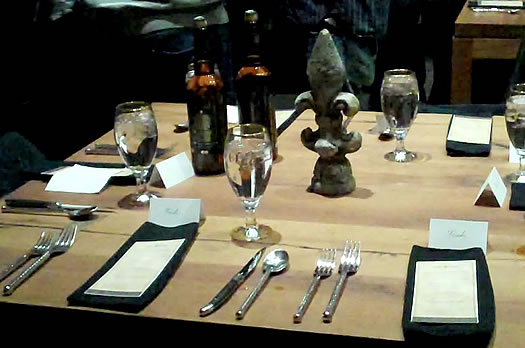 If Middle-Age chic is a thing, Ommegang completely embraced it in their quaint pub decorated with ancient-looking stone center pieces and a large pair of antlers, reminiscent of the House Baratheon.
The beer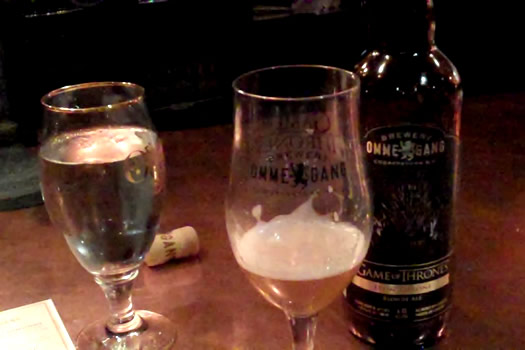 The new Iron Throne Blonde is a 6.5% ABV ale. It was crisp and refreshing, with a light but slightly complicated flavor. It reminded me of a traditional summer ale -- but with a stronger aroma of honey and lemon. It left a tingling sensation from its full head. It made me glad that winter was -- for the most part -- no longer coming, since I could see myself drinking it outside during the spring and summer. I could definitely picture Daenerys drinking this while quenching her thirst in the desert, or Cersei while being the royal pain in the butt that she is in Kings Landing.
Ommegang is releasing Iron Throne Blonde around the country over the next few weeks, leading up to the third season premiere of Game of Thrones. But the beer is already available in some stores around the area.
The brewery says it's planning to release another Thrones-inspired beer later this year, along with two more for subsequent seasons of the show.
The food
To go along with the new Iron Throne Blonde: a similarly-inspired wild game menu from chef Dimitrios Menagias of the City Beer Hall in Albany: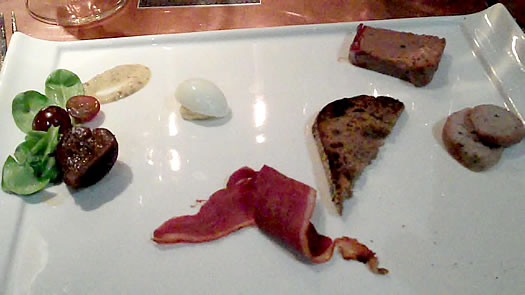 King's Landing Charcuterie, featuring Iron Throne Blonde Ale
Pheasant sausage, duck liver pate with truffles and house cured duck prosciutto, smoked goose breast, deviled quail egg, Hennepin mustard, pickled grapes and figs with brown bread.
My favorite part of this course was the duck liver, which was creamy and memorable. It was a good way to start off the dinner.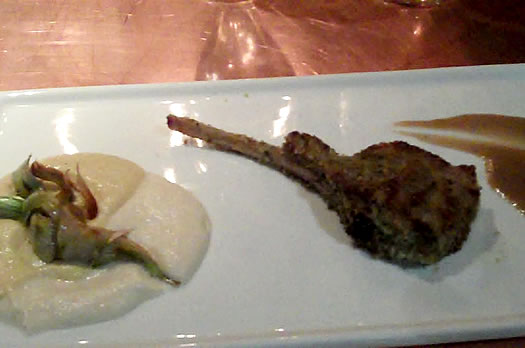 King Robert's Demise, featuring Duvel Golden Ale
Herb encrusted rack of boar, with mashed neeps, crispy artichoke, and Witte hunter's sauce.
The mashed "neeps" were a mashed, not very thick potato-like dish that the chef had made from various root vegetables like turnips. The hunter's sauce was stock made from lamb neck bone and wild boar trimmings, along with the Witte (Ommegang's wheat ale) and wild mushrooms.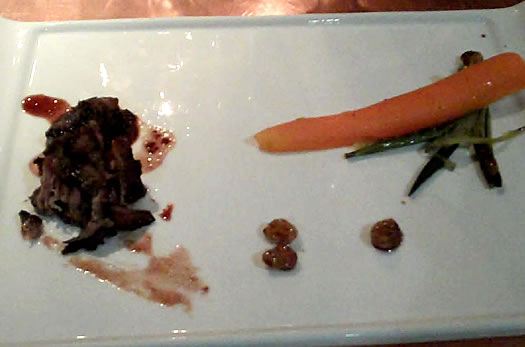 A Lannister Feast, featuring Liefman's Goudenband
Lamb neck stuffed with herbs, drunken raisins, and pistachios, served with Imp salad.
I had never had lamb's neck before -- it was tender and delicious. I have to admit, I couldn't find the pistachios on this one. Maybe they were Imp pistachios as well.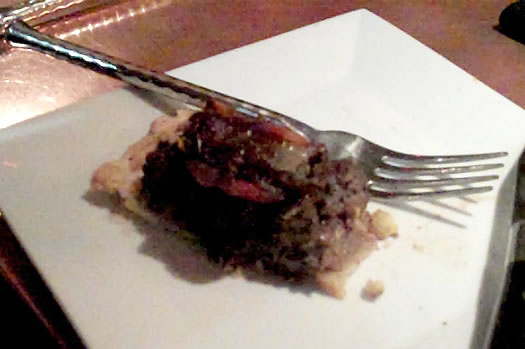 A Targaryen Dragon Egg, featuring N'Ice Chouffe
Venison and chestnut pie with devils on horseback.
The pastry crust on this was flaky and wonderful. The devils on horseback -- dates stuffed with Stilton and wrapped with pecan wood smoked bacon -- was meat-wrapped goodness.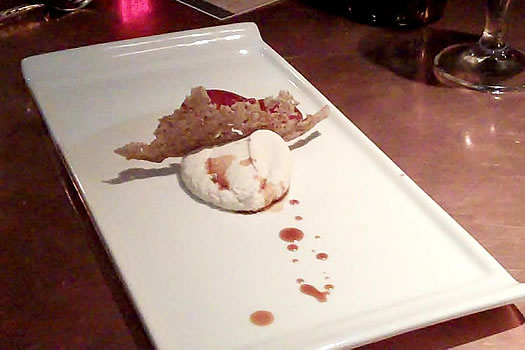 The Wall, featuring Art of Darkness
Deconstructed faro tart with port wine plums and tobacco cream.
This was fluffy with a crunchy component as well. A sweet ending.
___
Similar wild game dinners are held at the City Beer Hall. And the folks I spoke with at Ommegang said they planned to do another beer pairing dinner in the near future.
Hi there. Comments have been closed for this item. Still have something to say? Contact us.