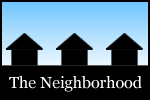 Among the topics in this most recent spin around the Capital Region's online neighborhood: a St. Patrick's Day moment of grace, the joy of Troy, The Single Girls Guide, an indoor water park, Schenectady, a class about eggs the longest hot dog in New England, happiness wrapped in cabbage, a competitive ice cream sandwich, brunch, the Olive Garden, portion sizes, Lydia Kulbida, an owl, and venting frustrations.
Carl had a moment of St. Patrick's Day grace in Troy.
Akum dug up photos of St. Patrick's Day in Albany -- 1951.
Daniel experienced the joy of Troy.
The news of the week sent Silvia looking for her Bon Appetit.
Matt "f****** loved" The Single Girls Guide at Cap Rep.
Jon wasn't impressed after a family trip to the Great Escape's indoor water park.
New to the Neighborhood: Keep Me Schenectady.
Jerry is teaching a cooking class on eggs at Different Drummer's.
In which Mr. Dave bears witness to "The Longest Hot Dog in New England!"
After her first visit to Muza in Troy, Jessica says the food was "like happiness wrapped up in cabbage filled with your Grandmothers love."
Ashley says the ice cream sandwich at Maestro's could have been a contender.
Jen had brunch at Saratoga National.
Chuck, in defense of the Olive Garden. (Daniel, pushing back.)
Steve asked people about portion sizes at restaurants.
Kristi vouched for Lydia Kulbida.
Jackie's noticed that the robins no longer go away for the winter.
Albaniana visited an owl.
And from the Idiots: "BREAKING NEWS: Local man uses social media to vent frustrations."
Hi there. Comments have been closed for this item. Still have something to say? Contact us.