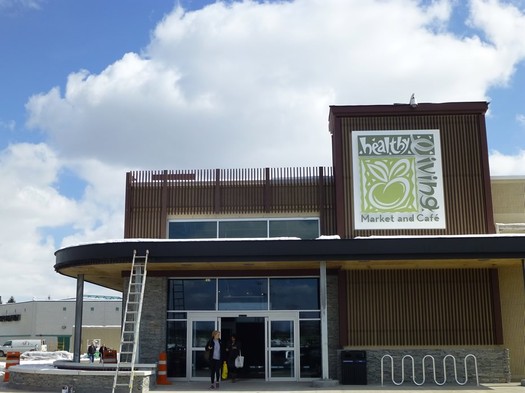 By Daniel B.
The new Healthy Living Market and Cafe in the Wilton Mall is hard to nail down.
It's not a health food store, yet it has a section full of natural health products and supplements. It's not a specialty foods store, even though they stock some hard-to-find, high-end items that are bound to delight enthusiasts. It's certainly not a conventional grocery store, although it has everything from pet and baby food to cleaning supplies to toilet paper.
And while they will proudly carry conventionally produced strawberries in the winter -- because, as Healthy Living owner Katy Lesser explained, that's "what Americans want" -- they will never stock Coca-Cola. Not even the Mexican stuff with real sugar.
So what is this place, how does it fit into the region's supermarket scene, and is there anything there worth a drive?
There are a bunch of large-format photos above -- scroll all the way up.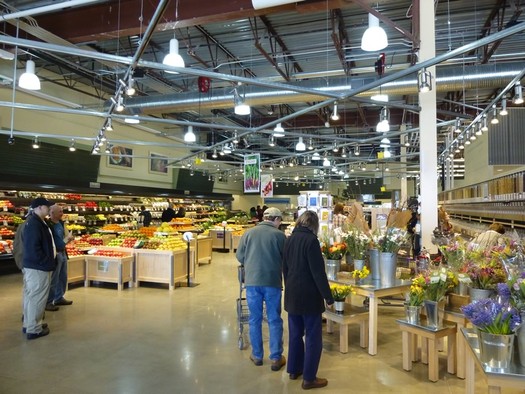 To understand the market today, one has to know a little bit about its past. The Wilton location is just the second store for the 27-year-old operation from near Burlington, Vermont. And much like Albany's beloved Honest Weight Food Co-op, Healthy Living started as a very small natural food store long before there was such a thing as a national organic standard. In the beginning there was no meat. They wouldn't even sell white flour.
The family that owns and runs the Healthy Market is still rooted in that ethos, but have realized that as they expand it needs to be a bit more flexible to be commercially viable.
Still, working with local farmers and producers seems to be a cornerstone of their operation. They hold winter planning conferences with their farmer partners to make sure everyone isn't growing the same crops, and helping to ensure they can buy from as many producers as possible. One employee told the story of paying a farmer in advance for the season's crop so the farm could fund the greenhouse the vegetables needed to grow.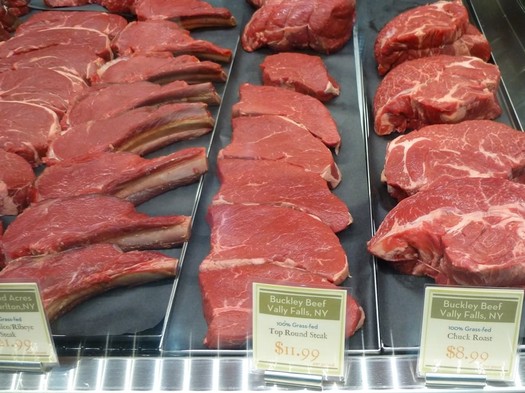 And to get local meat from smaller farms, the meat department is set up to buy sides of beef and whole pigs and lamb. This is rarely done anymore as it requires an on site staff that's trained in nose to tail butchering. This is quite impressive.
Really, a lot of what Healthy Living is trying to do is impressive. However, it may take them awhile to get their Saratoga operation up to speed.
For example, they say their fish buying is guided by the Monterey Bay Seafood Watch program. And while there are some responsible salmon farms producing a good product that's available fresh year round, but the fishmonger wasn't able to provide the name of the specific farm where their fish was raised. And talking to the meat guy, they're still trying to figure out what they can do in New York when it comes to getting organ meats and other variety cuts from the slaughterhouses. They know how it all works in Vermont -- they're learning as they go in the Empire State.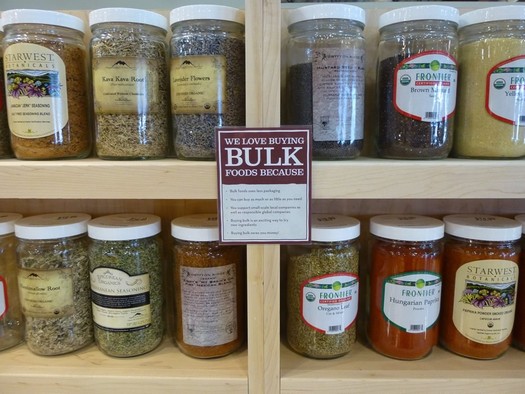 More than anything else Healthy Living Market feels like a Whole Foods, only smaller and more nimble. It doesn't have a list of unacceptable ingredients like Whole Foods. So you still have to check labels if you are concerned about certain additives in your food.
Worth adding to the supermarket rotation?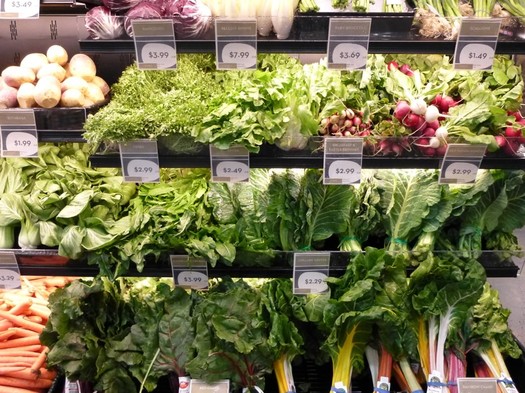 But given the product mix -- including an extensive bulk section, beautiful produce that runs the gamut from conventional to local to organic, some truly amazing cheeses from Vermont, New York and California, and a remarkable array of small locally produced dairy products -- I'm hard pressed to imagine that those intrepid health food enthusiasts who currently make a regular pilgrimage across the Twin Bridges and down to Albany's Honest Weight Food Co-op will continue to do so.
And for people who currently shop primarily at a Price Chopper or Hannaford? It depends on what you buy. If you shop those supermarkets for conventionally produced packaged goods, you won't be able to find a lot of the brands you are accustomed to seeing on the shelves. If, however, you have been relying on the existing supermarkets to stock up on natural, sustainable and local foods, Healthy Living is going to seem like heaven.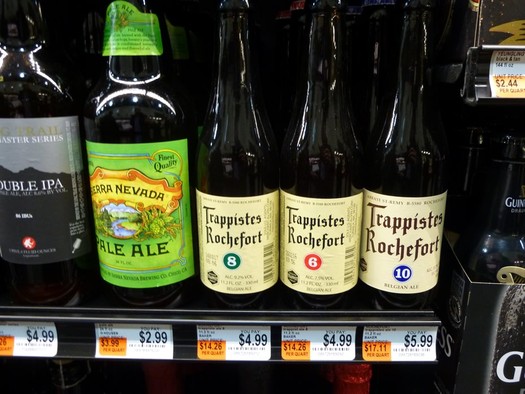 For those south of the bridges, a visit to Healthy Living Market would totally be a fun excursion. They have things in this store that look amazing and that I haven't seen elsewhere. The Trappistes Rochefort 10 brewed by Brasserie de Rochefort would seem to be pretty special, and at $6 a bottle it's a deal. And I love that the cartons of "home-raised and hand-gathered" eggs from O'Herien Hens are clearly filled with eggs of all different colors. The mortadella from Salumeria Biellese is in the meat case proudly bearing its Slow Food Snail of Approval.
The cafe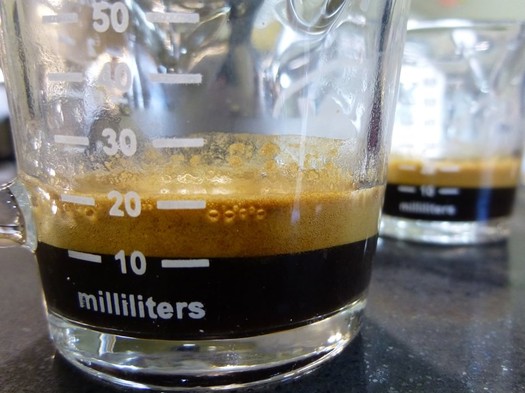 In Healthy Living's cafe most people will notice the shining La Marzocco espresso machine before the doserless espresso grinders. But it's the grinders that make all the difference in the world. John, who travelled out from the Burlington location to train the staff, pulled a shot using a custom espresso blend from Uncommon Grounds built on the downtown Saratoga shop's Kenya AA beans. And the cafe at Healthy Living uses Battenkill milk in their cappuccino and latte.
If coffee isn't your thing, they also have an organic juice bar where you can get organic smoothies.
While none of their hot foods or sandwiches looked particularly enticing, the extensive and colorful salad bar along with their in-house made dressings could help to balance out a meal consisting of a glorious wedge of cheese, olives and bread.
Oh, yeah: They also have an adjacent wine shop in the building. It's not quite wine in the grocery store, but it's as close as we're going to get. (The separate shop allows them to comply with New York State law that prohibits grocery stores from selling wine.)
If you cannot imagine dragging yourself up to Wilton for groceries, do yourself a favor. The next time you are headed up to Lake George or the Adirondacks, pop off at exit 15 and stop in for an espresso. Walk around, stretch your legs, and browse -- you'll find something interesting.
There are a bunch of large-format photos above -- scroll all the way up.
Daniel B. is the proprietor of the FUSSYlittleBLOG.
Find It
Healthy Living Market and Cafe
Wilton Mall
Wilton, NY 12866
Hi there. Comments have been closed for this item. Still have something to say? Contact us.