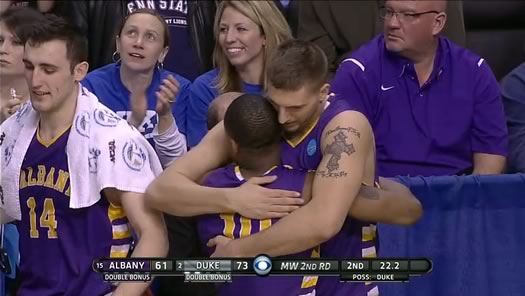 Duke was supposed to be too much for UAlbany in the NCAA tournament. And despite a good fight from the Great Danes, that's the way it turned out. The #2 seed Blue Devils just had a little too much of everything for the #15 seed Great Danes -- too much shooting, too much height, too much pressure. UAlbany lost 73-61.
The Great Danes didn't play badly. At all. In fact, they hung around for much of the game -- they were down 9 with 4.5 minutes to go -- thanks in large part to good shooting from three-point range, where they were 9-15. But they were only able to shoot 36.5 percent overall from the field. Almost half of all UAlbany's made field goals were from three.
UAlbany also had no answer for Duke guard Seth Curry (26 points, 10-14 from the field) and super athletic big guy Mason Plumlee (23 points, including two long range hook shots). The Blue Devils shot 59 percent from the field.
Jacob Iati led UAlbany with 15 points. Peter Hooley had 13, Mike Black and Sam Rowley both had 10.
UAlbany finishes its season 24-11.
screengrab: CBS
Hi there. Comments have been closed for this item. Still have something to say? Contact us.