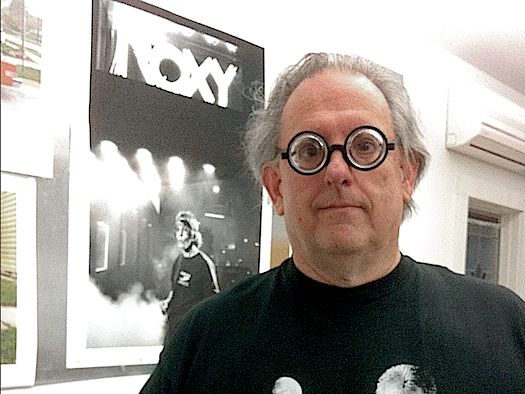 Each week with My Exit our friends at WEXT give us a chance to check out what's on the playlists of people in the Capital Region. It's been a great way to discover new music and rediscover some old favorites.
This week: 70s and 80s rock and roll from a guy who lived it.

Who?
I'm George Gruel and I live in Troy. Music and art comprise a huge part of my life. I've recently published a book about my adventures with Warren Zevon, 1978-83: Lawyers Guns and Photos. In addition to the Warren trips, it covers many of the musicians in Southern California in the late 70s and early 80s. I was right in the middle of it. It was big rock-n-roll family.
My musical adventures in California started in the early 70's when I was part of the Grateful Dead family. I lived at Bob Weir's and toured with the New Riders of the Purple Sage. I photographed the entire Bob Dylan 1974 tour, I was on the Eagles Hotel California tour through Europe in 1977 and then in 1978 Warren Zevon asked me if would be his aide-de-camp. Of course I accepted. It went way beyond the money for me. It was pure joy. Fabulous people, rock-n-roll craziness, travel, great drugs and most of all, amazingly great music. Working with Warren was the best job of my life. He was in his heyday. I was listed on all albums as his aide-de-camp. It was an all encompassing term, which included me being his road manager for many tours, in the USA and Europe. We had great fun together through a myriad of adventures, including some that bordered on insanity.
Describe your taste in music
My musical tastes run all over the place, from DAWES to Zucchero and all sorts in between. My favorite is loud rock-n-roll, mainly Californian and English, from the late 60s to the early 80s. I love to sit in my studio, work on my Mac, doing art and have my Yamaha NS-10M STUDIO monitors cranked. What is loud? One time I put my head inside, through the back, of Neil Young's amp, as he played Cinnamon Girl, LIVE. That's loud. I like loud. Huh? What? Being in the studio with Waddy Wachtel is loud, and wonderful!
A few songs from George Gruel's My Exit show:
"Page 43" by David Crosby
This song contains a phrase that I think is a fabulous credo for life: "You should dive right into it, else you'll find it's passed you by". I did dive right in. In the ensuing years, I've become friends with David and Graham and I am proud, and pleased, that they had me design the album/CD packaging on their Another Stoney Evening album. In my opinion, it's the best live album ever. It was superbly recorded and produced by Stephen Barncard, the master of acoustic guitar recording. It was superbly mixed by Graham Nash and Stephen Barncard. It's a wonderful ride.
"Sugar Magnolia" by Grateful Dead
The song was written by Bob Weir and Robert Hunter. It was produced and recorded by one of my very best friends to this day, Stephen Barncard.
The song is about Frankie Weir. When I was living at Weir's she kept the place hopping with her energy and wit. A line from the song that best describes her is: "She jumps like a Willys in four wheel drive." And she certainly did, and then some.
"Dirty Laundry" by Don Henley
I'll be in a store, even today, and that song will come on over the speakers and it trips me out. Why? I'm one of the guys that is singing the "Kick'em when they're up, kick 'em when they're down part", along with with Don, Danny Kortchmar and Timothy B. Schmidt.
"That Girl Could Sing" by Jackson Browne
She certainly could sing. I knew Valerie Carter, in Marin County, before we both moved to LA, sometime in 1977. There she met Jackson, and they, along with Lowell George (Little Feat), wrote the song "Love Needs a Heart." I've included Valerie's version on this, my first My Exit, also. And talk about celestial bodies......
"Poor Poor Pitiful Me" by Warren Zevon
I've heard this song live more than most people, due to the fact that during every live show Warren would summon me out onto the stage for the purpose of getting the crowd even more cranked up than they already were. It was always a great rush for me and apparently the audience too. I had a ball.
You can hear George's My Exit show Monday night at 11 pm on 97.7, Saturday at 8 am, or at exit977.org.
Here's how to schedule your own My Exit show on WEXT.
Hi there. Comments have been closed for this item. Still have something to say? Contact us.