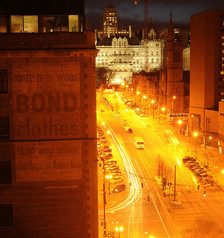 How about this: For this year's Sculpture in the Streets, the Downtown Albany BID has decided to restore ghost signs. From the info/application form (doc):
This year's exhibit titled: All Signs Point to Downtown will restore old retail signs, also referred to as ghost signs, on the sides of our historic buildings retelling the story of downtown Albany as the commercial hub for the Capital Region prior to the creation of suburban malls.
Now through April 12, 2013, the BID is accepting submissions from artists interested in participating. Painting will take place between mid-April to mid-June and an honorarium will be paid based on the size and complication of the retail sign.
We've converted the doc to a pdf for easy scanning -- it's post jump. It includes info on requirements, guidelines, and other details.
There are at least a handful of preservation efforts around the country aimed at keeping ghost signs from totally fading away -- especially out west, where the signs are apparently still numerous (see Butte, Montana and Fort Collins, Colorado). Interestingly, there are some people who think the signs should be allowed to fade out.
Be sure to check out Chuck's photoset of local ghost signs. He created a book from the set. (That's one of Chuck's photos on the right, from State Street.)
[via Biz Review and @AlbBizMikeD]
Earlier on AOA:
+ Last year's Sculpture in the Streets was the giant Dutch clogs
+ So, how do you create a giant clog sculpture?
photo: Chuck Miller
Downtown Albany BID Sculpture in the Streets 2013 Artist Application
Hi there. Comments have been closed for this item. Still have something to say? Contact us.