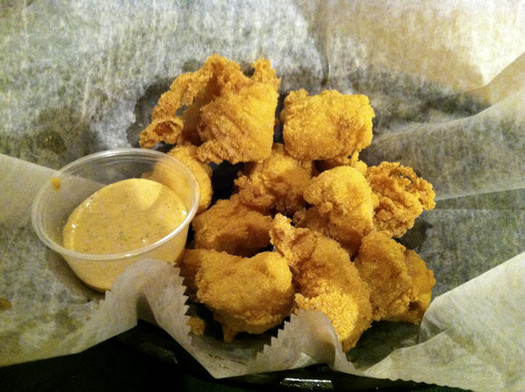 By Casey Normile
I'm not a big fan of seafood. But I don't really know my stance on reptile.
So I decided to try some alligator at Café NOLA in Schenectady.
The restaurant specializes in all things Cajun, with po' boys, etouffee, jambalaya, dirty rice, gumbo, beignets -- and my dinner: alligator bites.
Café Nola chef Kevin Brown suggests that alligator bites are the way to go for a first timer. They're kind of like the chicken tender basket of the menu (except for the actual chicken tender basket). It's simple and fried -- and everything is better fried.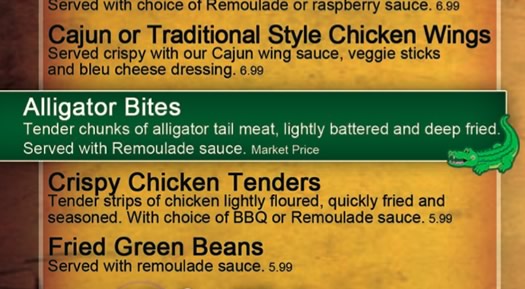 Right next to the chicken tenders on the Café NOLA menu.
In New Orleans, they've been eating alligator for almost 300 years. Chef Brown has been cooking it for not quite as long -- 12 years. He started using it at fairs and festivals back in the day and its popularity inspired him to bring it to Café Nola.
"It was already a part of my following and it's really popular in New Orleans, so it was a perfect fit. It's a pretty popular menu item," says Brown. "Originally it was the novelty, but now with the show Swamp People, the price of alligator meat has almost doubled."
For those not familiar, Swamp People is a reality show on the History Channel that follows groups of alligator hunters in the Louisiana swamps. It's in its fourth season and apparently has created a nationwide alligator craze. Two years ago, alligator meat was so in demand, Chef Brown couldn't even get it for his restaurant. The craze has subsided a little, but Brown still has customers ask to buy a pound of alligator meat from him to make at home (a request he accomodates).
I had tried alligator before in New Orleans, but it was on a stick and from a street vendor, so who knows if it was the real thing. Café Nola's alligator bites are nothing like what I ate on a stick. The bites had a similar consistency to chicken, just a little tougher, and a mild taste. Honestly, if you're a meat eater, you'll enjoy them. The mild taste along with the fresh batter and spicy Remoulade sauce makes this a nice introduction to reptilian cuisine.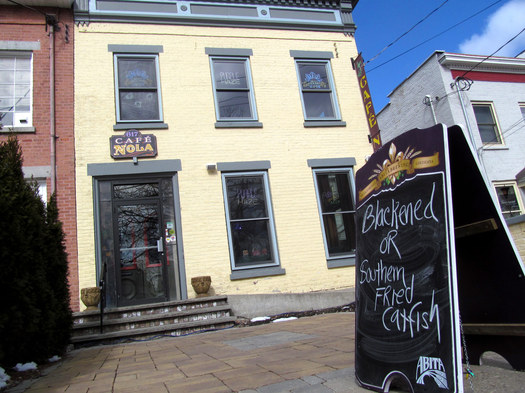 The secret to alligator? "It's mostly muscle. So the meat is very tendinous, like eel, so when you add heat, it'll tighten right up," says Brown. "But if you try the alligator etouffe, it mixes flavors and really compliments the meat."
Brown only uses tail meat at his restaurant, which is the leanest part of the animal. But down in the deep south they're known to use the whole gator.
The only thing for me was the smell. As I said before, not a big seafood fan and though it felt, looked, and tasted like chicken, it smelled like fish.
"Yeah," says Brown, "I buy only farm-raised alligator, so it's fresh, but sometimes you can get a kind of gamey smell."
But if you've grown tired of the meat and fish game and want to try something new, maybe reptile is the way to go.
"The bishop down in New Orleans has declared alligator to be fish so it's safe to eat during Lent," says Kevin Brown, "But to me, it's a reptile. It tastes like chicken and some people really love it."
____
If you're interested in some home-cooked alligator, the meat is also available at Adventure in Food Trading in Menands -- they carry a variety of cuts, with the price ranging from $11/pound to $25/pound depending on the cut.
Find It
Cafe NOLA
617 Union Street
Schenectady, NY 12305
Hi there. Comments have been closed for this item. Still have something to say? Contact us.