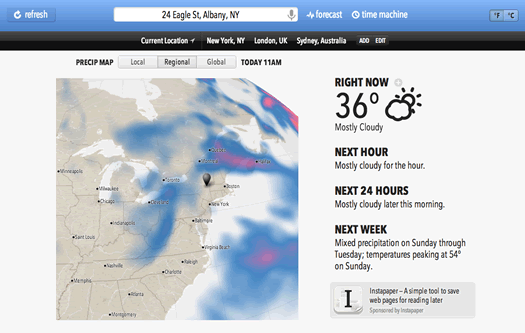 This is good: Forecast, a new weather site from the Troy-based developers who created the mobile weather app Dark Sky. From the announcement:
About a year ago, we released a little app for the iPhone and iPad called Dark Sky, attempting to do something new and interesting for weather forecasting, a field we think had become pretty stagnant. Approaching 100k sales, it's been fairly successful; however, we've been continually asked for more: international support, longer-term forecasting, an Android app, and so on.
Rather than cram these things into Dark Sky, we decided to do something grander: create our own full-featured weather service from scratch, complete with 7-day forecasts that cover the whole world, beautiful weather visualizations, and a time machine for exploring the weather in the past and far future. You can access it from all of your devices, whether it be your laptop, iPhone, Android phone, or tablet.
A lot of the weather info on the site is available elsewhere, but what makes Forecast so good is the way it presents current conditions and forecasts: simply and without clutter. Even the more advanced features mentioned above -- like the time machine -- have a clean, straightforward presentation. It's just the main weather info you want without all the junk, all easily accessible. (We love the National Weather Service, but yow, can its website be hard to use.)
A few other cool things about Forecast: the predictions are based on an aggregation of multiple sources and -- for the nerdy -- they're sharing their info through an API (a way for other developers to make use of their data).
Forecast and Dark Sky are the creation of the Troy-based team headed up by Jack Turner and Adam Grossman. They released Dark Sky last year after raising more than $35k on Kickstarter, in the process snagging a bunch of media attention.
Hi there. Comments have been closed for this item. Still have something to say? Contact us.